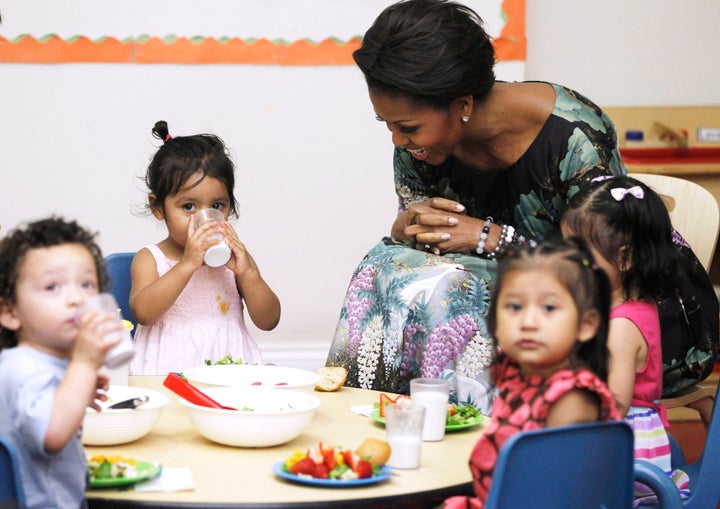 With all eyes on POTUS and his long-awaited jobs speech, first-lady Michelle Obama's campaign against childhood obesity could be easily overlooked. A team of researchers from the University of Michigan have been keeping a close eye on the program, however, evaluating how on target it is in meeting its 2030 goal: to solve the epidemic of childhood obesity and return the country to it's pre-1970s rate of 5 percent.
In a recent University of Michigan study, published online in Obesity Journal, researchers evaluated the balance of prevention and treatment required to achieve The White House Task Force on Childhood Obesity's goal.
Researchers concluded that the emphasis needs to be placed on both prevention and treatment, the latter of which they feel has been overlooked, especially among minorities. "Effective treatment strategies, particularly targeted to minority children, are especially needed," says Joyce M. Lee, M.D., M.P.H., assistant professor of pediatrics and communicable diseases at the U-M Medical School and lead author of the study. "There is a lot of discussion about obesity prevention for children. That's certainly important, but it's not the whole story. Because so many children are already obese, there need to be greater efforts focused on treatment if we're going to have success," she said in a news release.
Rates of childhood obesity in the U.S. are much higher for minority children, with 20 percent of black and Mexican-American children affected, compared with just 15 percent for white children. Because the burden of obesity is already so high, prevention strategies alone will not help the task force reach its goal, the study concludes.
Financial barriers to treatment are largely to blame for the disparity. "Only ten states cover obesity-related nutritional and behavioral therapy offered through programs like Medicaid," the release noted. But there is a glimmer of hope, according to Lee. "The Health Care Reform Bill passed in 2010 may play an important role for providing coverage for obese children, as it will require new health plans to cover obesity screening and counseling for children," she says.
Popular in the Community