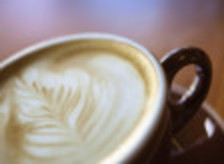 Do you love your morning latte or milk in your cereal? Did your mother ever tell you to drink your milk so you can grow to be big and strong? It seems milk may not be as healthy as we were taught to believe. The controversy about milk's health benefits keeps growing as more and more health experts speak out about the dangers of cow's milk. But never fear, there are non-dairy alternatives that allow you to continue to enjoy your daily latte.
One health expert, Dr. Mark Hyman, author of books like Blood Sugar Solution and UltraSimple Diet, says, "Dairy contains some very allergenic proteins, such as casein, which can be problematic for many people. And to make matters worse, the casein that's in our modern dairy -- sourced from modern, hybridized cows -- has been genetically altered, creating a much higher likelihood of inflammation, autoimmune disease, and even Type 1 diabetes."
Another health expert, Dr. Joel Fuhrman, who authored Eat to Live and The End of Dieting has said, "cow's milk is the perfect food for the rapidly growing calf, but foods that promote rapid growth promote cancer."
I wanted to learn more about this controversy, which is why I decided to sit down with Tatiana Barrera, author of the book No Milk Please and owner of Natural Tatiana, a health and wellness company helping women eat healthy without sacrificing taste and enjoyment. She has been featured on CNN en Español, Telemundo and is a regular writer for Wall-Street.com. She, like her mentors, is of the belief that there are a number of issues with dairy consumption that may affect numerous people. It is not only about those who are lactose intolerant; a high percentage of us lack the ability to produce the enzyme lactase needed to process and breakdown lactose, even if we have never been diagnosed with a lactose intolerance per se. She is very clear in her book that everyone's body is different and that there is not a "one size fits all" eating plan but rather a bio-individual approach. With that said, milk that our ancestors drank was raw, unpasteurized, and from cows that roamed freely, received sunshine regularly, and ate grass that was not treated with fertilizers. There was no 1 percent, 2 percent or skim milk. Most of the milk produced today are from cows that are confined to tight quarters, fed hormones and antibiotics, and die early from over milking. In the early 1970s, a hypothesis was developed by Dr. Kurt A. Oster. In short, he believed that when homogenization became the standard practice in the US back in the 1930s and 1940s it was also during this same period that the incidence of atherosclerosis heart disease began to climb. He theorized that homogenization of milk increased the biological availability of xanthine oxidase (XO), an enzyme that has the capacity to oxidize or change plasmalogen, "a substantial part of the membranes surrounding the heart muscle cells and the cells that make up the walls of arteries."
Have you been experiencing a little depression, mild mood swings or feeling pain in the body? Mild depression was something that I suffered from regularly until I removed dairy products from my diet. When I ingest dairy, a day or two later, I begin to suffer depression again. Why? Because when your body does not have the enzymes to process the lactose, the undigested particles travel through our intestines into our blood stream. The body sees these undigested particles as foreign invaders and sends an immune response in the form of inflammation. It is the body protecting itself.

We've all seen the ads that tout milk is healthy and we should sport milk mustaches. Most people drink milk for the protein, calcium and the satiety that it provides. But there are many other foods that have protein, calcium and provides satiety, such as spinach, kale, nuts to name a few. These foods are more alkaline than acidic. What does that mean? Foods such as milk, meats, processed foods, and sugar change the pH in our body and cause acidity. Then there are foods like lemons, fruits and vegetables that can make us more alkaline. When we are taking in a higher ratio of acidic to alkalinizing foods, we are at risk for disease to manifest. The school of thought is to take in a 2:1 ratio of alkaline to acidic foods each day to keep disease at bay.
Tatiana believes that it is not to totally quit milk but to consider it as unhealthy as soda. It is "a matter of changing our cultural way of viewing it." She says we may be flexible and not necessarily avoid it 100% but have it in moderation. So what are we to drink in place of cow's milk? She says it is not to replace milk with "milk" but to find an alternative like water. Water is a fantastic beverage alternative as it is best for growing healthy cells. With all the other beverages we consume that are either caffeinated or laden with sugar, we are often dehydrating our bodies and not replenishing the much needed water in our cells. Water is needed for brain health, organs, skin, hair, and to flush out toxins. But if you still want to enjoy your favorite latte or foods sans dairy, you may consider alternative "milks." There are a number of alternative "milk" options readily available in your local supermarket and health food stores such as soy, almond, coconut, hemp, and rice milks. As always, make sure it free of genetically-modified organisms (GMO) and some thickening agents. Making your own is super easy. Visit tastingwellness.com for quick and easy nut "milk" recipe.
Remember, it is not to totally eliminate milk from our diets but rather understand that milk should be consumed in moderation. For some, totally eliminating milk may reduce pain and depression and produce greater happiness.
Related