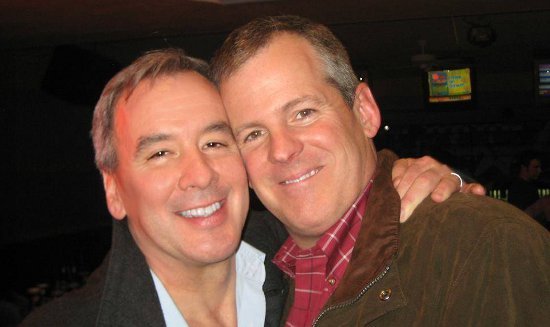 On a Wednesday night seven years ago my wife and I drove our gold mini-van in silence through the center of town and pulled into a Wal-Mart parking lot. After I parked the car, she turned to me, hesitated for a moment and then spit out a question. "I just have to ask you this. Are you gay?" I watched a family of four get out of their car, grab each other's hands, fade into the dark and then briefly reappear under a circle of light cast from a parking lot lamp.
"I don't want to be," I said.
It was one of the truest statements I had uttered in 22 years of marriage. I don't want to be gay. I don't want to tear my family apart. I don't want to go to hell. I don't want my family and friends to disown me. All of my "Don't wants" were laid out like the wooden planks of a bridge behind me and I watched them catch fire from the spark of that five-word sentence and crash in a terrific blaze. It was horrifying and exhilarating and devastating. But at the end of all those "don't wants" was a big Want. I want to love and be loved, body and soul.
I was born in the 1960s in one of the most intolerant states in America, North Carolina. Being gay was not an option. It was a mental illness listed right there in the American Psychiatric Association's DSM II until 1974. I married a woman, had two children and suppressed what I was told was unhealthy.
Maybe you are one of those statistics too. Maybe you cruise the Internet late at night searching for images of men having sex with men. Maybe you self-medicate with prescription drugs and alcohol attempting to numb that part of yourself. Maybe you and your wife have not had sex in over a year. Maybe you think that you can survive for the rest of your life hiding just a part of yourself, without realizing that what you hide is more than that. Because the closet doesn't contain just your arms or legs, or body, it claims everything, including your soul. Maybe your wife is searching the Internet right now typing in the search term "Is my husband gay?"
After I admitted that I didn't want to be gay I became another statistic referenced in the New York Times article. I became an openly gay man living in one of the most tolerant regions in America, New England. Here is what became of my "Don't Wants." Yes, my marriage fell apart, but after that I married a wonderful man and we merged our two families. I didn't lose any friends or family. The hell I was living in was self-made. Waking up next to the man I love, body and soul, is heaven on Earth.
It is never too late to open the closet door and breathe for the first time.
Last night, my husband and I drove our car through the middle of town and parked in front of MaineStreet, a local gay friendly club in this small corner of Maine. We took each other's hand and walked across the street in the dark and then into the warm holiday lights of the bar. Inside most of the residents of Ogunquit gathered with plates of cupcakes, cheese and other homemade items to share, each of us carrying a toy to donate to a needy child. Families, gay and straight hugged and kissed each other. Children ran to meet Santa as the gay men's choir sang carols.
There is a saying here in Maine, The way life should be. It was a long road from one side of the closet door to the other. Last night, my husband Paul turned to me and asked "Are you happy to be here?"
And I replied "There is no other place I would want to be."
Popular in the Community