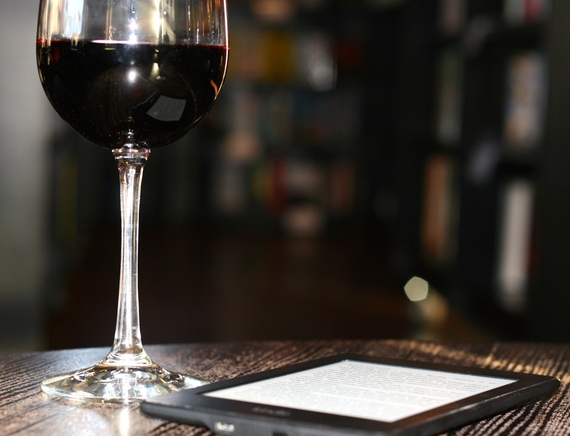 I took a long time to get on board with the whole Kindle thing but once I did, I was all in. Yet I love my neighborhood bookstore (they serve wine!) and I try to patronize them as much as possible. It only recently occurred to me, as I sat there reading, glass of Malbec in hand, that it might be a little obnoxious that I'm reading a Kindle in a bookstore. Is that rude? Hypocritical? Should I rethink my Kindle habit if I want my community bookstore to stay in business?
Books are what first led me to Denver. I came in 1999 to attend University of Denver's Publishing Institute. I eagerly anticipated my first visit to the nationally renowned Tattered Cover Bookstore, where I would eventually spend hours browsing the aisles.
Later I worked as a book editor and then a book publicist. I was so excited to be a part of this world. Long after You've Got Mail was relegated to minor cable channels, I watched it again and again, wanting Kathleen Kelley's life -- not for the Meg Ryan-Tom Hanks romance, but for the romance of owning my own little bookstore.
I tell you this so you understand a bit about how deep my love for books and bookstores runs. I fought the idea of an e-reader at first. I loved the feel of a book in my hand, and I couldn't understand the desire to read on an electronic device. It just didn't seem nearly as enjoyable or relaxing.
Then about five years ago my husband bought me a Kindle. I was curious but hesitant. I downloaded my very first book. Perhaps if I had begun with a book that was not quite so addictive, I would not have fallen quite so hard. But, I had begun my Kindle experience with The Hunger Games. I devoured the entire trilogy over the next few days, immediately downloading the next book upon finishing one. It was incredibly compulsive and I couldn't stop myself. It felt almost magical to immediately get my hands on the next book from the comfort of my home.
As a kid I remember one summer I spent reading nearly a book a day. Upon finishing one book, I'd ride my bike up to the local bookstore to trade it in and get the next one in the series. (Confession: I was reading Sweet Valley High.) I remember how I couldn't wait to get my hands on the next book, and how glad I was that it was only a 15-minute bike ride away. My 12-year-old self might have never left home that summer if I had a Kindle.
And that's part of the problem for me. I love the local bookstore as a community gathering place. I love the vibrancy it brings to our neighborhood and greater community.
For a while this didn't even occur to me. Perhaps naively, I regularly visited my bookstore with my Kindle. I loved reading there, surrounded by books and other book lovers, sipping the glass of wine they graciously served me. Only later did I wonder if that was rude, like bringing food from another restaurant into your favorite cafe? Was I cheating on my bookstore and flaunting it in their face?
My embracing of e-reading has also coincided with my desire to pare down our home. For years I had carted boxes of books to each new home, proudly displaying them on my shelves. They reflected who I was, where I'd been, literally and figuratively: the well-worn literary fiction from undergrad, the sociological books that took me through graduate school, the travel books that preceded trips both taken and not taken, the parenting books that guided me through that next big adventure. These books reflected the multi-facets of my life -- to get rid of them seemed painful. I started slowly at first but I finally packed up and donated all but a careful selection of beloved texts. The house felt lighter and so did I.
I liked that lightness, carrying the equivalent of a library with the weight of only a single book. My purchases of actual books are carefully considered now, less mindless. Most of the books I buy are children's books. I simply can't imagine giving kids an electronic device to read. Children require that tactile exploration, and I love coming across my preschooler sitting in a pile of books. But what kind of example am I setting? Does he even get that I am reading a book when he sees me with my Kindle?
And, perhaps more importantly, if other book lovers also succumb to the e-reading experience, what will happen to our beloved bookstores? The independent bookstores I regularly patronize do so much more than sell books. Tattered Cover holds readings with some of my favorite nationally acclaimed authors; BookBar with local ones who I want to learn more about. Second Star to the Right holds weekly kids' yoga classes. All of them offer regular children's story times.
These bookstores all add so much more than books to our community, as well as to my own personal quality of life. I want to continue to have access to the awesome contributions that they make to our community. So, despite the fact that I continue to patronize my favorite bookstores, I am somewhat troubled by my e-reader use.
How do I reconcile this? I can only conclude that shopping locally, like much of life, is not black and white. I will continue to try to balance my enjoyment of the benefits of an e-reader with my delight and conscious decision to continually patronize my beloved local bookstores. I hope others do the same so that the bookstores will continue to thrive in our community. Otherwise my Kindle and I might have to start drinking wine at home alone, and that just won't feel the same.
Heather Garbo is a Denver-based mama of two with a love for all things local. Her blog, www.denverdweller.com, provides inspiration for better local living, including resources to live and shop local as well as build stronger neighborhood community.
Related
Popular in the Community