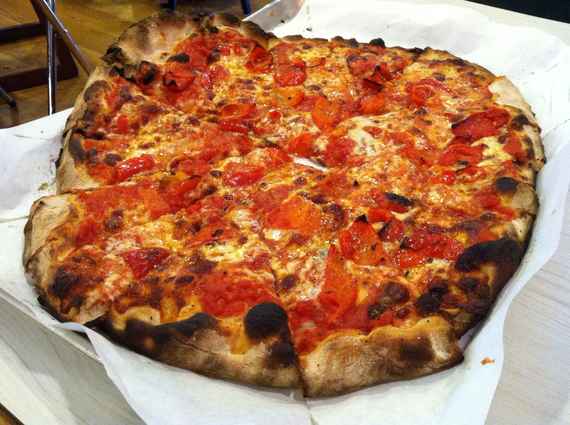 CREDIT: Flickr/Joe Hall
In a country filled with large cities constantly warring over whose pizza is superior, a smaller town's claim can sometimes get overlooked. That would be the case for New Haven, except for the fact that they already know they have the best pizza in the country -- and they don't need to publicize that fact. For generations, a pizza culture that rivals those of Chicago and New York has been developing on the sleepy Southern Connecticut coast. It's got its own legends, language, and style, and it's quietly become the dependable powerhouse of the American pizza mythos. Plus, Frank Sinatra liked it.
Here's what you need to know about New Haven "apizza," as told to us by several impassioned New Havenites and pizza expert Tony Gemignani.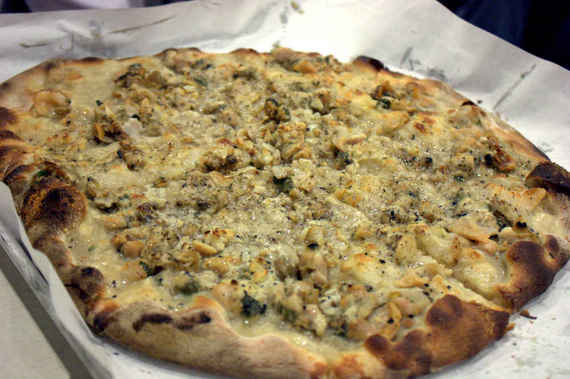 CREDIT: Flickr/Krista
Wait, what the hell is "apizza"?
You might've noticed that New Haven pizza's got its own name -- apizza. It's pronounced "ah-beets", and it's derived from the Italian dialect of the Neapolitan immigrants who first settled there. Since the people making the pizzas were from the area around Naples, the pizza tends to skew toward the stylings of the original Italian pizzaiolos.
That means coal-fired or coal-powered ovens (though most places have adopted less carbonic methods like gas and wood), a thin crust, lots and lots of char, tangy tomato sauce, and NOT NECESSARILY cheese. That's right. They're crazy.


CREDIT: Frank Pepe Pizzeria Napoletana
Some History
It all started back in 1925, when Frank Pepe, originally of Maiori, Italy, founded his signature pizzeria, Frank Pepe Pizzeria Napoletana, on Wooster Street in New Haven. This establishment came after years of hardship for the young man, who previously had taken jobs in factories and macaroni manufacturing (no joke), before deciding to start a delivery business selling "tomato pies", which are a type of pizza made with spongy dough, tomato sauce, and a light sprinkling of Romano cheese.
Pepe soon abandoned the delivery business and decided to start his own joint in 1925, eventually taking over his former bakery employer's building in 1937 and opening what is known today as the precursor of all New Haven-style pizzerias. From there, he sold tomato pies and other types of pizza that eventually incorporated other cheeses, like mozzarella, presumably attracting droves of young mutant ninja turtles.
Pepe's family flourished in the new business, and his nephew, Salvatore Consiglio -- having learned the craft of pizza-making from his relatives -- soon decided to branch off from Pepe's to open his own pizzeria: Sally's Apizza, which makes Neapolitan-style pizzas just like Pepe's. It was the shot heard 'round the world and launched what is assuredly one of the biggest rivalries in the food world today. US presidents have even been divided on which joint makes the better pie.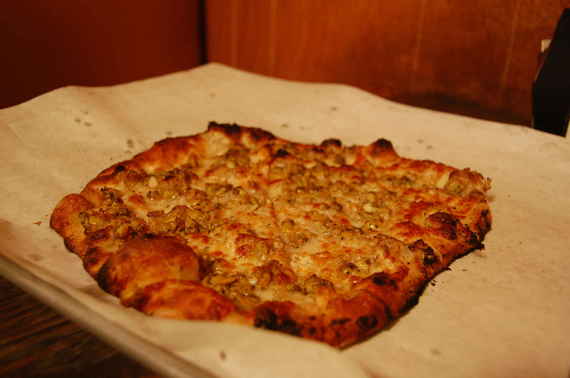 CREDIT: Flickr/Stu_Spivack
From there, the world of New Haven-style pizza grew to include a slew of other pizzerias attempting to emulate what Frank Pepe created back in 1925. Some succeeded, some didn't.
Related