Hordes of young people flock to New York every day with dreams of bohemian glory, where fledgling artists spend late nights drinking, exchanging ideas, making love, making mistakes and even making good art along the way. The city is thick with the ghosts of artistic and literary giants of days past ... but is New York still the legendary culture capital it once was?
Last night I attended a public forum at the Public Theater, and saw critics and artists discuss creative gains and losses in New York. The conversation was spurred by the upcoming release of the musical "The February House," which revives the intellectual bohemian Brooklyn abode of poet W.H. Auden, novelist Carson McCullers, composer Benjamin Britten and burlesque entertainer Gypsy Rose Lee. The question on the table was: do these accidental pockets of creative genius still happen today, just as they did in the 1940s?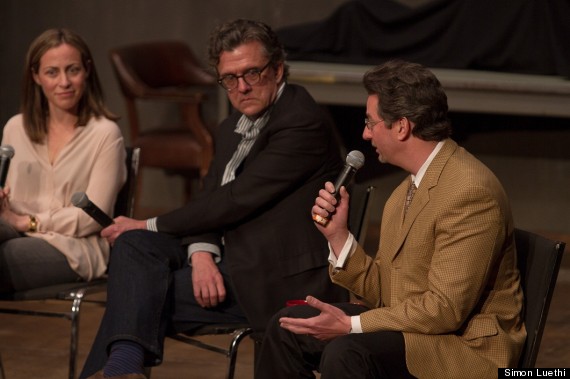 New York Magazine's Amy Larocca, Kurt Andersen, and Justin Davidson at Monday night's Public Forum The Culture Capital: Is New York City Still a Home For Artists? at The Public Theater. Photo Credit: Simon Luethi.
When asked if New York was the art capital in the 1960s the result was a unanimous "yes," so what changed? The most convincing reason was a positive one: simply, globalization happened, and the center shifted. While New York used to be the prime destination for outsiders, whether because of ethnicity, sexual preference or a host of other good reasons, this is no longer the case. Also, as Anderson pointed out: "Basic fundamentals of everyday life -- a good newspaper and a good cup of coffee -- are available everywhere." New York was not only a destination of dreamers but a refuge for those who, for some reason or another, didn't feel at home somewhere else. Now there may no longer be as pressing a reason to escape to New York.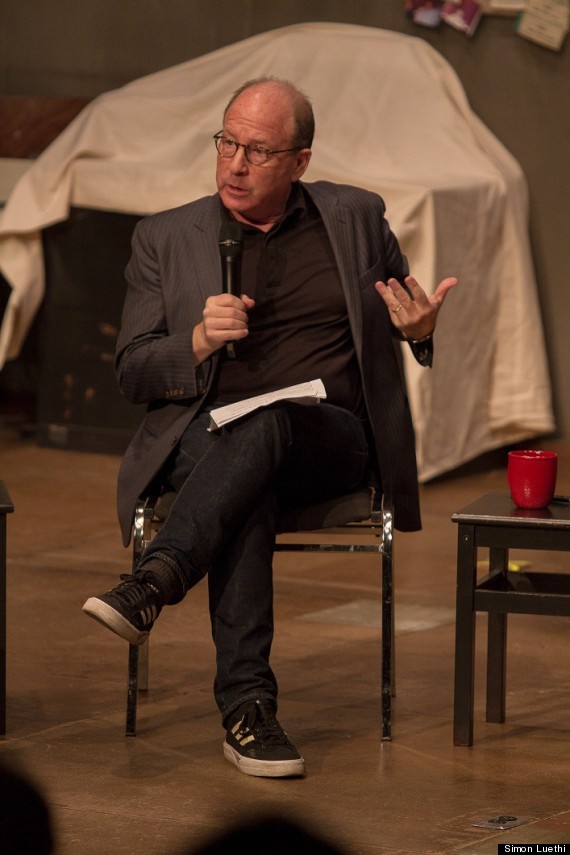 New York Magazine's Jerry Saltz at Monday night's Public Forum The Culture Capital: Is New York City Still a Home For Artists? at The Public Theater. Photo Credit: Simon Luethi.
And yet, as many of the panelists later attested to, creative types often head to New York without questioning it; they feel the need in their bones. There was discussion of cross-pollination, where clusters of creative types fed off each other like vampires through nights of boozy, bohemian mischief. (Bushwick and Bed-Stuy were brought up as the loci of this sinspiration fantasy.) Yet to me, the idea that Brooklyn is the place where poor kids get drunk and make things seemed hugely naive. There were art-warehouses aplenty when I lived in Oakland which, I've been told, has the highest rate of artists-per-capita. So what does New York have that these other these cities do not? Saltz called it the need to "return to the cave," to have access to both museums and revamped garages, to see as many Modernist paintings as you saw experimental performance pieces.
Even the architecture of New York boasts the illogical proximity of high and low. As embodied by the dichotomy of the all-equalizing subway and the polarizing spread of real estate, there is a constantly shifting energy that is hard to find elsewhere. Fashion guru Larocca added that you are "always in public," running into people, scrutinizing yourself, curating yourself and finding inspiration.
This was the main point that thrust New York above Los Angeles, the only other city to be referenced. Although LA is incredibly diverse, without the scrunched up infrastructure "you never see anybody who isn't exactly like you... ever," in Andersen's words. As a Los Angeles native I feel compelled to parry with this conversation between two NY to LA creative giants, HuffPost Arts founding editor Kimberly Brooks and MOCA director Jeffrey Deitch, in which Deitch says "Los Angeles has undergone a transformation not unlike the Italian Renaissance." While LA always recognizes NY as a powerhouse, NY mostly forgets about LA, which may be to its detriment.
What stood out to me, as a recent New York transplant, was the way New York was mythologized and talked about as this cultural beast. Much of the magic that may or may not make New York a cultural capital seems to be fictional. There is the illogical lure, the refusal to acknowledge anywhere else, the naive camaraderie between the established Manhattan critic and the starving artist in Bushwick who may be a genius, or not. And yet this mythological whole was palpable in the room. When lore of Rauschenberg walking up to De Kooning's apartment there was a collective, giddy sense of pride. The myth of New York's glory yields real results.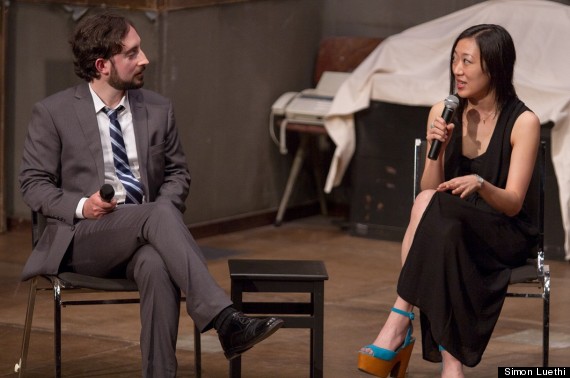 The Director of The Public Forum Jeremy McCarter and Young Jean Lee at Monday night's Public Forum The Culture Capital: Is New York City Still a Home For Artists? at The Public Theater. Photo Credit: Simon Luethi.
Next came the artists. The group consisted of young composer Gabriel Kahane, visual and video artist Kalup Linzy, writer/director Young Jean Lee and Brooklyn-based novelist and story writer Emma Straub. The discussion was led by Jeremy McCarter, the director of the Public Forum. The artists, all remarkably established in their fields, went around and told stories about why and how they moved, how they make money and if they would ever leave New York. (Which later turned to whether they would leave Brooklyn, where they all lived.) Their world, it seemed, was not so far from the artsy heyday in which impromptu parties had guest lists that would make us weep. Their friends were artists, they went to parties ... whether or not their future drunken Facebook photos would be hailed as relics of the oughties art scene remains to be seen.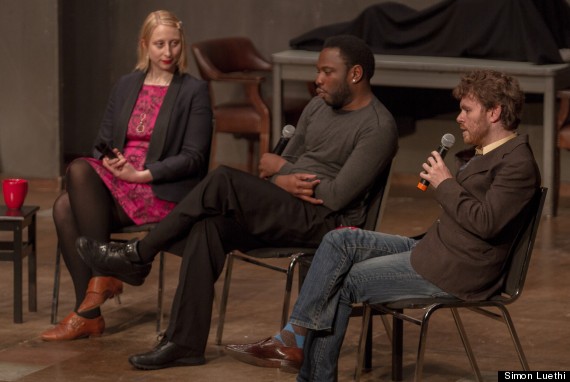 Emma Straub, Kalup Linzy, and Gabriel Kahane at Monday night's Public Forum The Culture Capital: Is New York City Still a Home For Artists? at The Public Theater. Photo Credit: Simon Luethi.

The crew as a whole seemed pretty lovestruck over New York and were extremely hesitant, if at all open, to the possibility of living elsewhere. Straub said: "I don't really believe that people live everywhere else." The question on my mind was: is New York a generous lover? My generation is still packing up and heading to New York for some reason or other, but does hard work and talent really pay off here? Is New York as good to its artists as its artists are to it?
It certainly worked out for Saltz who, in what was perhaps the quote of the evening, proclaimed, "I have no degrees! I was a long distance truck driver! I was just a loser like you."
Calling all HuffPost superfans!
Sign up for membership to become a founding member and help shape HuffPost's next chapter