In that it's getting trendy, yeah. In that mixologists are using it in cocktails, yeah. In that health-related claims are being made about it, yeah -- albeit not the same claims. With kombucha it's all about the probiotics and alleged antibacterial and anti-inflammatory properties. With nut milk it's about the protein, non-dairiness, fiber and fatty acids. In that store-bought versions of both are costly, yeah. In that kombucha costs pennies to make at home but homemade nut milk costs as much as nuts do, no. Pale. Thickish. Nut milk: Get used to it.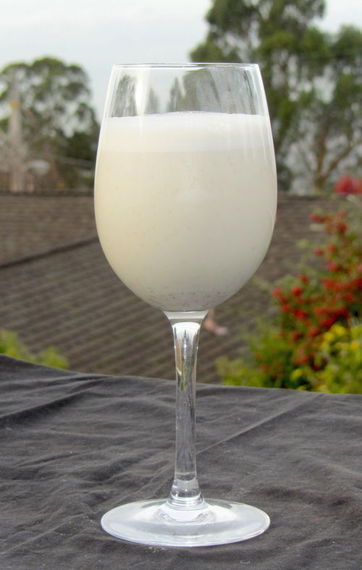 Nut milk (along with beef tongue, sea beans, edible tree parts and more) made the Andrew Freeman & Co.'s 2014 Trends Report, which was released on November 7 and is one of the food-and-drink industry's most looked-for lists.
"We are seeing an increased prevalence of nut milks in restaurants as chefs are using them to give certain nuanced flavors to dishes and desserts," AFCo's Andrew Freeman told me when I asked how nut milks made the list. "Likewise, they can be made in-house and are a great example of chefs getting creative in the kitchen. With the growing debate about GMOs, we are also seeing coffee shops shifting toward almond milk as a substitute for soy milk. Nut milks have a different texture and creaminess that add real depth of flavor."
How to make your own? Soak nuts in water to cover for at least an hour. Drain off the water. Place soaked nuts into a blender with new, fresh water: How much depends on desired thickness, but the basic ratio is three parts water, one part nuts. Add sweetener or not. Blend at low speed until smooth. Drink at once or refrigerate. I made some walnut milk, just now. That's its picture, up top. It has a silky texture and a serenely rich flavor that I suspect would be good in "cream" pies, puddings, shakes and soups. Then again, I also love half-and-half.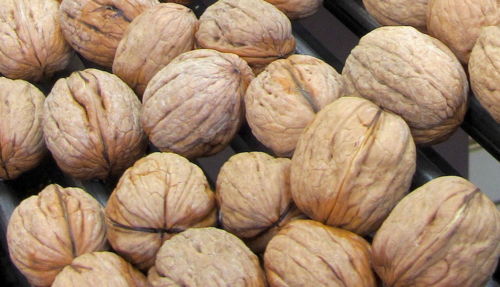 Peanut milk isn't included in this article because peanuts are not technically nuts. They're beans. Pecan milk goes into the pecan-bourbon bread pudding at Seattle's Sazerac. Almond-milk-almond-liqueur granita is served at New York City's 83 1/2. Almond milk also goes into the suckling-pig sauce at New York City's Louro, and almond-milk ice cream accompanies pie at Portland's Departure. Almond milk tops quinoa at Portland's Three Degrees. Café Gratitude in Venice, CA serves cashew-milk ice cream. At San Francisco's Perbacco, chef-owner Staffan Terje uses almond milk in a vegan panna cotta. H. Joseph Ehrmann, proprietor of San Francisco's Elixir Bar, devised a nut-milk eggnog (see recipe below) which he uses in the dairy-free version of his all-organic Añogo eggnog cocktail: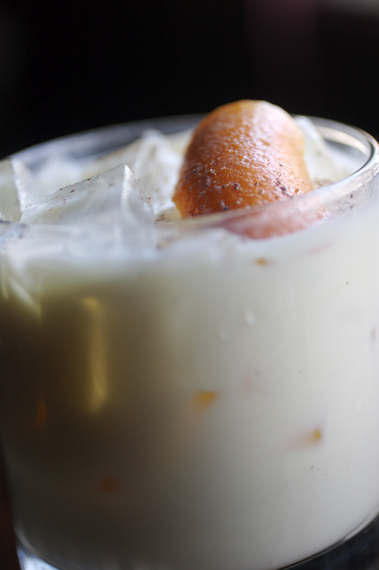 While watching walnuts being harvested in California's Central Valley this fall, I met TV Nework chef and Keys to the Kitchen author Aida Mollenkamp. She gave me her recipe for walnut-date-cinnamon smoothies, which she says are a constant favorite in her home kitchen. Nut milks are also a key element in another rising trend: juice cleanses. San Francisco's Thrive Cleanse includes almond- and cashew-milk concoctions in its program. San Francisco now even has its own nut-milk delivery service.
"Any time we have the opportunity to connect with and create our food using nature's simplest ingredients, we are contributing to our health and that of the planet," says holistic health coach and raw food chef Katie McDonald, who strongly recommends making milks from nuts (including almonds, walnuts, cashews, Brazils, hazelnuts, macadamias and pecans) -- or their less costly cousins, seeds (such as hemp, flax, pumpkin, sesame and sunflower) -- at home rather than using store-bought.
"Each nut and seed brings a unique nutritional gift," McDonald says.
"Compare homemade nut milk's ingredients -- water and nuts -- to the eight or so ingredients listed in unsweetened store-bought varieties. Homemade nut milk has ingredients you can pronounce and trace back to nature. Less hands, less machinery, less packaging equate to higher nourishment at all levels."
Want it lower-calorie? Blend in more water. Want it sweet? "Add pure vanilla extract or a vanilla bean instead of the 'other natural flavors' of unknown origin added to store-bought versions," McDonald says. "Handcrafted nut milk can include a whole food such as dates, orange, pineapple or unsulphured dried fruit" rather than the sugar that is typically listed second among store-bought nut milks' ingredients.
"The simple act of making your own milk brings you into your kitchen and back to your commitment to your health."
Now it makes you super-trendy, too.
H. Joseph Ehrmann's Organic Almond-Milk Eggnog
4 organic egg yolks
1/3 cup organic sugar
1 ⁄ 2 cup of almond butter whisked into 24 oz. unsweetened almond milk
1 teaspoon freshly grated nutmeg
4 organic egg whites
In the bowl of a stand mixer, beat the egg yolks until they lighten in color. Gradually add the 1/3 cup sugar and continue to beat until it is completely dissolved. Add the almond mixture and nutmeg and stir to combine. Refrigerate.
Añogo cocktail image courtesy of H. Joseph Ehrmann. Walnut image by Anneli Rufus. Walnut milk in wineglass image is by Kristan Lawson. All images used with permission.