What business owner doesn't ask themselves the following questions about any new technology:
Does my current technology do the same thing?
What's the learning curve?
How much does it cost?
Do I need it?
As marketing automation continues to grow, it's important to not to jump into buying a new service just because it's new. Dave Chaffey, from Smart Insights, says that "marketing automation is one of the biggest trends for businesses this year, following content marketing and big data." But there are too many apps, platforms, gadgets and now trends that promise to help you succeed.
To take your business to the next level.
As business owners, we should never buy stuff just because it has some shiny new feature. How many times have you bought a must-have product or service for your business and either lost money or never achieved the promised results?
So the real question should always be: Will this help me reach my business goals?
What is Marketing Automation?
Marketing automation refers to software that allows businesses to set up a customized workflow for their marketing efforts. Instead of blindly sending out sales info, you can create a unique sales funnel for each potential customer based on their actions. For example, a special offer would be sent the next day (or within a few hours if you wanted) if your customer didn't open a specific email.
In a nutshell, marketing automation allows you to design campaigns that gently lead customers to your checkout through a wide variety of ways, not just one traditional sales funnel. You set up the system and the system works as a marketing manager for each customer.
This article will walk you through the decision-making process to determine if marketing automation is right for your business.
Current Vs. New Technology
Does my current technology do the same thing?
Email marketing has come a long way over the past few years. And as emails still one of the most important aspects of online marketing, it's a base feature for marketing automation. Here're a few common marketing automation features that go far beyond simple email marketing:
Landing page builder
Auto responder
Webinar tool
Cart abandonment
Shopping cart integration
Some eCommerce platforms offer cart abandonment support for an extra fee. You may already be paying for a landing page builder and a webinar tool, plus your existing email service.
Answer: Unless you're already using an all-in-one tool, your current technology does not do the same thing.
Tech Savvy But Not a Wizard
What's the learning curve?
One of the biggest issues with new technology and software is learning how to use it. Sure, it seems simple in all the promo's but you can never figure out how to use it with calling support. Twice.
The majority of marketing automation platforms are easy to use. For example, GetResponse has an easy to use drag and drop platform that any tech savvy person can use. You can create a workflow for your campaign like the one below. You simply drag over the element based on the customer's action. Did they open this email? Yes sends them one way, and no sends them another.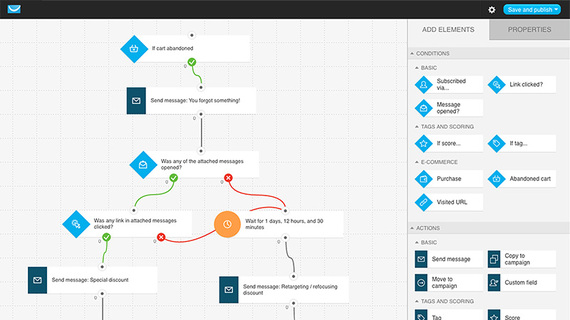 Answer: You don't need to be a tech wizard to figure out how to build your own campaign. Just choose a service with a simple interface.
The Ouch Factor
This is the bottom line for many businesses, especially those on the smaller size. Before we get into exactly how much marketing automation costs, it's important to figure out what you're already paying for.
How much do you currently pay monthly for things like:
Email service
Landing page creation/hosting
eCommerce email support (if different)
Webinar tools
Answer: You can find reliable marketing automation for as little as $75 per month for up to 10k contacts. Depending on what you may save by combining your online marketing into an all-in-one tool, you may actually save money!
The Bottom Line
Everything I've already said about marketing automation software is good information. Yet, that's not really what you need to know. Instead, you need to know what this kind of system could do for your business.
As a data junkie, I want to know the real bottom line. I don't want sales pitches, I want data. Here're a few interesting stats from Salesforce that can help to see marketing automation's potential:
Nurtured leads produce, on average, a 20% increase in sales opportunities versus non-nurtured leads. (DemandGen Report)
61% of B2B marketers send all leads directly to sales; however, only 27% of those leads will be qualified. (MarketingSherpa)
Businesses that use marketing automation to nurture prospects experience a 451% increase in qualified leads. (The Annuitas Group)
By 2020, customers will manage 85% of their relationships without talking to a human. (Gartner Research)
Marketing automation drives a 14.5% increase in sales productivity and a 12.2% reduction in marketing overhead. (Nucleus Research)
This information tells us a few things. One of the most important is that qualified leads are one the most essential element of the sales process. And if the majority of business communication will be done through technology (no personal contact), then we need to set up systems that support that trend.
The bottom line is that marketing automation can capture essential qualified leads, increase your profits, and decrease overall marketing costs. Instead of scoffing at yet another new marketing system or amazing software platform, marketing automation is definitely a trend you should jump into sooner rather than later.
Popular in the Community