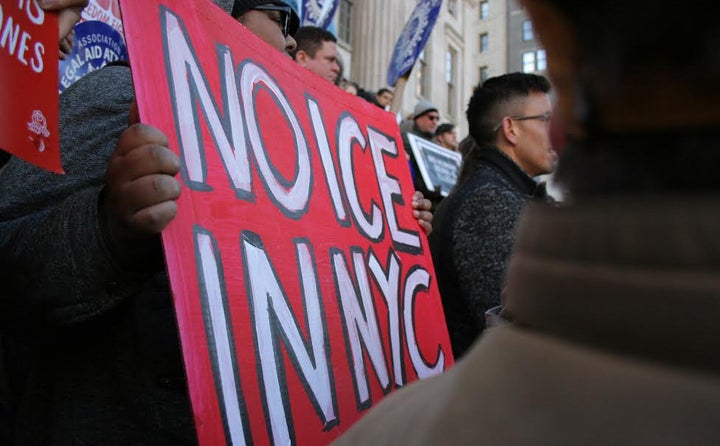 By Leigh Ross, Program Associate, Promising Futures, The New York Community Trust
New York and other so-called sanctuary cities have been both celebrated and vilified for their efforts to limit cooperation between local law enforcement and immigration agents. But the term "sanctuary city" is misleading; for the immigrants that live and work in these cities, the threat of detention and deportation is very real.
New York's courthouses have seen a 900 percent increase in arrests and attempted arrests by Immigration and Customs Enforcement (ICE) since last January, according to a report by Immigrant Defense Project. And advocates say New Yorkers should also be ready for a spike in I-9 audits by the Department of Homeland Security, which can force immigrants out of work with little or no notice, despite years of service. (Forms I-9, officially called "Employment Eligibility Verifications," are used to verify that paid employees are legally permitted to work in the United States.)
A few weeks ago, The New York Community Trust's Fund for New Citizens invited a group of local funders to talk about the recent uptick in federal immigration enforcement. We were joined by a panel of experts that included Mizue Aizeki, deputy director, Immigrant Defense Project; Daniel Gross, founder and executive director, Brandworkers; and McGregor Smyth, executive director, New York Lawyers for the Public Interest. Veyom Bahl of Robin Hood moderated.
ICE raids and workplace audits have caused tremendous fear in the City's immigrant communities, the panelists agreed. The collateral effects of this fear, they said, have been devastating to the well-being of immigrants and their families. Parents are reluctant to accompany children to school or meet with teachers. Sick people are staying away from doctors' offices and postponing treatments. Domestic abuse and human trafficking survivors are discouraged from seeking legal protections.
According to Aizeki, "people are quite reasonably afraid." Since the change of administration in Washington last winter, ICE officers have demonstrated a willingness to go after easy and vulnerable targets—including for instance, people appearing in traffic or family court.
Moreover, they are known to use ruses when—as is often the case—they lack straightforward legal access to the immigrants they are targeting. For example, she said, "to enter one's home, they will lie and say that your car has been broken into or you are the victim of identity theft, and then when you open your door to them they will arrest you."
In the face of such an aggressive adversary, immigrants' options can seem limited. But knowledge is power.
Immigrants who are at risk should have a clear understanding of their legal rights. That's why Immigrant Defense Project and Brandworkers are training people to identify and respond to possible threats, and New York Lawyers for the Public Interest has worked with nonprofit partners and pro bono law firms to publish a guide to how nonprofits can comply with the law while also protecting immigrant employees and clients. Also, as outlined in a recent report from Vera Institute of Justice, affordable legal representation can make a big difference for those who are detained or involved in deportation proceedings.
There are also good opportunities for advocacy and community organizing. Immigrant Defense Project is among several groups working to get ICE out of New York State's court system. And with help from organizers at Brandworkers, immigrant workers who lost jobs after an I-9 audit at Tom Cat Bakery, in Queens, are campaigning for immediate notice of future audits and fair severance pay. They also want to make sure that the company will not permit ICE to enter its facilities without a warrant.
New York Lawyers for the Public Interest and other advocates are also working to secure health care coverage for immigrants who formerly had legal status under the Deferred Action for Childhood Arrivals or Temporary Protected Status programs, and tackle the growing human rights crisis of abysmal healthcare in immigration detention.
And how can funders help?
First, they can provide rapid-response funding to meet critical needs, panelists said. (The Trust's Liberty Fund is a good example.) They should think carefully before asking grantees to track and report the immigration status of participants or clients. They should also recognize the importance of grassroots community groups in serving local immigrants. And perhaps most crucially, they should understand that this kind of upheaval has to be met with sustained effort. In McGregor Smyth's words, "base building is challenging because these are years-long enterprises—but we know that we can't win without it."
A collaborative effort of 12 foundations, The Trust's Fund for New Citizens supports advocacy for policies that benefit the City's immigrants, capacity building for the immigrant-led groups that anchor this advocacy, and affordable immigration legal services. It also provides opportunities for foundations to learn about current immigration issues and coordinate funding to reach immigrant communities more effectively. The Fund for New Citizens is one of six funder collaboratives housed at The Trust.
Popular in the Community