I am not here to shame you, but I will not feed you a pack of lies.

In people of color, those in the third world and intravenous drug users, and also in the gay population, the prevalence of HIV, the virus that causes AIDS, continues to rise.

Misconceptions about HIV/AIDS are all over the place.

The younger generations think that HIV/AIDS is something of the past. That is very unfortunate, because it is their demographic that is seeing the highest rise in new infections.

Worldwide, over 34 million people are living with the virus.

More than a million people live with it here in the U.S. and of those, nearly one in 7, or around 168,000 people, do not know they are carrying the virus.

Sometimes it is good to look to the past, so we can learn from it. I did so through the eyes of several doctors who cared for patients with the virus before it had a name.

At the dawn of the 1980s, hospitals in New York, San Francisco, Los Angeles and Miami began to see a strange new disease.

Patients, mostly men, were being diagnosed with very unusual infections and cancers.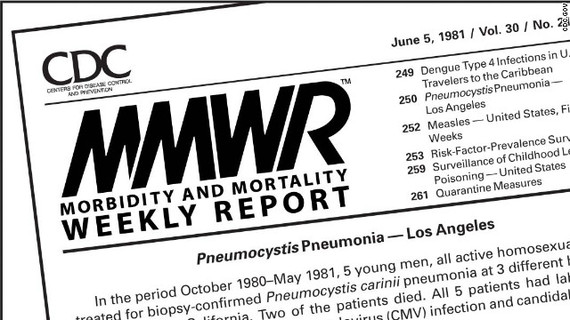 The first mention of HIV appeared in the CDC's Morbidity and Mortality Weekly Report on June 5, 1981.
The year I was born, my adoptive mother, Elaine Feraru, graduated from George Washington University School of Medicine in Washington, D.C., and began her medical Internship at Albert Einstein College of Medicine in the Bronx, New York.

Dr. Feraru worked with the infectious disease professors and fellows at Montefiore Medical Center who first studied these surprising new cases.

One of the fellows was a woman named Cathy who had first trained as an oncologist, but found the specialty depressing because most of her patients died. She switched to infectious diseases, thinking she would be able to cure people. Her husband, also a physician, joked that since she changed specialties, some terrible virus would come along that would kill everyone.

That was 1980. The AIDS epidemic burst on the scene a couple of years later.

Shortly after, in 1981, Dr. Anthony Fauci, who is now head of the National Institute of Allergy and Infectious Diseases (NIAID) was a young doctor at the NIH conducting research on infectious diseases and the immune system.

Fauci recalls beginning research on HIV/AIDS almost immediately after it was first recognized in the United States.
In the summer of 1981 two reports were published in the Morbidity and Mortality Weekly Report that described the initial five, and then 26 more, cases in the U.S. of a rare pneumonia -- sometimes occurring together with an unusual cancer -- in previously healthy young gay men. After reading these reports, I knew they presaged a significant new disease.
Fauci knew the medical cases he was seeing were significant enough that they deserved his immediate attention, but at the time many of his colleagues disagreed.

"Against the advice of some of my advisors and peers, in 1981 I decided to completely shift the research in my laboratory to focus on this puzzling new syndrome," Fauci revealed.

Fauci's intuition was correct, and since that time HIV/AIDS, has taken 30 to 42 million lives worldwide. That equals the entire population of the New York, Los Angeles and Miami metropolitan areas combined; the sheer numbers are staggering.

Feraru recalled the hopelessness of caring for people, young men and some women, who should have otherwise been healthy.

"People were very sick. Because we had no idea what was causing these illnesses most providers were trying to treat the AIDS related illnesses before we knew what it was," says Dr. Feraru.

According to Feraru there were many misconceptions about how one contracted the virus. In the early days, she says, "universal precautions" or protecting oneself from contagions in blood and bodily fluids, assuming anyone could be a carrier, was not commonplace.

Feraru said that while most medical professionals stuck with it and treated the sick, others choose not to.
To make matters worse, many in the LGBT community were not treated with compassion and kindness by the medical establishment. In some cases doctors, surgeons and dentists refused to care for those with HIV/AIDS.

Recognizing the LGBT community's need for care in the face of such a horrific and misunderstood epidemic, Dr. Paul E. Keith III founded The Keith Medical Group, Inc, a Family Practice -- HIV Medicine/AIDS group in Los Angeles. Dr. Keith was one of the most respected professionals in the field, and Keith Medical was regarded as one of the most innovative and trusted names in HIV/AIDS treatment in Los Angeles.
It was there that a young Medical Doctor, Emanuel Lim, who now heads the practice, renamed LimKeith Medical Group after Dr. Keith succumbed to an AIDS-related illness himself, dove headfirst into caring for the sickest during the height of the HIV/AIDS crisis.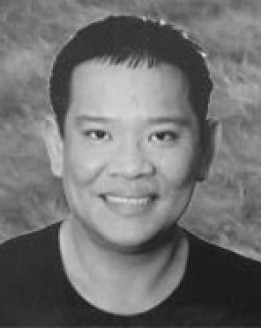 Dr. Emmanuel Lim
Dr. Lim recalls the constraints physicians had when dealing with HIV/AIDS during its infancy.

It was a time when we had very limited resources to treat HIV/AIDS patients. We were surrounded with so much disease and a great challenge. I did not want to be a regular primary care doctor.

I wanted to be a doctor for the gay community and its problems; after all, this is my community, my friends and my family.
Lim thinks that treating HIV/AIDS for three decades has been the most challenging, difficult and also the most rewarding specialty in medicine.

It is a specialty that deals with the whole person. It involves not only the comprehensive evaluation and treatment of multiple medical problems in a patient, but also involves a very deep personal involvement with every patient.
Never before had anything other than bigotry and hate centered in on the gay community with such fervor, in such a personally horrifying way.
Week after week it seemed like someone else was dying, Feraru says, these people were our friends, family members, colleagues, partners and lovers.

Lim agreed with Feraru saying:
All interactions with our patients were intense. Medical, social and patient personal issues were all part of it. We also dealt with the family, friends, confidants and enemies of our patients.
In the 1980s and part of the 1990s, treatment was limited. Lim remembers specific cases of patients fighting for their lives and his giving his all to keep them alive. Much like a war zone, many died during the early years.

Although infectious disease doctors are the lowest paid in the medical establishment and were the very people working day in and out trying to find a way to defeat the dreaded disease, they are so often forgotten.

The same goes for the epidemic.

Through time, intense efforts to find a cure, millions dead and over 50 thousand newly infected each year in the United States alone, the faces of HIV/AIDS has shifted a lot in the Western world.

Advances in medicine for those who receive treatment means that fewer people are dying after contracting the virus and more people are living with it.
Since HIV was identified as the causative agent of AIDS in the early 1980s, the most significant advance in treating HIV-infected individuals has been the translation of basic research findings into the development of more than 30 drugs, now used in combinations of three or four, that have transformed HIV infection from a near-certain death sentence to a manageable medical condition.

He pointed out that a young person in the United States today who is diagnosed relatively early in the course of infection, and receives appropriate treatment, can expect to live a near normal lifespan.

"Millions of years of life have been saved by the advances made in HIV/AIDS treatments," says Fauci.

Lim echoed Fauci's assertion on pharmaceutical treatment saving lives, but warns that taking current antiretroviral medications, the pharmaceuticals that keep HIV from completely damaging the immune system, and living with the virus, is not without problems or concerns.

We should, however, remember that the treatments we have now are not without side effects or problems. We still need to find less toxic, more effective, more simplified and affordable alternative pharmaceutical regimens.
Living with HIV is a costly endeavor; necessary blood tests cost several thousands of dollars, and medications cost several more thousands a month.

But people are surviving now, at least the ones being treated.

Therein lies the problem, says Gustavo Morán, advocacy director of the Impulse Group South Florida, a nonprofit organization that focuses on the sexual and overall health of the gay community in South Florida.

I believe HIV rates continue to rise in the MSM demographic, where they have fallen everywhere else, because of the lack of conversations about status, HIV, testing and safety precautions gay men are having before having unprotected anal sex.
As author Paul Monette, who lost two partners to HIV/AIDS before dying from the disease himself, wrote in his memoir On Borrowed Time, "It will be recorded that the dead in the first decade of the calamity died of our indifference."
Unfortunately, it is no longer about apathy toward the virus; it is about complete lack of concern. Without shaming our population, there are a long list of STI and STDS that continue to plague our community.

Looking forward to the future for HIV/AIDS and the people who are living with the dreaded virus, Fauci says there is a multifaceted horizon that cannot be fixed by medication alone.

The development of highly effective antiretroviral therapy for HIV infection has been a remarkable achievement, but even in a developed country, such as the United States, only approximately 25 percent of people who have HIV are both aware of their infection and are receiving treatment and medical care that enables them to achieve an undetectable viral load. In this regard, we need to do much better.
Currently the NIH is exploring new approaches to getting more people tested and diagnosed early, and put on treatment and into ongoing care. Many believe that getting early treatment is conducive to stopping HIV's spread.

"Studies have shown, not only does suppressing the virus benefit the infected individual, it markedly lowers the chances that the infected individual will pass on the virus to others, "Fauci said.

As for the future, hopefully there will soon be lower cost therapies that have fewer side effects, or an outright cure.

Until researchers come up with a cure, we must take care of our health and that of the people we love. With so many negative factors working against LGBT rights and livelihood, it is up to us to change the things we can.
Our health should be front and center, and our sexual practices must reflect the risks: you may be young, but as history teaches, you most certainly are not invincible.
REAL LIFE. REAL NEWS. REAL VOICES.
Help us tell more of the stories that matter from voices that too often remain unheard.