Is overexercising or high stress preventing you from losing weight?
Pressure shows up in different ways: Emotional – not accepting our body and wanting to change too much, too fast. Not trusting ourselves – Consistently thinking about slimming down, the food we must, or we must not eat and our training. Excess – over-dieting and over-exercising is another way we tense up.
"No pain, no gain" or the "more is better" approach does not work for most women.
Because it is too much strain on the body—our fight or flight response kicks in and all our effort to look better goes down the drain. When we are overwhelmed, we crave food which, because of the stress, is stored as fat. Have you ever felt this unavoidable need to eat when you are stressed? Have you ever done intense training without seeing results? Stress can affect our bodies in many different ways. I know how frustrating this can feel because I've made the same mistake myself.
The only way to get thinner without going through this struggle is by doing it calmly and with inner peace. The other interesting fact is that energetically, weight loss is a process of letting go. When we are tense, we are holding on tightly! So the more anxious you are about the process, the more you will be holding onto that unwanted fat.
And even if you end up slimmer, it will be painful getting there!
Instead, think about getting in shape as getting lighter in body, mind, and spirit, so a more balanced approach will help you succeed without gaining it all back.
How to lower stress for weight loss?
When a client comes to me, my number one focus is to help them become more relaxed. An intense training session will have different effects depending on whether the person is calm or stressed. Not all training sessions need to be vigorous. It is critical to check in with yourself about how you feel!
How much did you sleep?
How hectic was your day?
What feels right? Long walk? Quick strength training? Slower movements? Low impact? High impact?
Do you need to learn more about stress management?
How to handle your emotions?
Calm your mind? Breathing?
Do you exercise with joy or tension?
Do you love yourself or your body?If not, how do you expect it to love you back?
If you want your workout to support your weight loss goals, it is important to answer these questions.
My advice to you is to take it easy! Trust yourself and learn to RELAX. Do what feels right. Take the pressure off yourself and your body and don't pursue trendy intense training if they don't fit your needs and your goals or your lifestyle.
Incorporating breathing exercises and meditation to calm your mind along with your nervous and glandular system will help put you more in touch with yourself.
I offer two classes to help you balance your mind and body, and lower your stress levels.  You can read more about the classes on my website or email me if you have any questions.
I would love to hear from you, your experience or challenges!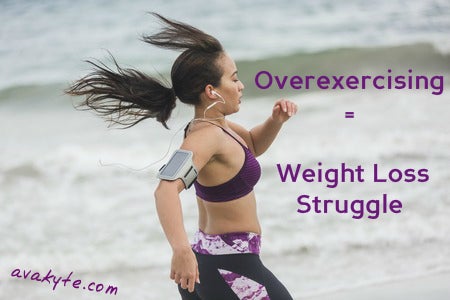 REAL LIFE. REAL NEWS. REAL VOICES.
Help us tell more of the stories that matter from voices that too often remain unheard.
This post was published on the now-closed HuffPost Contributor platform. Contributors control their own work and posted freely to our site. If you need to flag this entry as abusive,
send us an email
.