Having arrived in Santiago, we realized that we were an hour and one half bus ride to the up and coming retirement hillside retreat, Santa Fe. We purchased bus tickets and entered rural Panama, penetrating fertile land where farmers toil the land and life goes on as it has for many years excluding technological upgrades. As we reached the spread out town "center," the driver pointed downhill when I inquired about the whereabouts of Hotel Santa Fe, a budget option that sounded more appealing than the bare bones accommodation alternatives. We hauled our luggage and fatigued bones downhill, passing sparsely populated rural farmland with mountains such as Cerro Tute evident in the background. Hotel Santa Fe was basic but pleasant, clean and comfortable.
While we relaxed before dinner, an unexpected knock rapped our door. When I answered, two friendly faces greeted us, stating that they heard English spoken, and came by to invite us to dinner. Climbing the steep hill toward central Santa Fe, we arrived to the basic but affordable and tasty restaurant Popular; local Panamanian food such as stewed chicken served with a side of rice, beans and salad cost $3.25usd per person. Full and satisfied, we returned to our hotel armed with rum and mixers. I broke out my deck of cards and taught our new friends Alex and Behr how to play a card game. Enjoying each other's company, we agreed to go hiking together in the morning to Bermejo Waterfall, a four hour hike round trip.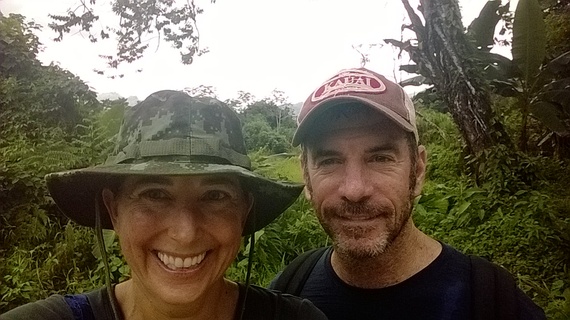 We ascended and descended steep paved road, passing a few inns, orchid gardens and organic farms until we reached an inner tube rental place situated on the river. The setting was beautiful with lush dense forests and jungle surrounding us. Immersing ourselves in the cool fresh water felt pleasant after the hot hike. We agreed to continue onward to the waterfall and then return to the tube rental place to literally float back to our hotel; the plan was foiled when we got lost amongst the rural hills, relying on the friendly locals to assist us in our return to Santa Fe.
That evening at our hotel was spent relaxing, reading, and writing. I spoke with one of the managers who informed me that we could rent a house for only $100.00 per month. I calculated how cheap one could survive in this town and had placed it at the top of my recommendation list for foreign retirees. The town was attractive with friendly locals and the restaurants served up tasty and cheap food. Affordable accommodation would not be an issue and the attractive surrounding mountains dotted with waterfalls amidst the green fertile forests and jungle seemed a no brainer.
However, something occurred that night that led to cross Santa Fe off my list. What could it have been? Chitras! I am referring to a sand fly that cannot be seen but they left all of us with marks across our entire arms, legs, and portions of our torsos. The bites were dreadfully itchy and uncomfortable. I figured we were attacked being new in town but noticed some locals also had notable bite-marks across their arms. Unfortunately, the bugs make Santa Fe an unpleasant place to retire even though it has benefits and merit for those interested in quiet countryside living. To avoid more bug attacks, we packed our bags early the following morning and departed to determine if Boquete, an extremely popular locale for expatriates to retire, would suit us as well.
REAL LIFE. REAL NEWS. REAL VOICES.
Help us tell more of the stories that matter from voices that too often remain unheard.