The next morning we departed early, fleeing the dreaded chitras of Santa Fe. We itched to the point of being uncomfortable and even miserable at times. We hoped the beach at Las Lajas would not only be absent of chitras, but also a beautiful beach spot. Unfortunately, our plans were ruined as heavy rains pummeled the pavement as our bus pulled up to the turnoff for Las Lajas. We deemed it prudent to continue on to David and then change buses for Boquete, a well-known retirement retreat ever since it received rave reviews in an article written in 2003 as one of the top four places to retire. Arriving in David, an unattractive city situated on the main road leading to Costa Rica, we caught a local bus -- literally a school bus -- after we purchased snacks at the bus terminal, since we had not eaten since breakfast.
Pulling into Boquete, we experienced a chill for the first time in Panama. I put on my jacket and we walked in the drizzling rain to our hostel of choice. Due to the coming holiday culminating with El Dia de Patria, the hostel had availability for only one night, so we changed hostels to a mediocre, overpriced pension that thankfully had one room left, as many places were booked solid.
With the accommodation situation resolved, we focused on remediating our chitra bites by applying alcohol on our wounds and ingesting Benzedrine orally to combat the incessant itching over a five-day period.
Boquete town is compact, with a variety of restaurants, bars and tourist-related services. I strolled to the outer reaches of town on two different occasions seeking fresh air and a peaceful natural ambience; the auto exhaust fumes in central Boquete polluted the air, emitting a noxious, malodorous smell like tainted, inferior-quality gas. Removing ourselves from Boquete's downtown, we found refuge near a river with pure-scented air. However, hiking the area was problematic in that the distances to cover on foot were simply too far to take advantage of day hikes and driving to well-known trailheads such as Parque Nacional Volcan Baru or Sendero Los Quetzales were not an option, since we were carless and on a budget.
The 2nd of November was quiet but by late morning on the 3rd, the parade was in full swing, filling the streets around Boquete with children and adolescents who were marching, dancing and playing drums, trumpets and xylophones. An acrobat team constructed man-made structures while marching teams of boys and girls banged drums and twirled batons. Onlookers, both foreigners and Panamanians, lined the streets and the balconies.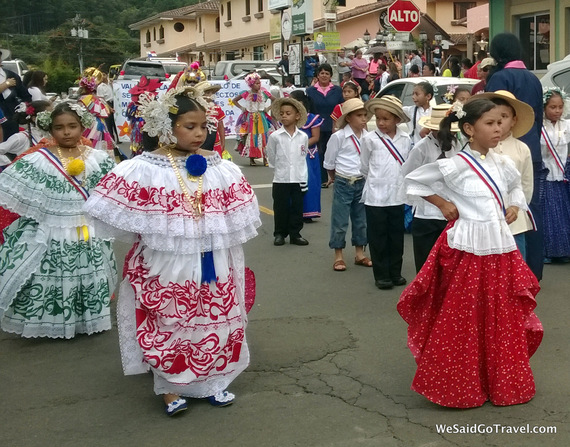 The atmosphere was festive, yet not rowdy or obnoxious. Some girls dressed up wearing traditional polleras while others simply donned their school uniforms. Unfortunately, rain began to fall, first lightly, and later with great force. While we took shelter in a restaurant eating pollo guisado, the parade continued despite the downpour that persisted until the early evening.
Boquete is a pleasant town with a cool rainy climate.
Although I enjoyed our stay and noticed advertisements for three bedroom homes in Alto Boquete renting for $600 per month, I was not tempted to investigate. The central town is bland and even though the countryside is attractive, being isolated could become problematic. Besides, I'm from Los Angeles and the rainy climate was depressing. Even though Boquete would thus far be my top retirement pick in Panama, I am not sure I can wholeheartedly recommend nor endorse this town based on my brief experience. Nonetheless, I was confident that our final stop in Panama, the islands of Bocas del Toro, would bear fruit and we would enjoy the final months of our visas relishing the beaches and peaceful island life.
REAL LIFE. REAL NEWS. REAL VOICES.
Help us tell more of the stories that matter from voices that too often remain unheard.