After all the days of rain and cold, I looked forward to our last stop in Panama, the islands of Bocas del Toro situated north of Boquete near the Costa Rican boarder. Bocas is in fact the main reason we came to Panama in the first place; we met a hula-hoop fire dancer on Koh Samui who raved about Bocas and spent two years living blocks from the beach practicing her craft.
Therefore, I sincerely looked forward to Panama's final chapter on this retirement scouting trip.
When we arrived by bus to the coastal town Almirante, the face of Panama had altered dramatically. Caribbean culture and unfortunately trash-laden streets replaced the Latin ambiance. We boarded a long tail boat toward Bocas de Toro town situated on Isla Colon, a half hour jaunt from the Panamanian coast. A pair of dolphins danced in the clear blue waters along our ships bow. Once on the island, we located our hotel and were greeted by the friendly matriarch; our small room was sufficient until we found something more long-term. The hotel's communal deck overlooked serene waters and anchored vessels. Since Chiquita Banana Corporation originally constructed Bocas at the turn of the 19th century the architecture was typical single story wooden dwellings painted in a variety of colorful hues.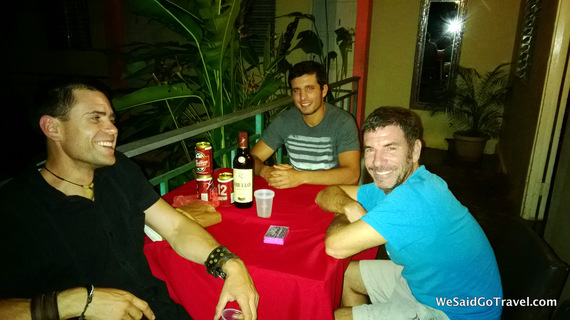 We roamed around touristy Bocas as night fell. It was strange that the town was not built on or even near any beaches. In fact, the nearest decent beach without sand flies was a forty-five minute bike ride from town. Under the sweltering sun, this prospect was unappealing.
Completely famished, we investigated eating options. We soon realized that there were two principle options: touristy expensive dishes such as burgers and pizza or cheaper local options that were generally deep-fried. Healthy cuisine was limited. A local chicken shack was extremely busy, so much so that after waiting in line for 30 minutes, the line had not yet budged. We left to investigate other food options but pricey dishes, the ambience or the quality of the food itself led us back to the chicken shack. There was still a line and some of the same people that we left behind were still queued up. Finally at the front of the line, we ordered chicken breast and deep-fried plantain and returned to our hotel to dine on the water view deck. The chicken and fried plantain were very greasy, leaving us unsatisfied.
Bocas quickly turned into a disappointment. I missed the Latin vibe and healthier food choices. However, what led us to depart the following morning was that we couldn't imagine retiring to an island whose beaches were far afield with potentially dangerous tidal conditions making for hazardous swimming. In addition, the poor food options and local people who seemed indifferent after mingling with amiable people from the Peninsula Azuero were also factors that brought us down. Even though it was accurate that apartments could be rented starting at $300 usd per month, we departed Bocas and the country of Panama to Costa Rica much sooner than we had originally anticipated.
In the end, is Panama a recommended retirement destination? Based on our on the ground research, WSGT cannot endorse Panama for retirement purposes. That said, we enjoyed the hospitable people and relatively low cost of living. There are places of natural beauty with flowing waterfalls, hot springs and adequate beaches. Remnants of colonial architecture exist such as restored sections of Casco Antiguo in Panama City and Pedasi town. WSGT firmly believes that Panama is a destination worth exploring but as far as retirement is concerned we will continue our search as we travel abroad.
Related
Popular in the Community