For all of Pokemon Go's popularity, the downside has been numerous server crashes and problems getting on to the app.
The website uses colors to indicate the app's status: Boxes are green when things are working properly, orange is a warning sign, and red tells you that Pokemon Go is freezing or unavailable. 
While the site has a lot of data that might be useful to tech junkies, most of it will fly over the head of an antsy 10-year-old desperately trying to log on before Dad wants his phone back.
Trust me, there are a lot of those.
Check out this screen shot of a sample moment in time.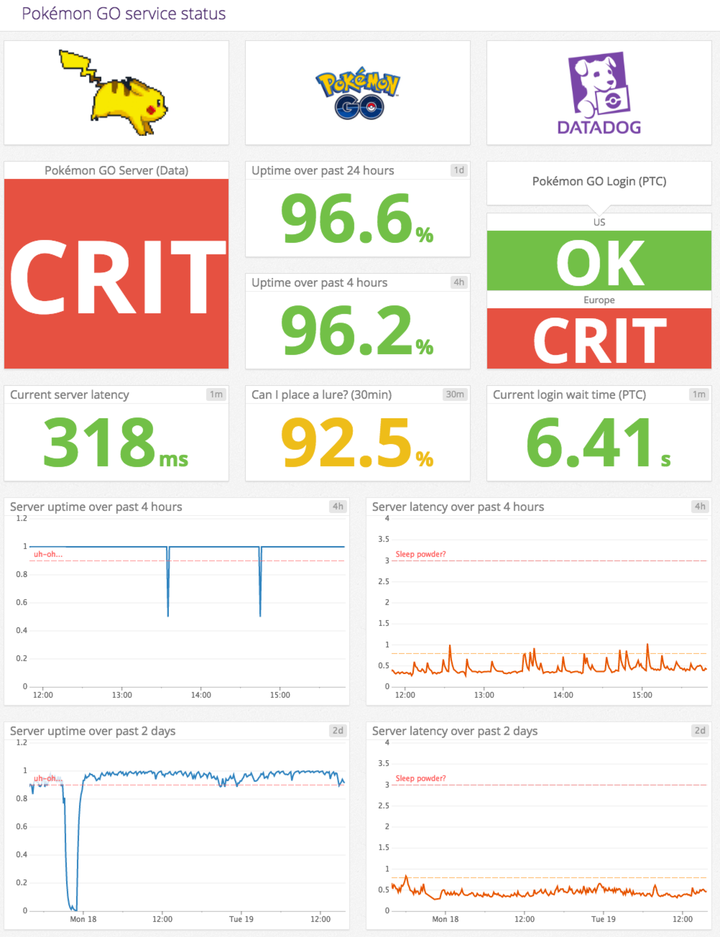 The red box on the top left that says "crit" means there are serious problems with the Pokemon Go servers.
The two red and green boxes on the right show that login times are fine in the U.S. and terrible in Europe. 
Adam LaGreca, a spokeman for Datadog, the company behind IsPokemonGoDownOrNot.com, said the website uses "crit" versus the simple "up" or "down" explanation implied by the URL because Pokemon Go, like life, is not that simple.
"If the page says 'crit,' that means the website might not let you log in the first 12 times, but will on the 13th," he told HuffPost. 
He added that the site can help players figure out the app is crashing because its servers are overloaded or because of a problem on the user's end, like bad Wi-Fi.
And once you've figured out the issue, you can get back to important things ― like trying to capture yet another zubat.
Calling all HuffPost superfans!
Sign up for membership to become a founding member and help shape HuffPost's next chapter
BEFORE YOU GO
PHOTO GALLERY
7 Places Not To Play Pokemon Go