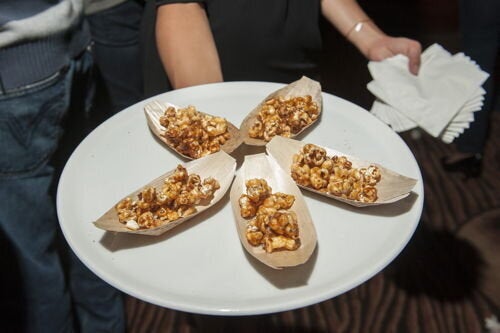 Everyone was wondering what would come after cupcakes in the culinary saga of low-culture-meets-high-culture and kiddie-classics-go-ironic. Sugary cereals made a run for it in such recipes as Cap'n Crunch Chicken and
. But popcorn might have the edge, if San Francisco chefs get their way.
Red-pepper popcorn, caramel-corn ice cream, Negroni caramel corn -- this trend is just getting started, but we're already light years past Jiffy Pop.
"Popcorn lends itself to carrying flavors -- it's more neutral than potato chips, tortilla chips or nuts," says Staffan Terje, chef-owner of Perbacco Ristorante. Last month, he was tasked with devising a bar snack for a Campari-sponsored party:
"When I think of a bar snack, I think of something salty and something a little bit sweet and something I don't need anything else but my hands to eat. A bar snack is not a slider or anything I have to work at."
Caramel corn came to mind.
"Because it was a Campari party, and because Campari is a vital component of the Negroni, which is such a popular drink right now, I wanted to figure out how to make a snack that tastes like a cocktail.
"I thought: Let's add Campari and vermouth to the caramel. Cooking them down reduces the bitter component, but you keep a hint of bitterness and orange in the background."
Negronis also include gin -- "but you can't cook gin," Terje says. "When the alcohol evaporates, so do all the flavors."
Instead of adding actual gin to the recipe, Terje created a gin-spiced sea salt.
"People think of gin as being only juniper-flavored -- but juniper is just its predominant flavor. Some gins include twenty different spices," says Terje, who researched the components of traditional Dutch and English gins.
"Because Holland and England were the seafarers way back when, they brought spices back to Europe from India, Indonesia and Malaysia. Those spices ended up in gin, probably to make a poor distillate become palatable."
And those were the spices -- coriander seed, cardamom, licorice root, cubeb pepper -- that went into the salt that adorns his cocktail-flavored caramel corn, which he now serves at Perbacco and which is depicted below: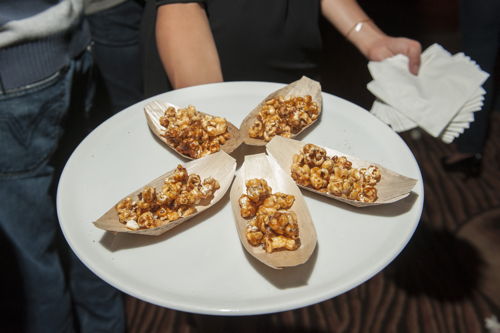 "When you eat it, you get the gin flavor up front, then the other flavors follow," says Terje, who is working with Campari on a possible product launch.
At Baker & Banker, chef-co-owner Lori Baker created a sculptural dessert comprising dark-chocolate fondant with a peanut-butter-and-milk-chocolate center, topped with caramel-corn ice cream which itself is topped with house-made caramel-corn clusters, as depicted below: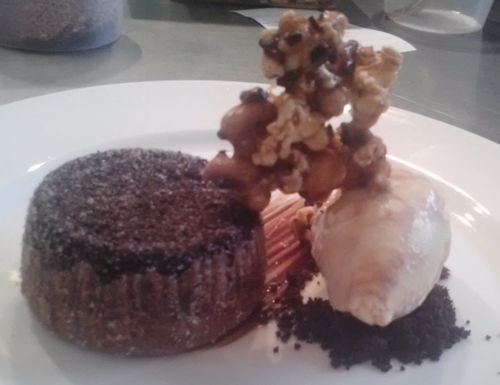 "We make the ice cream by blending fresh corn into the ice cream base and then straining it," Baker explains. "Then we swirl in salted caramel, so it's a smooth ice cream," contrasting with the crunchy caramel corn on top.
Emmanuel Eng of Maverick Restaurant experimented with various grains to see which ones would pop as puffily as corn does. Amaranth expanded okay, but sorghum won out. New this summer, a popular starter at Maverick is Eng's bacon-rosemary sorghum "popcorn."
At Picán: A Taste of the South in nearby Oakland, executive chef Sophie Uong began serving "Cajun Cracker Jacks" this summer. Buttery-sweet and studded with hearty pecans, pistachios and almonds, they pack a capsicum punch -- which makes them perfect companions for the restaurant's signature Southern-style cocktails.
"It took a long time to get the caramel recipe right," Uong explains. "We tried using chocolate, but it was too streaky, so we decided to add cocoa nibs instead."
She kindly shared her recipe. See, you can try this at home -- and it's just the beginning. What's next? Curried popcorn? Triple-cream-cheese popcorn? The only question at this point is: What pops?
Cajun Cracker Jacks

1 stick butter
1 Tbsp. Red Chile Flakes
1/2 tsp. Cayenne Pepper
· Heat above ingredients over medium heat until butter is melted and let sit to allow the spices to bloom.

3/4 cup popping kernels
Canola oil
· Pop kernels and toss out any that are unpopped. Toss popcorn with chile butter and salt to taste. Set aside in large bowl.

1 1/2 cup pecans
1 1/2 cup slivered almonds
Canola oil
· Toss with small amount of oil and salt and toast in 350 degree oven for approximately 7 to 10 minutes or until lightly browned. Distribute evenly over popcorn in bowl.

1/2 cup cocoa nibs
· Disribute evenly over popcorn and nuts in bowl. Set aside.

1 stick of butter
1/4 cup water
1/2 cup Light Corn Syrup
4 cups sugar
1 1/2 tsp. vanilla
1 tsp. baking soda

Combine butter, water, corn syrup, sugar, and vanilla in saucepan and heat over medium heat untilmelted together. Turn up the heat to med/high and using a candy thermometer heat to the hard crack stage. Once that stage is reached, remove from heat and add baking soda making sure to sprinkle evenly over the top, stirin baking soda quickly with handle of wooden spoon. I do it this way because it doesn't splash and does not incorporate any air into the candy. Pour over popcorn mixture in bowl and toss until well coated making sure to break up the clumps. Lay out evenly on lightly oiled or buttered baking sheet and allow to cool.

Comfort Food Freak logo courtesy of Kristan Lawson, used with his permission; popcorn images courtesy of Perbacco and Baker & Banker, used with their permission.
Related