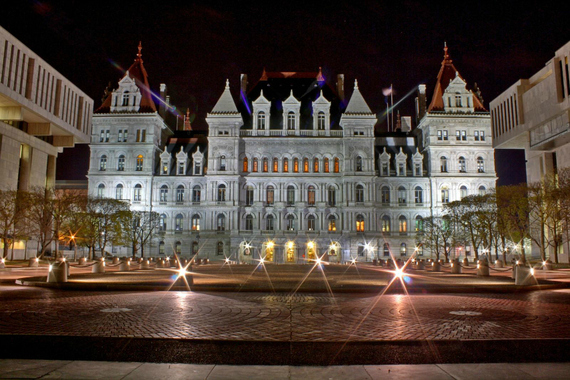 The intersection of lobbyists, political consultants and public relations professionals has been inevitable, given the industry trends. But now with changes New York State is considering, PR pros would be no different from lobbyists in the eyes of the law.
The Joint Commission on Public Ethics (JCOPE), the state agency that regulates lobbying and enforces ethics laws, is considering whether or not to require PR pros to register as lobbyists and report any contact they have with media outlets about public affairs issues. Whether or not a reporter or a spokesperson initiated the contact (phone call, text message, email, etc.), it would need to be logged and reported or PR pros could be subject to hefty fines.
Naturally, this proposal has raised red flags by the PR industry and First Amendment advocates. And it's easy to see why when you realize that even off-the-record conversations with reporters would need to be documented and reported.
This comes in the wake of a scandalous year for New York State politics that has made ethics reform the hot topic at the Capitol in Albany. Those discussions also include requiring political consultants to register as lobbyists.
From Albany to K Street in Washington, DC, the lobbying industry has seen the growth of political consultants that are not subject to the intense oversight that governs lobbyists. These individuals and firms are able to fly under the radar by avoiding the key defining factor that separates consultants from lobbyists: attempting to influence government actions, such as legislation, regulation, budgets or contracts.
Not having to register as a lobbyist certainly has its advantages. Consultants are able to avoid paperwork and disclosure forms that detail clients, fees, issues, meetings and more.
In addition, lobbyists can face restrictions on employment. Governments at all levels, including President Obama's administration, impose limitations or bans on hiring lobbyists for government positions.
Furthermore, government employees leaving to work in the private sector are often restricted from lobbying for a period of time. I know this firsthand, as I was subject to a temporary ban on lobbying after I went from serving as Assemblywoman Donna Lupardo's Chief of Staff to working in PR at Tipping Point Communications.
The scope of PR is wide, but one of the things I enjoy most is helping businesses and nonprofit organizations be better advocates and build relationships with elected officials. Whether it's inviting elected officials to cut the ribbon on a new business or pitching an op-ed by a nonprofit about their cause, these are common occurrences for PR pros.
Unfortunately, it's not hard to see how anyone operating without a leash or a moral compass could run afoul. And most of us would agree that we can do a better job of cleaning up and preventing corruption in government.
But it's also important to remember that numerous scandals, including Watergate, have come to light through whistleblowers and leaks to the press. Afterall, sunlight is the best disinfectant.
As New York weighs changes to lobbying for PR, social media and grassroots advocacy, other states will watch closely. 2016 will be an interesting year for anyone working in PR or public affairs.
REAL LIFE. REAL NEWS. REAL VOICES.
Help us tell more of the stories that matter from voices that too often remain unheard.