Some people still believe prefabricated homes are synonymous with boxy and ugly housing. But nothing could be further from the truth.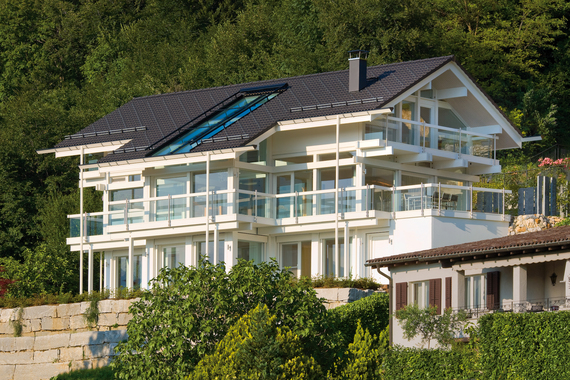 The Lugano House in Carabbia-Lugano, Switzerland was built by HUF HAUS. It's an intricately designed house, built with prefabricated post and beam and a panelized system. Photo courtesy of Lothar Reherman.
Factory-built houses date back to the early 1900s. Companies such as Alladdin Homes and Sears Roebuck sold homes through their catalogues. The parts were all precut "kit houses" built in the factory and shipped to the site. Though some people still think of these factory-built houses as very modest, since they were purchased through catalogues and were inexpensive at the time, many are still standing and look quite good.
Early modular houses were also inexpensive and tended to look very plain in appearance - they were considered by many to be "low-class" housing. But these early houses have little relationship to the modular and other prefab houses built today. Over the last ten to twenty years, technology has developed that has improved the methods and designs available for prefab construction. Architects design many of the prefabricated houses that are built today pushing the limits of prefab construction and sparking an exciting range of innovations. Along with being very energy efficient and using very sustainable materials, prefabricated homes have also become increasingly beautiful and complex. Today prefabricated homes are indistinguishable in appearance from site-built homes - and they are usually much more sustainable.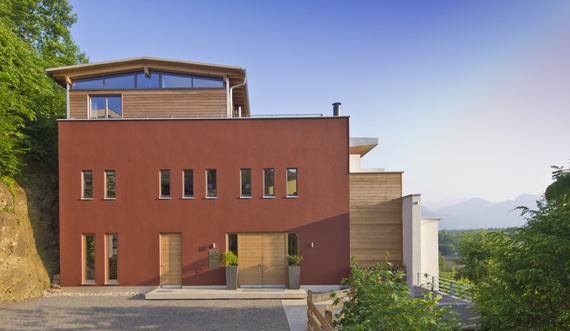 The Cliff House sits on the side of a mountain with an ancient castle above it. The owner chose terra-cotta because it is the same color as one of the walls of the fortress. Trucks carrying the prefabricated parts, had to carefully navigate the very narrow roads up to the site. Baufritz in Germany built the house. Photo courtesy of Michael-Christian Peters.
After seeing some of the cutting-edge prefab designs by talented architects, people often associate prefab only with modern design. However prefab houses are built in every variety of styles - from rural barn design to very traditional colonial styles. Prefabs are city homes, suburban dwellings and rural cottages. The home's size and esthetic are only limited by the owners' imagination.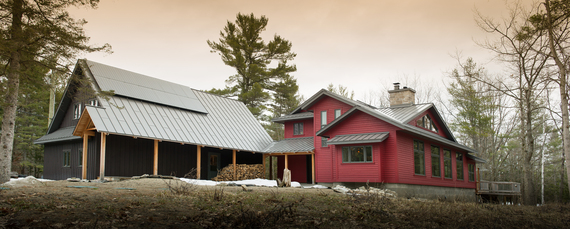 This very efficient LEED Platinum certified house designed by architect Jeff Armstrong, on Morris Island, Canada has a traditional timber frame design. Photo courtesy of Mathiew Girard.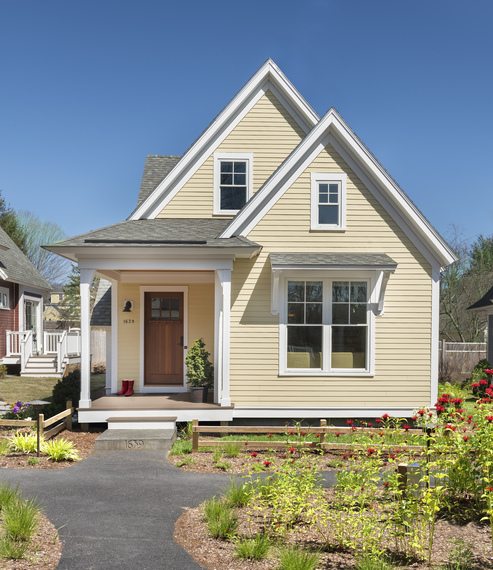 The panelized Concord Riverwalk Cottage is part of a "pocket community" (a cluster of homes around a shared common area) in Massachusetts. It blends seamlessly with the New England esthetic and has a HERS rating of 21 (on a scale of 1 and 100 - with the number closer to 0 - the better). The house was designed by Union Studio Architects. Photo courtesy of Nat Rea.
While researching my recent book, Prefabulous World: Energy-Efficient and Sustainable Homes around the Globe, I found a huge variety of gorgeous houses, and the homes I discovered showcased a wide variety of appealing design features, such as high ceilings, interesting rooflines, and intricate detail.
This beautiful modular home in California demonstrates the interesting rooflines available with prefabricated construction. It was designed by Sagemodern, with the modules built by Irontown Homes. Photo courtesy of Shaun Fenn.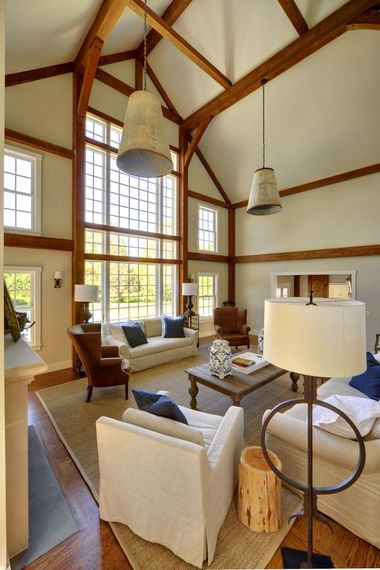 Soaring ceilings can be seen in this traditional timber frame home in East Hampton, New York, built by Yankee Barn Homes.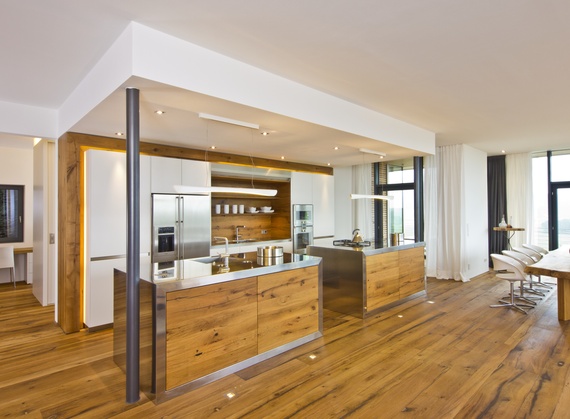 Beautiful design detail is typical of prefabricated houses. This kitchen is in the Cliff House built by Baufritz and located in Bavaria, Germany. Photo courtesy of Michael-Christian Peters
I also found houses in every setting imaginable. Many homes were in urban areas, for instance, an extraordinary townhouse in central Amsterdam, Netherlands, and a creatively designed home built on a brownfield in London, England, in an area that would have typically never been considered for development. Other homes were built as escapes from busy city life. There is a charming retreat in Yerres, France, just outside the city, an elegant house in in the wine country of South Africa and a seaside escape a traditional "kiwi bach" (pronounced batch) in New Zealand .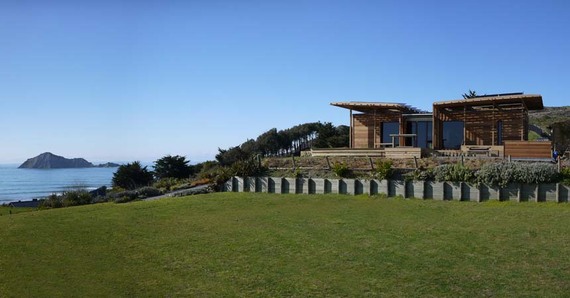 The First Light House was first designed as an entry in the 2011 Solar Decathlon event in Washington, DC by students at Victoria University at wellington. The house now sits in the resort area of Hawke's Bay, New Zealand. (Photo courtesy of Benjamin Jagersma)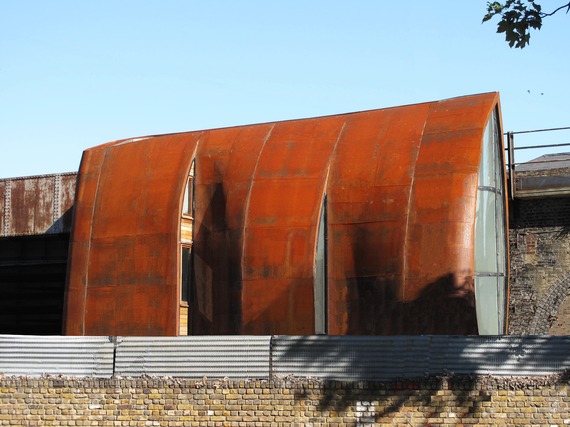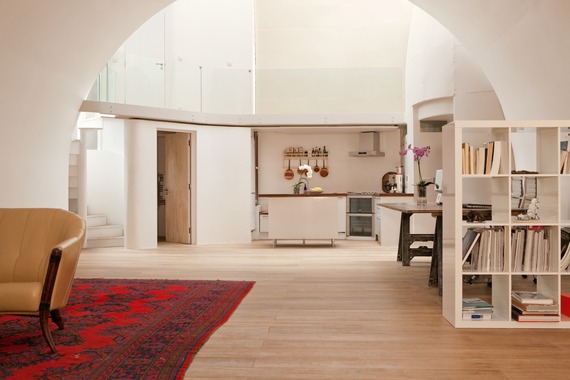 Archway Studios was built as a live/work structure by architect Didier Ryan in a brownfield in order to help revitalize an area of London that would otherwise by underutilized. The home was designed and built to accommodate this very narrow and noisy location. Photo courtesy of Candice Lake.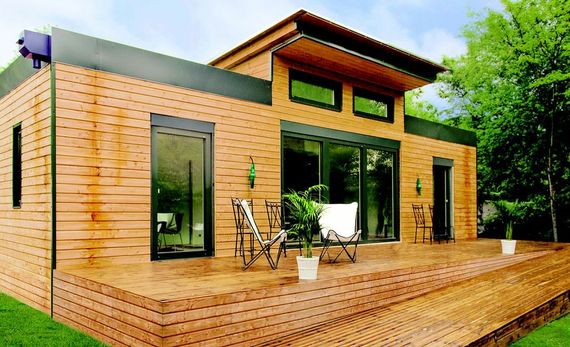 The owner of this small (1030 square foot) house in Yerres France says he uses the house to get away from the fast pace in Paris. This Passihaus (still under evaluation) is light filled and extremely efficient. The structural insulated panels (SIPs) were manufactured in the United States and the structure was assembled by ECOXIA in France. (Photo courtesy of Mandibule)
The few homes described here just scratch the surface of the incredible examples of prefabricated home design. But all of these houses are beautiful and reveal that prefabrication methods of construction offer an endless variety of design possibilities, creating homes that are indistinguishable from dwellings created by other forms of construction.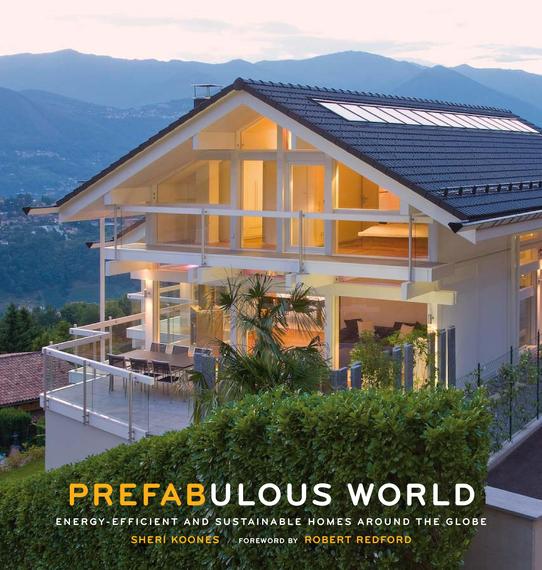 All of the photos in this article appear in the recently released Prefabulous World: Energy-Efficient and Sustainable Homes around the Globe.
Related