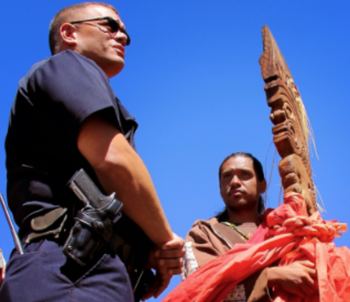 Natives ask, "Why Threaten the Ground We Stand on to Reach for the Stars?" In late March, Kanaka Maoli warriors representing several islands in the Hawaiian Islands, along with a diverse group of supporters, formed a blockade at 9,000 feet above sea level against a proposed $1.4 billion Thirty Meter Telescope on Mauna Kea. The peaceful protest escalated in early April, with 31 protectors arrested at the site of the blockade.
The issues surrounding this blockade raise important questions for all of humanity. The clash between science, culture and state has the potential to yield positive results; if we have the courage to delve into this important matter. In many ways it represents everything that is good and bad about humanity, symbolizing our struggles with each other and ourselves, representing our need to find balance, to learn respect, to allow for all perspectives to be valid. Most of all, we are being beckoned to consider the impact of our pursuit of 'progress' on the fragile eco-systems that sustain all life, and develop a vision that allows for science and the sacred to work together harmoniously.
Forty years ago, the people of Hawai'i agreed to share two of our highest and most sacred summits with a small community of UH astronomers - on the promise of protection and stewardship of fragile alpine habitats, endemic native species, and sacred cultural landscapes. The footprint of roads, buildings, parking, and ever-larger telescope complexes - has grown each decade, while natural and cultural resources have been irreplaceably lost, descecrated and destroyed.
- KAHEA, The Hawaiian Environmental Alliance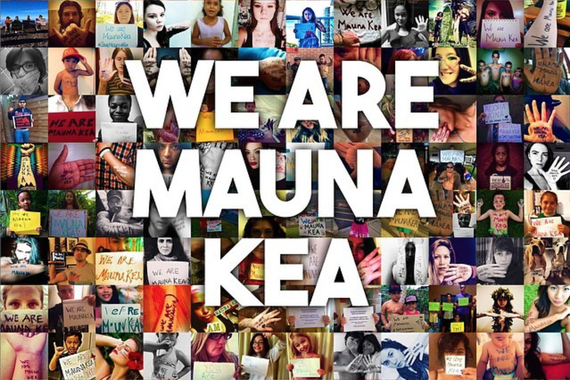 With the help of the legal system, scientists and developers are claiming authority over a site that has been sacred and central to indigenous Hawaiians for generations. The colonial approach of taking what you want without proper consent or respect does not work and is being challenged across the globe. Academics, developers, and scientists are undermining their own credibility by using financial and legal systems to assert they hold the only valid opinion on the matter. Natural habitat, the watershed, conservation laws, cultural relevance, the illegal occupation of Hawaii and a vision for the future are all being ignored as construction teams prepare to move forward.
Footage from the Mauna Kea blockade
Indigenous beliefs hold the source of life, the land itself, and the waters sacred, they are the protectors of natural cycles. This valuable perspective is continuously diminished to the detriment of us all. Protestors on Mauna Kea are not against science, or the exploration of our cosmos; they are saying that this is not the right place for the telescope. It is time that all of us reach deep into our own heritage and find our own indigenous connection to the land that First Nations people have suffered to preserve.
We don't carry only pain, we carry connection. Whenever we resist or insist in the face of the depredations of developers, corporate predators, government officials, university administrators, or even the general public, we are trying to protect our relationships to our ancestors, our language, our culture, and our ʻāina. But at the same time, we are trying to reawaken and protect their connections as well.

That short-sighted model of 'progress' - that we seem to be standing in the way of - hinges upon all of us, all of Hawaiʻi's people, all of the Pacific's people, all of the world's people losing connection to land, to sea, to other human beings. The less you feel these connections, the easier it is for you to be convinced that unrestricted development is the highest and best use of land.
- from We Live in the Future. Come Join Us by Bryan Kamaoli Kuwada
The support and solidarity for Hawaiians protecting their sacred mountain is coming from around the world. Moveon has launched a petition, and so has change.org. You can also help by making a donation through GoFundMe Sacred Mauna Kea to support those who are camping at high elevations in severe weather to protect the mountain. A great resource for updates and information can also be found at Sacred Mauna Kea's website. Arvol Lookinghorse, 19th Generation Keeper of the White Buffalo Pipe of the Sioux Nation has also released a statement honoring those who are protecting Mauna Kea:
Your prayers and your journey to your Sacred Site of Mauna Kea is not only important to your culture and tradition, but we the Spiritual Leaders and Medicine People know that the Sacred Site is part of all of our lives.
- Arvol Lookinghorse
Prophecies throughout the Americas speak of a time when the Condor (representing earth wisdom & spirituality) will fly with the Eagle (representing technology). We need our spiritual indigenous perspective and we need the gifts of science. Only through mutual respect, and through heart-centered dialogue between keepers of these disciplines, will we be able to harness the power of both for the betterment of our world.
This is an international show of support for our Mauna--our Mother--which resonates with all people concerned with the future of our planet.
- Kamahana Kealoha, a cultural practitioner and an organizer of the protest
Why blockade TMT on Mauna Kea?
In a news conference last week, Governor of Hawaii David Ige announced that TMT construction will be put on hold until April 20 to allow for further dialogue and input from all sides. He made this statement:
We are actively engaged in meaningful discussions and conversations with various stakeholders. We know how sacred Mauna Kea is and also how significant the mountain is for scientific research. The Governor deeply appreciates the importance of this issue to all of Hawai'i and understands the concerns being expressed by our community. At this time, we ask that people honor the process to allow productive discussions to continue. We look forward to peaceful dialog in order to find common ground in the days to come.
- Governor David Ige
As Pele spews lava from the active volcano, the land on Mauna Kea is some of the newest land on the planet. What better place to assert a vision of healing that includes addressing historic cultural wounds, ecological devastation, mutual respect for each other, stewardship with the land and water; and merging these responsibilities with the hope of science than in Hawaii? The scientific community, and the non-indigenous community can bring great healing and set a precedent moving forward by respecting the wishes of Hawaiians in protecting this sacred site from development. It is time for the wisdom of our indigenous people to be heard throughout the world. We live on sacred land, gifted to us by our ancestors with a responsibility to protect it for those who are yet to be born. We can reach for the stars, but only after taking care of the ground beneath our feet.