I recently spent several days at the High Point, North Carolina Furniture Market, the bi-annual sojourn for 80,000 furniture retailers and interior designers viewing the latest in home furnishings. While the industry has been hit extremely hard due to the housing market and the economy, I was pleased to see the showrooms were crowded (with one major manufacturer reporting sales were up seventy percent from last market). Hopefully it's a sign of good times ahead.
It was also interesting to note in a sea of beige and neutrals, red is making a major comeback. Of particular interest was the fashion designer Oscar de la Renta's furniture line for Century which features his iconic lipstick red. Floral chintz sofas, red leather chairs and tortoise and blue and white porcelain accessories against a backdrop of high gloss red walls were a throwback to the English country styles of the late eighties and nineties - a time when the stock market was flying high and conspicuous consumption even higher.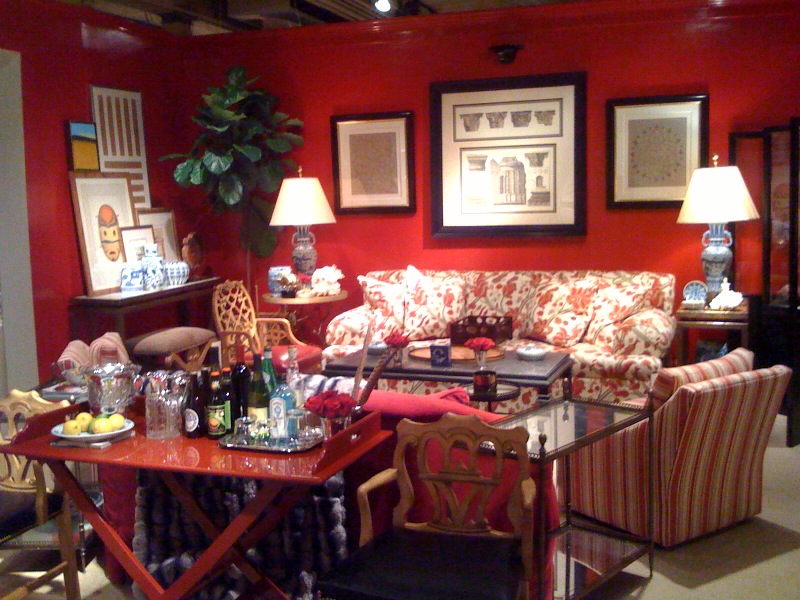 For those that want to keep a more neutral palette, interior designer Alexa Hampton's new introductions for HIckory Chair offered a more traditional chintz meets modern lines alternative. (Hampton is the very talented daughter of the late Mark Hampton, a popular designer who specialized in English designs particularly during the eighties and nineties).
Financial analysts have loosely used the "if skirts are short the market is up" hemline theory -- maybe color and pattern in interiors will be the new yardstick.