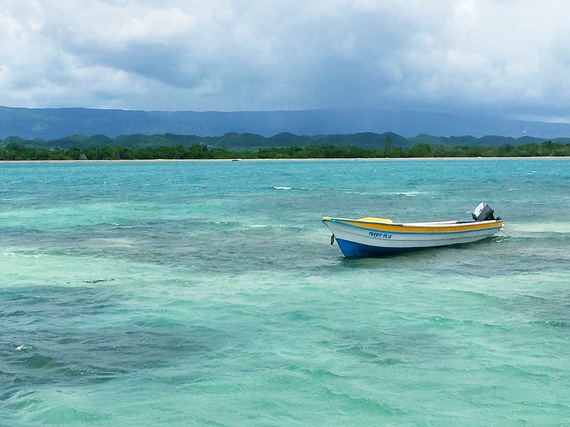 Go to rural Jamaica and you'll find so much more than reggae and Red Stripe: a sunshiny seaside village serving up some of the best jerk fish you'll find, a boat-up bar in the center of the sea and a literary festival many are calling the greatest in the world.

If the thought of a lit fest conjures images of banal banquet halls and the kind of boredom typically reserved for too-long lectures, Calabash International Literary Festival is for you.

The Treasure Beach, Jamaica set affair, some three hours outside of Kingston on the island's south coast, was born promising to be everything other literary festivals weren't. And in the 15 years since, it has kept its word.

Held biennially for three days on the same shores where Ian Fleming conjured the most famous character he'd ever pen, one James Bond, where Alex Haley worked on parts of "Roots" and where Perry Henzell directed Jamaica's cult classic film "The Harder They Come" helping launch reggae music into the international scene, Calabash is where literature goes to shed its pretense.

There, renowned writers read their work to a rapt audience of all walks numbering more than 3,000--from local fishermen to international literati to women decked in vibrant hues and African-print couture--each book-hungry and eager to savor the words being served up by writers they idolize or will come to.

You'll find no wine and cheese, no wholly white-haired audience, no VIP section, no stuffiness at this rootsy, one love Jamaican festival.

"Calabash just has a different personality, which is not surprising for a Jamaican festival," said Justine Henzell, daughter of Perry Henzell and co-founder of Calabash, which took place June 3-5. "Everybody eats together, everybody parties together, and what we've found is that it really fosters relationships between the authors and the community. It's doing something of a really high quality in a very relaxed way."

The setting doesn't hurt either. Wordsmiths read in open air from a podium adorned with bird of paradise flowers while waves lap the shores just over their shoulders.

As Chigozie Obioma, a Nigerian writer whose novel "The Fishermen" was a finalist for last year's Man Booker and an invited author at this year's festival, put it, "Calabash tends to have the appeal of a proper vacation, so it's formal and informal in an uncanny way."

Literary greats like Jamaica's own Marlon James, author of 2015 Man Booker Prize winning novel, "A Brief History of Seven Killings" who got his start at a Calabash past, and U.S. born, Nigeria raised author of "Open City," Teju Cole, read from their works. Internationally renowned American poet Jessica Care Moore electrified the audience with words of empowerment. Vladimir Lucien, St. Lucian author of Sounding Ground, which won the 2015 Bocas Prize for Caribbean Literature, warmed hearts, and English writer Geoff Dyer stirred laughter as he graced the audience with his words.

When the readings cease each eve, the music takes over.

Calabash seamlessly intermingles the best of Jamaican literature with the best of its reggae and dancehall music, inviting listeners to swap the tented readings space for a live music lawn party or a tun up (exciting or hype in Jamaican patois) dancehall jam, depending on the night.

Between readings and reggae rhythms, hop a brightly colored fishing boat for a mile-long ride to Pelican Bar, a bar built into the sand in the middle of the sea where you'll sip a cool rum punch and dangle your legs over the dock where years' worth of visitors have carved their names into the wood, then cool off in the shallow crystalline water below. If hunger calls, eat fish fresh caught and fried on the spot, or save your appetite for the jerk snapper from Jack Sprat back at Calabash, and wash it down with juice squeezed from mangoes just plucked from nearby trees.

If you can get a space among the world's writing elite, stay at Jake's, the Henzell family's collection of colorful cottages where you'll wake to the sound of waves and sleep beneath scene-setting mosquito nets.

Calabash has a way of leaving you lovesick well after the last writer closes her book, ready for the countdown to the next fest and hard-pressed to describe the experience.

But one writer, award-winning Jamaican poet Kei Miller put it this way before reading from his recent collection, "The Cartographer Tries to Map a Way to Zion."

"We used to call it the greatest little festival in the greatest little district in the greatest little country in the world, but we should scrap that and just call it the greatest festival in the world."