IS LARRY BAER, SF GIANTS, IN 'RIGHT WORK'?
San Francisco Giants President & CEO!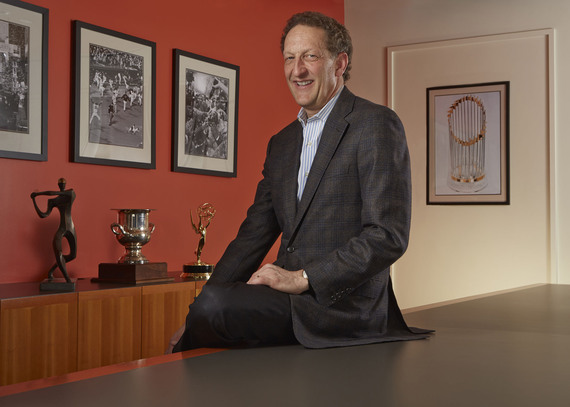 Why is it that a very special few boys and girls really do wind up in jobs they dreamed of while they were young, but many others never do?
Can we do more to make our dreams come true? Or do dreams come true only for some "lucky" people?
Let's read about Larry Baer, President and CEO of the SF Giants organization and see!
What is the dream job that millions of little boys (and girls) all over the country want when they grow up? Yes, it's Larry's.
Larry is the President and CEO of a Major League Baseball team, the San Francisco Giants. And it is not like the old days in baseball. Larry did not inherit his job by virtue of family connections. I do not think I have ever met anyone more in right work than Larry Baer. Larry personifies the values and ideas I have described as finding right work in my book, "Finding Right Work, Five Steps to a Life You Love".
One day, when he was a boy, Larry Baer confronted the reality most young boys have to confront, that he would not play Major League baseball for a living. But Larry did something critical for finding right work, he stayed connected to his childhood passion, baseball. He never gave up the dream. No, He did not play Major League baseball, but he is today, a very, very big part of Major League Baseball. In fact, as President and CEO of the Giants he helps to make Major League Baseball go. He has been a very high profile and successful crusader for the game.
After I met with Larry, I knew without a doubt that the Giants were a team effort from the top down and the bottom up. Certainly, the ability to share vision with inspired leadership to Giants fans, investors, players, and executive team, as well as to rank and file employees, is his magic bullet. Without Larry's leadership, it is hard to believe the Giants would have three World Championships over the past six years, an award winning sports ballpark, a mixed use urban real-estate development in process, as well as a culture of dramatic innovation, resourcefulness and growth. Additionally, we have seen that AT&T park has become a vibrant San Francisco community hub and the Giants are loud and successful champions for city issues and causes.
Take a look at the magic of Larry's leadership!!
I have met hundreds of CEOs over my recruiting career and there are few I've met who are in such "right work," as Larry Baer, President & CEO of the San Francisco Giants. Larry consistently "hits it out of the park!" I wanted to know more about how he got there.
I sat waiting for Larry in a conference room at the executive offices of the Giants.
Larry roared into our meeting room with a level of passion, energy, and enthusiasm I have rarely seen in the office of a CEO. I told Larry that I wanted to find out how he had landed the job that millions of little baseball fans dream about having when they grow up. More specifically, I wanted to know what were the values that drove Larry's life, what were his innately strong talents skills and abilities and what were his life priorities for work. Most of all, I wanted to know how, in his career, they had all come together to manifest what appeared to be, stunningly, right work.
"First of all, I definitely think I am in right work and you have probably hit on somebody who is maybe a poster child for right work, because this is shared with a lot of people here. The Giants organization is more than work; it is viewed as a much larger part of life and existence and our being, than the workplace. That is because there is so much emotion associated with the connection of going to a game or following a team, especially when it is your team, in my case as a fourth generation San Franciscan....there is a crusade element to this or passion element that goes well beyond work. It is messianic."
Larry told me that he, as a fourth generation San Franciscan, has been a fan of the Giants since he was a small boy. He said that the Giants were his team, his father's team, and San Francisco's team. He continued to feel that passion when, as a boy, he realized he wasn't good enough to make the team. But he wanted to be close to baseball and he knew he had some talents. He steered his passion towards being a broadcaster for baseball. As a boy, he practiced announcing way into the night under the covers when he should have been sleeping. As a junior in college at UC Berkeley, Larry worked for Cal's FM station and had an idea! He called the then, rather formidable, maverick owner of the Oakland As, Charlie Finley, and suggested that the university station broadcast Finley's Oakland A's games. When I asked him how he had the chutzpah as a twenty year old to call the owner of Major League club, Larry's philosophy has always been that "there is nothing to lose if you try and everything to lose, if you don't." Charlie said yes and Larry had his first baseball announcing job! And more than that, Larry had served notice on the sports world that there was something very special about Larry. And it has turned out there is.
My strong sense of Larry is that he is highly values driven. He is tirelessly focused on the goal at hand, deeply committed to contributing to the greater good, and is, at the same time, an entrepreneurial, innovative and creative leader who loves people. It is also quite clear that Larry Baer
•Loves and values baseball, particularly the SF Giants
•Has a guiding principle of self-reliance and accountability
•Inspires risk taking and growth
I listened carefully to the highpoints of Larry's career.
After earning Phi Beta Kappa honors at the University of California at Berkeley in 1980, Larry joined the Giants as Marketing Director. Leaving the Giants in 1983, Larry attended and graduated from Harvard Business School. For four years thereafter, Larry worked for Westinghouse Broadcasting in SF and NY and then went for five years to CBS where he sat by the side the Chairman of CBS as Special Assistant. He returned to the Giants in December, 1992.
But what motivates Larry Baer now to get up every morning and, as he so poignantly said,"...put the running shoes on the elephant?"
"There is great joy in delivering experiences to people and you get the immediate feedback-- it is instant gratification. Everyone here has a love of what we do; we have a heartfelt mission to impact (not just win the World Series) and be a wonderful community asset!"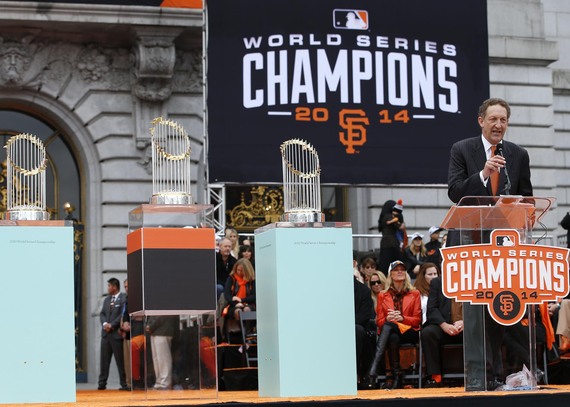 Larry is a gifted visionary and charismatic leader of an organization that is 134 years old. But because of Larry Baer and his team, the organization feels like an exciting and successful startup and a revered icon of the world's favorite city. Thanks to Larry Baer's leadership, our SF Giants have created a community gathering spot and a sports team that truly reflect the core values of community, collaboration and commitment to greater good and the beauty of the great city of San Francisco.
In closing, I asked Larry:
There are probably millions of children and grown men and women whose dream was always to be working in baseball and leading the organization that supports their team! Can you believe you get to live that dream?
"I do pinch myself sometimes. It is my 24th year plus the couple of years after college. I pinch myself because I feel very blessed that when I come to work, it is something that circles back to my childhood and to who I am, and it feels so natural. And I know there are thousands of people like that and a lot of them are sitting in the stands and I hope we can bring as many of them into the organization as possible. When work is value- based in your heart, I won't say it is effortless, but the effort is so rewarding. You are using who you are and it feels natural. Like Michael Phelps, it can be tedious sometimes, but it is who you are."
There could be no better articulation of the experience of being in right work. The joy of his work is so visible in meeting with Larry Baer. Larry is using his natural talents skills and abilities, he is connected to and strengthening his core values, and his priorities for work are all being met. He knows who he really is and he gives all he can to his work, every day, in every way. He certainly is in his right work and he is living the dream! Come to think of it, when you go to a Giants game and you meet the ticket takers, the players and everyone in between, doesn't it feel as though they are also in "right work"?
Honors, Awards and Commitments:
Baer has been the recipient of a number of prestigious awards throughout his career with the Giants. This includes the San Francisco Distinguished Leadership Award for civic leadership (1996), "Sports Torch of Learning Award" by the Scopus Society of the American Friends of The Hebrew University (1995), and the Anti-Defamation League's Torch of Liberty Award (2001). In 2010, Baer was the named the "Person of the Year" by San Francisco Boys and Girls Club, and in 2012 he was honored as the Harvard Business School's "Alumnus of the Year." In 2014, Baer was honored by the University of California Berkeley with its "Excellence in Achievement" award and received the Civic Leadership Award from the American Jewish Committee.
Baer chairs Major League Baseball's Long-Term Strategic Planning Committee and serves on MLB's Business and Media Board and MLB's Legislative Affairs Committee.
Baer is a member of the Board of Directors of KQED, Inc., and the San Francisco Committee on Jobs, the Bay Area Council, and Comcast Sports Net Bay Area and is a member of the Boys and Girls Clubs of America Pacific Region Board of Trustees.
Baer and his wife, Pam, co-chaired the San Francisco General Foundation Campaign Committee in support of the new hospital, which opened in late 2015.
Related
Popular in the Community