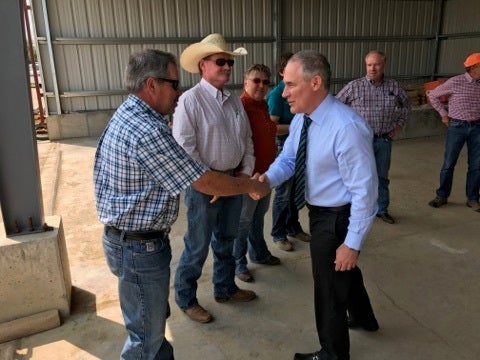 Many political observers have speculated that EPA Administrator Scott Pruitt is using his current job to run for the US Senate. Oklahoma's senior senator, Jim Inhofe, will be 82 when he's up for re-election in 2020 and it's thought Pruitt, a former attorney general of the state, would like to succeed him. The conservative Daily Caller recently wondered if Mr. Pruitt's coy answers on the subject amounted to a "hint at a run."
Pruitt's actions in the first part of 2017 seemed to lend support to that assumption. Pruitt hired Ryan Jackson, Inhofe's chief of staff, to be his chief of staff at EPA – as well as appointing other Inhofe staffers to key positions at the agency. That can only help to cement his alliance with the Senator, whose endorsement of Pruitt as his successor would be valuable.
Most telling, though, was Pruitt's travel schedule. The New York Times obtained documents that show "Mr. Pruitt spent 43 out of 92 days from March through May in Oklahoma or traveling to or from the state." Nearly half of his time in office was spent in his home state.
He often had one official EPA event and spent the rest of the trip in different parts of the state – acting like, well, a future candidate. On one trip he was even scheduled to speak at a fundraiser for the Oklahoma Republican Party, but backed out after press reports pointed out that it violated federal ethics rules.
But around the middle of 2017, something shifted. It was right around the time President Trump's popularity sank to new lows and, perhaps most importantly, began to soften with Republican voters. In June, his overall average approval rating became mired in the 30s, down from the 40s. Republican voters who said they "strongly" supported Trump dropped from the 70s to the 60s. And the swirling scandal of Russia's tampering with the 2016 election seemed to get more serious, raising murmurs that Trump might not finish his term.
The national attention went to Vice President Pence. The New York Times reported on his aggressive travel schedule and building of relationships with grassroots Republican activists and donors. The Vice President reacted angrily to the suggestion, saying he and his family had been insulted.
But few seemed to notice that Scott Pruitt's behavior changed as well. While Trump's Republican support was solid in the first half of the year, Pruitt's travel was overwhelmingly to Oklahoma. But in the second half of the year, he began traveling more nationally. Politico reported that he has now visited "25 mostly Republican-led states…spending time with GOP leaders and influential industries and packing in as many media hits as possible."
Did it occur to Pruitt that if Trump weren't on the ballot in 2020, or was severely weakened in his party, there might be an open scramble for the GOP nomination?
Building Support with the Republican Base
The states he visited were mostly conservative red states. EPA press releases indicate that this summer Pruitt has traveled to Texas, North Dakota, Iowa, Colorado, Indiana, South Carolina, Arkansas, Minnesota, Utah, Alabama, and Georgia. You might think a politician with presidential dreams would focus exclusively on early primary states. But that's further down the line. The first step is to become known, and build relationships with, activists and donors in the base of the party.
That's particularly true for someone who was a state attorney general and is relatively new to the national spotlight. You'd go exactly where Pruitt has gone and show conservative activists that you are using your office to push policies they like.
I don't know if Pruitt is running for president. Like any potential candidate – especially one in the cabinet of a first term president – he would have to deny it. Perhaps like Pence, he'd call the suggestion an insult.
But it's hard to believe that a politician who came up the ranks from state senator to elected state attorney general to the president's cabinet isn't ambitious enough to dream of the presidency. (He also ran for Lieutenant Governor in 2006 and lost.) As attorney general, he's spent considerable time trying to build a national network as head of the Republican Attorneys General Association – raising millions from the partisan donors who could fund a national campaign.
Pruitt has shown himself to be both smart and calculating. As much as he is focused on his mission of tearing down clean air and water regulations, he certainly has the ability to also plan for his future. Maybe his travel schedule doesn't mean anything, and he hasn't noticed the president's political weakness. But I wouldn't bet too much on it.
Calling all HuffPost superfans!
Sign up for membership to become a founding member and help shape HuffPost's next chapter