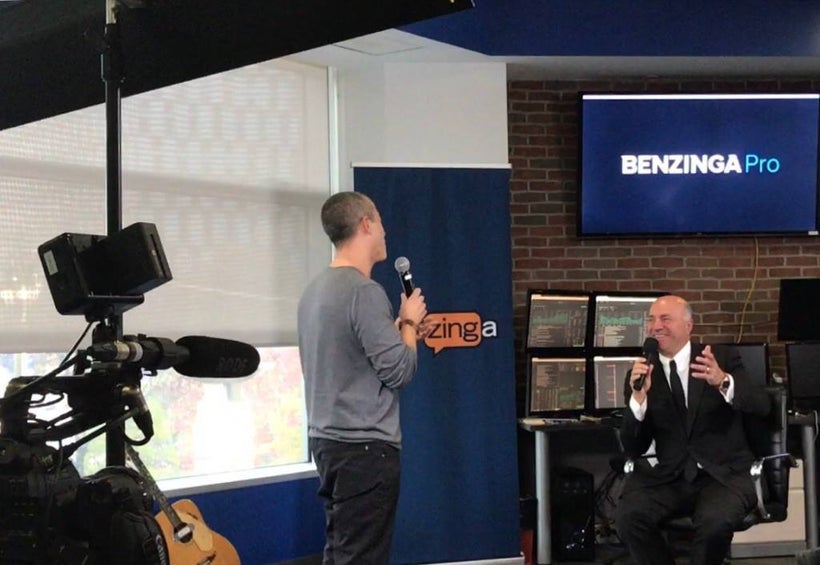 This past month has been a real doozy when it comes to the state of mental health in this country. Between the election and Kanye West's most recent breakdown cancelling his Saint Pablo Tour, the conversation around mental health may just now be getting the long-awaited attention it deserves.
Shark Tank's own Mr. Wonderful was visiting Detroit's Benzinga headquarters to receive their first ever Annual Inspiration Award. Benzinga's founder, Jason Raznick interviewed Kevin O'Leary (a.k.a Mr. Wonderful) on his journey to becoming an entrepreneur. Benzinga then followed up with an impromptu raffle for local entrepreneurs to pitch to the notoriously intimidating shark.
Ryan Beale, founder of the mental health startup Therapy.Live, was one of the three that were picked from the audience. Therapy.Live is a state-of-the-art platform designed to assist mental health practitioners in maintaining their own work/life balance by providing tools that clinicians need now, as well as innovations necessary to stay on top of the field as the profession evolves in the future.
Since losing his older brother Steve to suicide in 2009, Mr. Beale has been making some significant advances in bringing the conversation around mental health into the limelight, including going back to school to become a mental health clinician. After graduation, he began active work on building Therapy Live.
Mr. Beale had no clue that he would be pitching that day, but he was ready to educate Mr. Wonderful on the need and opportunity that Therapy.Live is addressing. As Mr. Beale started his pitch, he emphasized the pain point: that every year nearly 70 million Americans meet diagnostic criteria for a mental illness, yet less than 50% of them ever receive any treatment whatsoever. In addition, 50% of the counties in the United States, do not have a single mental health provider within them.
Kevin O'Leary pushed back in his usual shark-like style expressing reservations about the potential liability issues and how best to capitalize on the limited amount of time that a therapist has in a day.
"What is the liability?" O'Leary wondered. Mr. Beale, however, had already considered and resolved those issues, noting that liability is still present in other forms of therapeutic intervention and that the liability should be no greater than it is for typical in-person practice.
O'Leary also wanted to make sure that potential clients would still be getting a quality care experience posing the remark, "So you get canned therapy?"
"No," replied Beale, "it's a multi-engagement platform." He went on to list some of the current and forthcoming features that support a clinician in maximizing their offerings to clients.
Over the course of this dialogue, O'Leary started making the move from no to yes. O'Leary started to see the practical possibilities of it: "If you can get me over the liability, I think it may have merit if you can attract enough qualified people." By the end of the seven-minute pitch that was supposed to go on for two, Mr. Wonderful appeared to have had the light bulb go off.
"I could see people that are not willing to go through the normal procedure of seeing a doctor face-to-face perhaps using this service to try it." O'Leary said. "Absolutely." replied Beale.
Finally, O'Leary said to Beale: "You should give me your card." And the local audience erupted in applause. "That's an interesting one." O'Leary remarked to the host before moving on to other matters.
In the world of Shark Tank and Kevin O'Leary, that is about the nicest response you can get. In regards to whether he will follow up or not, Mr. Beale said, "I went to watch Mr. O'Leary discuss his path to entrepreneurship as an audience member. I have great respect for his no-B.S. approach to business and he is the reason that I have never applied to Shark Tank in the past. That being said, it was an honor to discuss how we are changing mental health and see his positive response. I did not show up with an intention of looking for an investor, but he could bring a great awareness to a very important topic. I am just glad that he didn't tell me to take it to the back of the barn and shoot it."
The video below demonstrates how Therapy Live is taking a new and empowering approach to assist mental health providers in increasing their reach.
Co-Authored with Dr. M. Ellis Jaruzel II
REAL LIFE. REAL NEWS. REAL VOICES.
Help us tell more of the stories that matter from voices that too often remain unheard.
This post was published on the now-closed HuffPost Contributor platform. Contributors control their own work and posted freely to our site. If you need to flag this entry as abusive,
send us an email
.