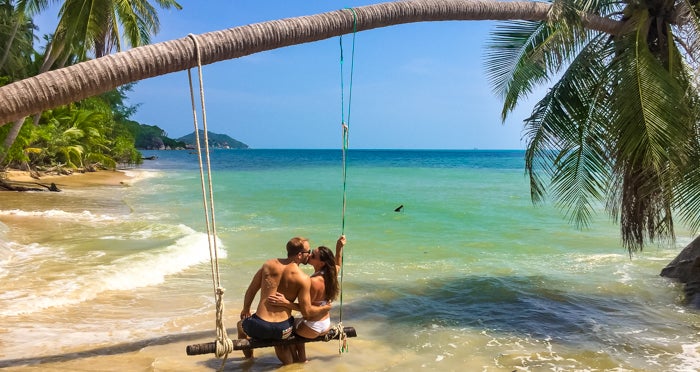 So you met this fabulous guy/gal and you're in love. When you look at each other, you see unicorns and rainbows, your heart goes pitter-patter, and you no longer meander through the halls at your office, you skip and sing like Will Ferrell in "Elf." You're in love and you want to shout in top of a mountain. But before you settle down with your significant other, there is a tried and true test to find out if he or she is "the one" and that is the test of travel. Mark Twain once wrote,
"I have found that there ain't no surer way to find out whether you like people or them then than to travel with them."
My husband and I left our corporate lives in California in June of 2015. We've been traveling the world ever since. It's been a beautiful way to build and better our connection with each other and with the world. While this may seem like flowers and candy, romance and roses, like marriage – traveling together takes work! Having spent the last year and a half together, 24 hours a day, 7 days a week, we know what it takes for a couple to stand the traveling test of time.
Weathering the Storm of Twosome Travel
Travel is a beautiful way to bond with your babe, but it's also the quickest way to find out if he or she can weather the storm of love. Nothing kills romance like a cancelled flight, a bout of traveler's diarrhea, or lost luggage. More than that, travel can reveal one's true colors. When we're placed in an uncontrollable and unfamiliar setting, how does he or she react? Does he or she go with the flow or freeze?
Bill Murray crashed a bachelor party a few years ago and had some sage wisdom on the subject. He said, ""If you have someone that you think is The One, don't do… don't just sort of think in your ordinary mind, 'Okay, let's make a date. Let's plan this and make a party and get married.' Take that person and travel around the world. Buy a plane ticket for the two of you to travel all around the world, and go to places that are hard to go to and hard to get out of. And if when you come back to JFK, when you land in JFK, and you're still in love with that person, get married at the airport."
Plenty of people love vacationing with their significant other. A weeklong vacation filled with long walks on the beach, breakfast in bed, and cocktails by the pool sounds idyllic. But what about when something goes wrong, as it inevitably does in travel? Do you work together as a team or do you go into attack mode? Travel is the ultimate test in problem solving. Can you work together to resolve a problem? If your sweetheart can take a deep breath and work through conflict together with you, that's a great sign. But if it rains everyday of your vacation and your significant other puffs and pouts all day, he or she may not be able to weather your storm.
They say opposites attract and sometimes, that even goes for travel styles. Does you love budget travel while he enjoys the finer things in life? Do you crave quiet days with your nose in a book while he wants all day everyday adventure? Even if you differ in travel style, you can still make traveling together work.
In the beginning of a trip, Scott and I like to communicate our goals for the vacation. As long as we clearly communicate our wants and needs, we can make sure that everyone's vacation essentials are met. It's good to acknowledge each other's wants and needs. If one person wants to do every activity and see every site while the other wants to snuggle in bed there can be some conflict. Make sure you communicate with each other on your travel desires so that the two of you can plan the perfect trip.
All You Really Need is Each Other
Ultimately, tiresome travel days, trivial packing labors, and lost baggage really don't mean anything as long as you are in it together. All that you really need is each other.
When you're literally in fight or flight mode, remember these 6 ways traveling can strengthen your relationship:
6 Ways Traveling Can Strengthen your Relationship:
1. Conflict Resolution: Problems are unavoidable in travel. When you're forced into an uncontrollable environment, you're left completely vulnerable. How do you deal with this together? If you miss your flight because your significant other miscalculated the time to the airport, do you work together as a team to rectify a situation? Do you blame the other person? Do you communicate with one another to find a solution?
2. Compromise: You land in your tropical destination, but there's trouble in paradise – she wants to go sailing and he hates boats. If you can talk about what each of you want, try to find a place to meet in the middle. Ultimately, this is your vacation together, but you also want to enjoy your vacation individually. Maybe you sail one day and do something that just he wants to do, no questions asked, another day. If the boat is a hard no, try sailing on your own and meeting him for a cocktail afterwards.
3. Change: Traveling is all about going with the flow and accepting change. As a type-A, it can be hard for me to release control. Travel is always a learning experience – many times in going with the flow. Even though the outside world is changing, I know that our love will always be a constant.
4. Trust: When you're 3,000 miles away from home in a strange location, it's imperative that you feel you can trust your partner. You'll be in a new environment with many moving factors in play, but if you don't trust your partner, your relationship will never make it out alive. Knowing that your significant other is there for you in good times and in bad, in delays and departures, will surely build an eternal love.
5. Play: The couple that plays together, stays together. A basic human need is to play and travel is a great forum for that. Travel brings out the inner childlike imagination in us. Travel sparks a wanderlust deep inside of us. As we travel, adventure, and learn about other cultures together, we build a deep, everlasting bond.
6. Communication: Communication is the most important thing in a traveling relationship. We cannot read each other's minds so we must respectfully communicate our wants and needs in order for our partner to meet them. Ultimately, your partner wants you to be happy so he or she will be open to listening to what you have to say. If they're not, send them on the next flight out!
Related
Popular in the Community