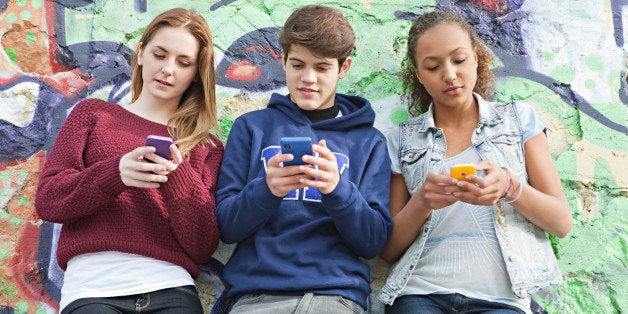 "Get off the computer!" I yell at my 11-year-old. "Stop looking at a screen and look at a live human being for a moment!"
"And you," I say, poking my 17- year-old son's arm with my finger -- simulating the movements he's making on his iPad. "Can't you go read a book? Remember, the old-fashioned way?"
Frustrated at how modern technology, especially social media, have taken over my children's lives, I make my way to the kitchen and crash into my 19-year-old, who is posing for a 'selfie' with his new haircut. "Sorry, Mom," he says sheepishly as he posts his picture on Instagram.
As I dice onions for dinner, I observe my 21-year-old dancing wildly for his latest Vine video. "I need something from the front refrigerator," I shout to my 23-year-old son walking past the kitchen, who doesn't hear my desperate plea because of the ear buds stuffed into his ears.
What has happened to my family? Is this normal? It seems social media has stolen not only my children's minds and hearts, but their eyes and ears. Even my 11- year-old daughter spends more time on Pinterest than she does with her best friend. Each member of my family is totally absorbed in the isolating world of social media; a world where you aren't really socializing, but communicating in an awkward, anonymous way.

"I hate modern technology," I declare a little too loudly during dinner. "What has become of the world? Children today.. .it wasn't like this when I was growing up!" I pass the au gratin potatoes and my newest spicy salmon around the table as my rambling is met with silence. My monologue continues to fall on deaf ears as I wash the evening's dishes. Depressed and desperate, I plop into bed with a book.

Bored with the diatribes of my favorite author, I turn on my iPad, bounce onto Facebook and begin browsing my kids' pages. (In my moment of desperation, the irony is lost on me.) Despite myself, I laugh out loud at what my 14-year-old has posted and I'm impressed with the status of my 21-year-old -- when did he become so sophisticated? I am moved by the compassionate way my son responded to a story about a tragedy. Wow, did I really raise these great, clever children?
As I open up Vine, I laugh uncontrollably at my kids' humorous video, and resonate with what my other son's clip is about. On Twitter, I just love what my oldest son's political statement and am tickled by my first-borns thoughts on a newly released book. As I pull my eyes away from the screen, I suddenly realize what a privileged mom I am to be able to get a glimpse into my children's world from a different perspective. I can view who they are as an outsider. I see how they think, their sense of humor and their deep thoughts as well as their views on society, culture and the arts.
I am hit by the revelation of what social media can do for parents as we grow older. No longer will we be sad 'old folks' waiting impatiently for the phone to ring as our kids gallivant around the world discovering themselves. I don't need to turn into the pathetic mom who is waiting for her kids to send photos of the grand-kids; I can just view them on our family Facebook page. I can grow older with my kids and feel totally connected. I can wake up every morning and see my kids' smiling faces on Instagram- - even if I am in New York and they're in France. If I can't be at a grandchild's birth, I can be there with Snapchat or Face Time or Skype. And I'm thrilled.

I will still yell at my kids and remind them that looking into another person's eyes is what real communication is about, and that you can't get the satisfaction of holding someone's hand unless you are actually in the same room with them. I will always encourage my kids to read a book, take a walk, watch a sunset and eat a calm and relaxed meal with a loved one (preferably with their phone turned off). But behind the scenes I will sit in bed and relish being able to see and connect with my children in a way I never could have dreamed of without this wonderful thing called social media.