Solange has a clear message for the London Evening Standard: Don't touch my hair.
On the cover of the latest issue of the Evening Standard Magazine, the singer is seen wearing a white ruffled dress, bold pearl earrings and a sleek, braided hairstyle.
However, in the same image posted to her personal Instagram page on Thursday (seen above), Solange is also shown donning a beautiful braided crown that didn't make an appearance on the magazine cover. She captioned her photo "dtmh," an abbreviation for "Don't Touch My Hair," the name of a song from her acclaimed latest album. She also tagged the Evening Standard Magazine's Instagram handle.
This prompted several people to leave comments below the magazine's own post, asking why editors changed her hair.
The story itself ― posted online Thursday with the headline "Solange: 'I Miss Out On Chances By Wanting Control Over My Body'" ― focuses heavily on the singer's autonomy and the importance she places on her imagery.
Solange highlighted the irony of this by posting the final cover image to her Instagram stories Thursday and circling where the crown once was. She then included screenshots from the interview that quote her talking about the value she places on black hair and braiding.
Below is an excerpt from the story Solange posted:
"Braiding is important to Knowles. It is an 'act of beauty, an act of convenience and an act of tradition' ― it is 'its own art form,' she adds. Every black woman has a personal journey with her own hair, and for Knowles it began in her mother's salon which was a refuge ― a 'spare bedroom so to speak' for her as a young girl. Growing up there was pivotal. "I got to experience women arriving in one state of mind and leaving in a completely transformed way," she said. "It wasn't just about the hair. It was about the sisterhood and the storytelling."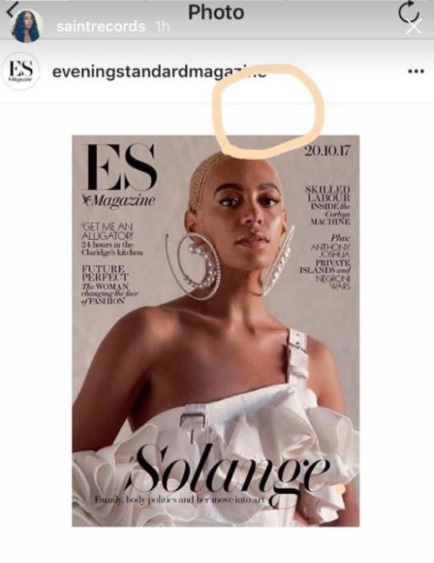 The crown itself is meant to represent the Orion constellation, which Solange said is something that holds special meaning to her. It is what inspired the name of her latest performance series, Orion's Rise, and it is even tattooed on her inner right arm.
Following screenshots from the story, the singer shared several images of elaborate black hairstyles by Joanne Petit-Frére, one of the stylists who designed Solange's hair for the Evening Standard cover shoot.
The story's online byline initially included writers Lizzie Edmond and Angelica Bastien, the latter of whom posted a series of tweets on Thursday saying she had an unpleasant experience working on this story and was disappointed in the published piece.
The Evening Standard did not immediately respond to a request for comment from HuffPost.
Popular in the Community