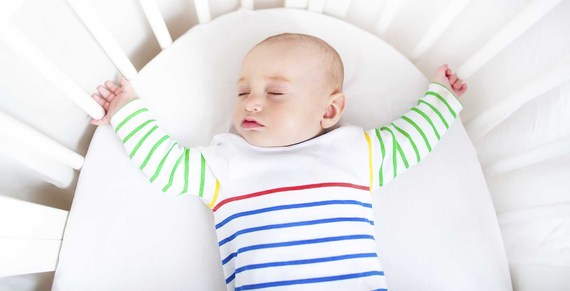 After I waterslid into this world, my grandmother packed a suitcase and came to stay with my parents for a few weeks. It made sense — my father, devoid of any paternity leave, had to return to work; my mother, now with two babies, needed a spare set of hands. My grandmother bathed, fed, burped and consoled; she bounced us on her knee and held our attention by waving stuffed animals. And she put us to bed.
Setting us in the crib was never a matter of contention. This was a decade before the Back to Sleep initiative, which encouraged parents to place newborns on their backs to ensure they don't roll over and suffocate themselves. My grandmother set us down in the way she set her own children down, a method she learned from her own mother, who learned it from her own mother and so on. It just so happened that her method involved setting us on our back.
University of Buffalo associate professor Deborah Rains would breathe a sigh of relief that this was the case. She's beginning work on a study of the cultural and family factors that influence infant sleeping position.
Rains believes that the number of infant deaths due to improper sleeping position — there were more than 3,500 in 2013 — is largely the result of traditions, including mothers who stubbornly insist theirs is the correct way.
"Safe sleep recommendations came out years ago, but babies are still dying," Rains told Medical Xpress. "You go home from the hospital and your mother says, 'Honey, I never put you to sleep that way.' Chances are you're going to listen to your mother."
Rains hopes her forthcoming survey will be able to assess patient awareness of proper sleep position and further prevent any hardheaded methodology. She also hopes her research will help whittle down geographical factors. For instance, those in colder climates wrap their newborns in too many blankets — another source of crib death. Additionally, she will dig into cultural and ethnic data points. Native American and African-American families, for example, have the highest rates of Sudden Infant Death Syndrome.
The Back to Sleep initiative, now referred to as Safe to Sleep, has drastically reduced the number of crib deaths. The number of reported cases is three times lower than it was in the early 90s. But even one infant death is too many when it can be prevented by taking simple precautions.