About two weeks ago I was standing in line on Lafayette street in New York. As most of my close friends know, I hate waiting in line. I've been quite spoiled after living in Korea since in Seoul customer service is always quick. You simply don't have to wait. This something you easily get used to. In fact "Pali, Pali" was one of the first Korean phrases I learned which translates into "Hurry, Hurry". Yep, Seoul is a super fast-paced city.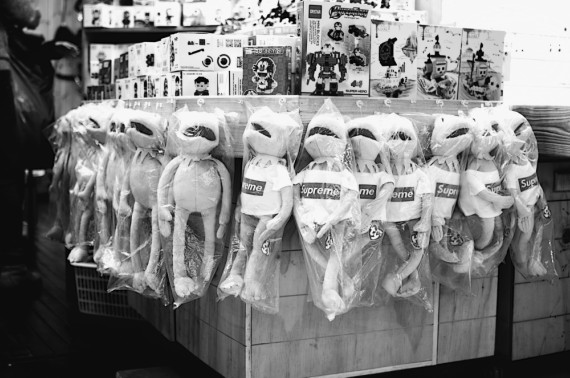 Going back to New York, there I was standing in line with kids about ten or more years younger than me. The street wear label Supreme had just launched its spring collection online a day before but I wasn't quick enough. Most of the items sold out within seconds so I decided to give its store a visit.
I've always been a little bit interested in following fashion and extremely interested in people who passionately follow fashion. I just love to observe these kinds of people and as I work with brands, I really didn't have a choice but to join the line and chat with my fellow hypebeasts. Many of them had been lining up on Lafayette Street before. They were shaking hands with each other and with the security guards. They had a clear understanding of what they were after. Some of them told me that they'd been going to the store every night after work to check what's in stock since the new collection landed at the New York store more than a week before my visit.
As I stepped into the store they were bumping out songs like Panda by Desiigner and Lock Arff Remix by Section Boyz, Blitzz & Big Tobz.
Some of the store staff seemed like they don't give a shit about anything. Supreme has always catered to the skateboarding, hip-hop and punk rock cultures, and the youth culture at large. Not giving a shit has always been part of the Supreme brand. In the store I was contemplating on the fact that this is finally a brand consistent on every touchpoint. The lineup continued inside the store. Now you had to wait to pay for the products you managed to get. However, it felt more like you had earned to buy something from the store.
I'd been to the Supreme store before several years back, paid some attention to the brand, and had friends who'd always been really hyped about Supreme products. Yet I really started getting intrigued by the brand after watching Complex video reports about the product launches.
As planning and creating events for the world's biggest brands is part of my everyday life, I couldn't avoid thinking that Supreme should be one of the brands we study and glorify on corporate events and conferences unlike brands like Airbnb, Tesla or Google. I launched my first book a few weeks ago and made references to the Supreme brand. As the book was getting finalized and prof read by my colleague Sandra who works in fashion, she told me she'd never heard of Supreme and neither had her business partner or her boyfriend. With this, she suggested I use another brand as a reference.
Supreme is the most magnetic brand in the world right now.
Because of these five reasons:
1. Supreme is to men what luxury bags are to women
I'd never really understood why women are so emotional about luxury bags. They are ready to spend a huge part of their income to get a very specific bag and tell you how finally getting it can bring you joy for months or even years. This is what Supreme does also to men. Supreme makes people feel like they've earned it when they get to buy a Supreme product. Supreme is beyond any status symbol brand. You need to earn the feeling of being rich and cool.
2. Supreme masters the art of the long view
This skateboarding & clothing brand was established in April 1994 in New York City so by no means Supreme is a new kid on the block. Unlike most clothing brands that release their new collections all at once, Supreme releases a small number of items at a time which makes the products feel more exclusive. This has led to massive online resell market and bootlegging. Most brands have their eyes on the next quarter, Supreme has their eyes so far away that you needed a telescope. Supreme is the brand that dictates its own ways of doing things.
3. Supreme understands global business
Complex did a great job documenting the underground reselling economy of Supreme.
However the document had a North American approach and didn't cover the brand's appeal in Asia, which arguably is its biggest market. Guys in Asia simply get more girls if they wear Supreme. It's as simple as that. Supreme is definitely not an underground brand in a city like Seoul or Tokyo. You'll find bootleg Supreme products for 10 dollars in any underground mall and see street vendors wearing Supreme hoodies. Unlike many brands Supreme hasn't played it safe on their home court. Supreme has been worldwiding.
4. Supreme doesn't give a shit
Whether it's giving interviews to press, selling the company to capital investors, providing cheesy customer service or following what others are doing, Supreme doesn't give a shit and has been consistent with this. Consistency is the most critical thing about building any brand but sadly 95% of companies have no will, no power and no willpower to be consistent when creating a brand. Supreme commands respect.
5. Supreme keeps us guessing
The highly anticipated sneaker collaboration with Supreme and the iconic Jordan brand in 2015; launching a new collection a couple of weeks ago after all the online resell hype; opening a new Supreme store in Paris on Thursday 10th March 2016. What's Supreme's next step? Can the brand still maintain its iconic cult-reputation and up its worldwide game?
"I want to do something where a young kid shopping with his parents might be like, 'Mum, maybe you shouldn't come in this store with me.'"
These are the very words of the brand's original founder James Jebbia on a Business Of Fashion interview.
I bought a new crewneck sweater and felt happy. With my purchase I was given a free Supreme branded superball. I later posted about my visit to the Supreme store on Facebook. As a friend of mine from Korea told me about going to the Supreme store in Los Angeles to find out that they had almost nothing in stock, I felt even happier about my purchase.
Calling all HuffPost superfans!
Sign up for membership to become a founding member and help shape HuffPost's next chapter