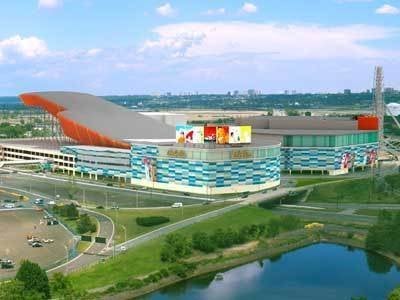 There's something growing in the New Jersey Meadowlands, the marsh just nine miles west of Manhattan--and it isn't the gentle ferns that the bucolic name suggests. Instead, what's emerging is a man-made behemoth, the largest and most expensive mall ever built in the United States. Originally slated to open this month, Xanadu is now scheduled for completion next summer. Lawsuits, political grandstanding and construction delays have nearly doubled the mall's cost to $2.3 billion. When it's finished, the half-mile "retailtainment" center will be a Vegas-meets-Disneyland pleasure dome with the country's tallest Ferris wheel and first indoor artificial ski slope. There will also be a two free-fall skydiving jumps, indoor surfing, a mini-city for kids, a digital media river on the ceiling--and, oh, some 200 shops.
The scale and scope of the project would be breathtaking in its own right. But what makes Xanadu extraordinary is the fact that it is emerging just as the American mall--that most quintessential of American institutions--is in its dying throes, if not already dead. Moribund malls have not gone unnoticed amongst industry analysts and Web sites like Deadmalls.com that feature photos of hundreds of now-abandoned sites. But what were once just worrying signs appear to have finally flat-lined. Last year was the first in half a century that a new indoor mall didn't open somewhere in the country--a precipitous decline since the mid-1990s when they rose at a rate of 140 a year, according to Georgia Tech professor Ellen Dunham-Jones, coauthor of the forthcoming book "Retrofitting Suburbia," which focuses on the decline of malls and other commercial strips. Today, nearly a fifth of the country's largest 2,000 regional malls are failing, she says, and according to the International Council of Shopping Centers, and a record 150,000 retail outlets, including such mall mainstays as the Gap and Foot Locker, will close this year. Xanadu, whose officials declined NEWSWEEK's requests for comment, has named just nine tenants for its 200 spaces.
REAL LIFE. REAL NEWS. REAL VOICES.
Help us tell more of the stories that matter from voices that too often remain unheard.