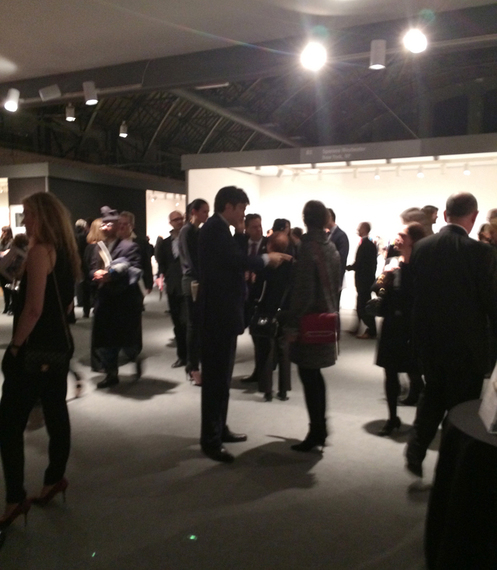 This was nonstop art week between the opening of the Whitney Biennial and the art shows. The Armory Show is held at Piers 92 and 94 in New York City and is perhaps the best advertised and attended art show of the week. I have gone to both the Armory Show and ADAA's the Art Show for years and it has been interesting to see the progression of each. This year I had the pleasure of visiting both shows with a well-regarded art dealer who had exhibited at the Art Show for many years and it was interesting to gain from her perspective.
The Armory Show does extensive advertising and marketing, and offers a contemporary and modern section (if you need a break visit the modern section which is much quieter and less crowded; I always like to pick up a sandwich or a chocolate chip cookie to keep me going through the exhibits as there is so much art to see). The Art Show in comparison does very little advertising and, in it's 26th year, is the nation's longest running fine art fair representing 170 of the nation's leading galleries in the fine arts. The opening night benefits the Henry Street Settlement, a not-for-profit agency that provides social service, arts and health care programs to New Yorkers of all ages. The exhibitors are all members of the Art Dealer's Association of America. What I have slowly noticed, however, is that there has been a migration from the Armory Show to the Art Show. The Armory show used to have many of the top notch blue-chip New York art galleries but many now appear at the Art Show. Some exhibit at both shows, including CRG Gallery, Lehmann Maupin, Sean Kelly Gallery, Hirshl and Adler and David Zwirner. Others are solely exhibiting at the Art Show -- 303 Gallery, Marianne Boesky, Marian Goodman, Galerie Lelong, Luhring Augustine, Metro Pictures, Pace Gallery, Salon 94, Sperone Westwater, Cheim & Read and Matthew Marks. The Art Show used to be filled with galleries from the modern period and they are disappearing, replaced by more well known contemporary galleries. I find that sad as it provided a nice contrast with the Armory Show.
A great time to visit the Art Show is Wednesday while all the VIPS are at the Armory Show -- it is quiet and meditative and affords time to look at the art. You can also walk a few blocks to visit the Whitney Biennial, which, when I was there for the opening was not quiet and didn't afford a good chance to view the art because of the crowds. I look forward to going back.
Calling all HuffPost superfans!
Sign up for membership to become a founding member and help shape HuffPost's next chapter