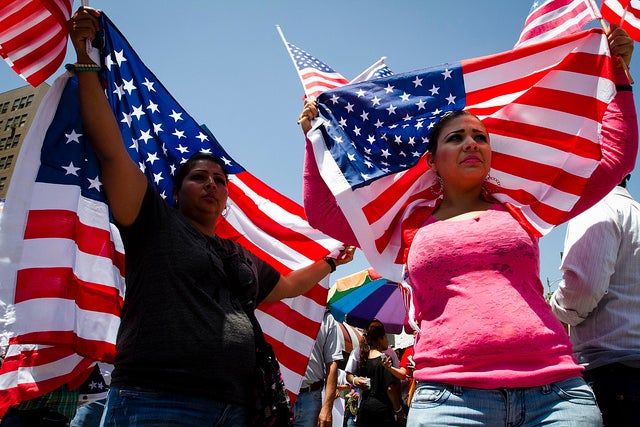 While millions of Americans ponder what a Trump presidency will mean for this country, a small group of people—Americans in everything but name—are waking up to a familiar feeling: fear.
Over 700,000 immigrants have received Deferred Action on Childhood Arrival (DACA) status since President Obama's executive action in 2012. Today, they are all wondering what will become of them once Donald Trump takes office next year.
The promise of DACA was simple but beautiful: If you came to this country as a child, through no fault of your own—if you've studied and have committed no felony—you can work legally and contribute to the nation instead of being deported. It was meant to bring deserving people out of the shadows and add qualified workers to the American workforce. DACA succeeded in both, according to studies by the American Immigration Council and the Center for American Progress. At $465 per application, and again every two years for renewal, the filing fees alone provide millions of dollars to our coffers, and that's on top of the billions of dollars paid in taxes by most immigrants every year, whether DACA recipients or not. It's the perfect example of what common-sense immigration reform can do.
But now fair comprehensive immigration reform—the kind that would be a boon to America's economy and a response to a humanitarian plea—will have to remain in the ether.
If there's one thing undocumented immigrants understand it's fear. Their life is filled with it—from the haunting decision to leave the place they love and call home, to the journey to America, that often carries threat to life and dignity. I've talked to a woman that crossed the Rio Grande as a seven-year-old, with nothing but a ragdoll and a dress, petrified, not because of the water, but because she thought her mom would get mad if her shoes got muddy. I know of women riding La Bestia, the train that carries immigrants north through Mexico, whose most valuable possession is not the money they carry but the stash of morning-after pills they hide. For them the price of passage is often rape. Masses that are escaping war and violence that is unimaginable to most Americans, because of the incredible privilege that all of us—regardless of race or creed—get to enjoy just for being born in this country.
And then there are the fears of those that have made it to America already. Each day is populated by moments of terror and the acts of courage that follow them. The terror of having a broken taillight but the courage to drive to work anyway. Undocumented students that enroll in the math olympics, going behind their parents' backs. Or men and women brave enough to report a crime to the police, even though they themselves might be placed in cuffs as a result.
Imagine the faith and courage it took for those 700,000 Dreamers to fill out government paperwork admitting they had come to this country illegally. It flew in the face of everything taught to them by their parents: Stay in the shadows; speak inglés, mija; hide your culture, your pride, your acento. These 700,000 had the faith to step into the light given by the same system they feared. Today they wonder what will happen. DACA will surely end with a stroke of Trump's pen very soon. But will he use those 700,000 thousand names as a deportation list?
In the next four years women will lose, African Americans will lose, blue-collar workers will lose, LGBTQ folks will lose, but arguably no other group will suffer more than Dreamers, because DACA had given them so much—and it will be so easily taken away.
For now, fear is back. Not that it had ever gone away completely. But undocumented immigrants know how to handle fear, they harness it. Their life is made of infinite acts of courage, and that won't change. For now the dream will have to hover above 11 million pillows, the number of undocumented immigrants in this country, most of whom work hard, pay taxes and have American citizen family. For them, the next four years will test their stamina, resilience and faith. I'll bet on them over Trump any day.
Today, while millions of us wake up fearful of what the future holds in store, the ones that have the most to fear can also teach us the most important lesson. Life is rebellion. It is accepting the fear and standing up anyway: We are here. This is our country too.
Calling all HuffPost superfans!
Sign up for membership to become a founding member and help shape HuffPost's next chapter
BEFORE YOU GO