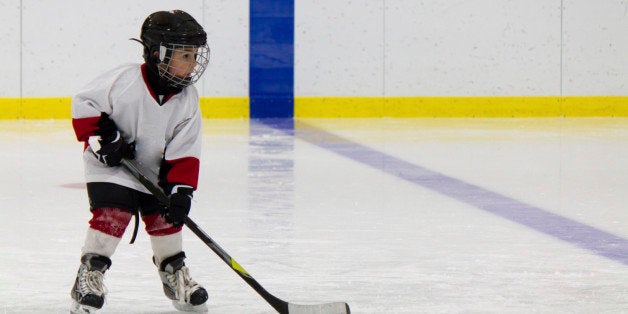 The National Hockey League playoffs are in full swing as teams battle it out to lift Lord Stanley's Cup. For the younger generation, this is when life-long fans are made. Growing up, a few of my friends were diehard devotees -- it was the early 1980s and it was the heyday of the Islanders, the local team that won four consecutive Stanley Cup championships from 1980 to 1983.
Hockey wasn't my thing -- I preferred football, basketball and baseball -- but I had a healthy respect for this sport's dynamic combination of speed, strategy and toughness. I occasionally joined in an intense pickup game of street hockey, which would inevitably end with someone's fingers or shins smashed up or worse, someone hunched over after a shot landed below the waistline.
I never played ice hockey, which was probably a missed opportunity since I lived a stone's throw from a lake that froze over most winters. While my friends donned their skates and went out onto that lake, I opted for football instead. To be honest, I was always a little uneasy about venturing onto the icy lake. We didn't know much about "global warming" back then, but today, climate change threatens to keep the next generation off the ice.
Last summer, NHL Commissioner Gary Bettman expressed concern over this issue and the future of the sport. Commissioner Bettman explains in the foreword of a 2014 NHL Sustainability Report, a first-of-its-kind report which documented and disclosed the NHL's carbon footprint, that "major environmental challenges, such as climate change and freshwater scarcity, affect opportunities for hockey players of all ages to learn and play the game outdoors." He points out that before many of the NHL's players "ever took their first stride on NHL ice, they honed their skills on the frozen lakes and ponds of North America and Europe."
And the NHL has begun to act on its environmental concerns. This season, the league's Gallons for Goals program replenished more than 6.5 million gallons of water to rivers (more than 30 million gallons since 2011). The NHL is also working to reduce water consumption in team facilities. The league also announced it was going carbon neutral and named Constellation as its preferred energy provider to supply Renewable Energy Certificates (RECs). These RECs represent the generation of more than 271 million kilowatt-hours (kWh) of green power, matching the NHL's total electricity consumption for the 2014 - 2015 season.
The Green Sports Alliance hailed the announcement. Dr. Allen Hershkowitz, president of the GSA, called it the "most important environmental initiative ever made by a professional sports league globally." Hershkowitz hopes that the initiative will "influence other businesses and fans alike to embrace renewable energy options which are so desperately needed to protect our planet."
Back in February, the NHL proudly announced that it ranked number 17 on the EPA's National Top 100 list of the largest users of green power. It became the first professional sports league ever to achieve this important distinction.
It's worth pointing out that the carbon neutral initiative -- and the Gallons for Goals program -- have their roots in NHL Green, a comprehensive sustainability initiative created by the NHL in 2010 that was launched "as direct result of the groundswell of enthusiasm and support from fans and those within the League and hockey community."
That is uplifting. And this fervor and support will be crucial in helping to keep the worst impacts of climate change in check and to ensure that the next generation of hockey players have the opportunity to learn and enjoy the game on frozen lakes and ponds. Nothing should keep them off the ice. Well, unless they'd rather be playing football.
Popular in the Community