American manufacturing is seeing a growing resurgence. While some retail companies like American Apparel have long produced products on U.S. soil, a new breed of companies are seeking to take advantage of American ingenuity and manufacturing prowess to produce high quality products locally. From Detroit based watchmaker Shinola, to San Francisco headquartered accessory company Edward Field, more and more American companies are foregoing outsourced foreign operations to assemble, build or produce their products in the United States.
Undoubtedly, manufacturing in the United States is a key driver of economic growth. Manufacturers employ 12.33 million Americans and it is estimated the sector contributes $2.17 trillion to the U.S. economy. Somewhat astoundingly, American manufacturing is large enough that its size alone it would represent the ninth largest economy in the world. Equally astounding is the fact that since 2010 the U.S. manufacturing sector has added over 900,000 new jobs.
Local manufacturing has been an important component of manufacturing growth. Cities from San Francisco to New York have begun to see the emergence of local manufacturers across various industries producing products including motorcycles, consumer products, clothing, and beer. The rapid pace of technological advances in manufacturing has even led for some to speculate that the days of a "factory in every garage" are just around the corner.
San Francisco based Edward Field, is one American company who has made the business decision to produce their products in the United States. Founded by entrepreneur, Teddy Winthrop, Edward Field has opted not only to manufacture its products locally but also take control of distribution channels and sell directly to the consumer. As part of the team that helped build U.S. based American Giant and market its best-selling 'Greatest Hoodie Ever Made", Winthrop is no stranger to marketing, local manufacturing, or e-commerce.
I had the opportunity to sit down with Edward Field Founder and CEO Teddy Winthrop to discuss his business, the resurgence of American manufacturing, and his perspective on entrepreneurship. Hope you enjoy!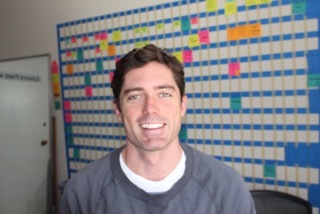 Edward Field Founder and CEO Teddy Winthrop
CG: Tell me about Edward Field. How did you conceive the idea and what is your business?
TW: Edward Field is an American accessories company. We are based in San Francisco and sell directly to the consumer. The idea was conceived when I was working for my brother at a company called American Giant. They are responsible for building "the best hoodie ever made." He had a very methodical way of building a company; focusing on one product at a time and building it to the best of his ability. I figured this could be done for any number of products, but especially for the wallet, since it's a staple that hadn't really been "rethought" for today's modern world.
I learned so much from my brother when I worked for him and decided to take that experience and apply it to a product of my own.
The idea to make a phone wallet instead of just a standard wallet was also a forcing function in my own life. It was a way to help me remember my most valuable items, my phone and wallet. I was always forgetting one or another (like most people) and figured it would be easier to keep track of just one item rather than two. Plus, if I combined both items and ever lost my wallet, it would now have a GPS (find my iPhone) attached to it. Before combining the two, I had no hope of getting my wallet back.
After talking with a lot of people, I realized losing a wallet or phone is a big problem for many. It became clear to me that there was a real need in the market for simple, high-quality phone wallet.
CG: Edward Field is focused on producing American made products and creating jobs in the United States. Can you tell me more about this mission?
TW: It was an operational decision from the beginning because I had learned it was actually possible from my experience at American Giant. This focus was less of patriotism and more of sensibility.
We make great things here so why not keep the process close to home. Logistically, it just made more sense.
By making the products in the U.S., and by selling directly to the consumer, we eliminate distribution costs, language barriers, and big marketing budgets that usually go into overseas manufacturing. We direct resources that would usually be spent on soft costs and focus them on the quality of the product.
CG: Your products can be described as modern takes on classic staples. What role do new technologies play in your designs and production?
TW: I recently saw a segment on 60 minutes about all of the "Financial Tech" apps available today; Apple Pay, Google Wallet, Stripe, and Venmo to name a few. These are all examples of applications that are revolutionizing the banking industry and making it easier for the digital generation to avoid walking into a bank. We are slowly getting rid of these antiquated payment systems like credit cards and cash by moving them onto our smartphones. However, we're not there just yet.
We believe that a wallet customized for today's modern digital world, is a product that people have yet to focus on making properly. We've made carrier items like the traditional briefcase, backpack or wallet in so many different designs and materials, but yet no one has effectively redesigned the wallet, until now. If you walk into an Apple Store, you'll see many people are building their version of a wallet that includes your smartphone. Yet we believe no one is doing it as well as we are.
Most are not focusing on the quality of the product, its construction, or its utility. Even fewer are building them in the U.S. This is a product that can help bridge the gap between newer applications and traditional payment systems, to make life easier. It doesn't make sense to carry so many cards when we can take a picture of them, hide them at home or store them in a digital app.
CG: In recent years, we've seen the resurgence of American manufacturing. Why do you think that is?
TW: The obvious answer is that it's easier than ever to shop online. By selling directly to the consumer online, we eliminate distribution costs and our customers save time and money with the click of a mouse.
Moreover, I think with all of this noise on the Internet, people have more exposure to smaller brands with really interesting stories. People naturally want to support these types of companies. Part of the story we are telling is one of quality rather than a cheap price. Building locally allows for clearer communication and tighter quality control, resulting in a better product.
I believe the reason there's a resurgence in American Manufacturing right now is that we are prioritizing high quality, plus more and more businesses are "opening up shop" online making this possible.
CG: You are based in San Francisco and produce and manufacture your products in the area. What are the benefits and challenges of manufacturing your goods locally?
TW: By manufacturing our goods locally, particularly in San Francisco, we have interesting insight as to where technology is going. Our turn around times are quicker than they would be overseas therefore we are able to adapt in a much faster to the ever changing technology. Manufacturing our goods locally makes complete sense for our product.
Another point to make is that we have clearer communication with our manufacturing facility than if it we were overseas. If there is something wrong with the way the product is being built we can just drive down to the facility and have a conversation. Quality control is huge for us and manufacturing our goods locally allows us to have a tight grip on what is released from our cut and sew lines.
CG: Entrepreneurship is rife with challenges. What words of wisdom would you give to someone interested in launching their own startup?
TW: The day after I graduated I remember meeting my brother at a Burger King and he asked me what I was going to do with my life. I told him I had no idea. He said figure out what you're passionate about and dream big. It sounds so corny but it really stuck with me. I certainly never thought I would be passionate about building a wallet. When I described the product to my friends and family and told them why a product like this should exist it didn't resonate with them at first. In todays digital economy we are at a place where combining your wallet and your smartphone makes sense. Proving this point is something I have become especially passionate about. My advice to others would be to figure out what you are passionate about and have the courage of your conviction to follow it.
TW: Try an Edward Field wallet. If you have a smartphone, it is a wallet that makes more sense than your traditional wallet. I promise it will make your life easier.
Popular in the Community