Review: The Spectacular Art of Jean-Léon Gérôme at the Getty Center through September 12.
There really is no way around calling the Getty a conservative art museum. When a sign in the second floor gallery directs you to "Paintings after 1875", you cross a hallway expecting a wing and get one 20 x 20 gallery with seven paintings total, all completed before the turn of the century. The last century.
They have great shows of conservative art, but nobody wants to be a fuddy-duddy, so they balance it out with Getty grants to arts organizations of all shapes, sizes and proclivities. There is no Getty dictum in regard to its funding, it seems based on the quality of an organization's administration and with zero analysis of their aesthetic. So you can't call them conservative. Case closed?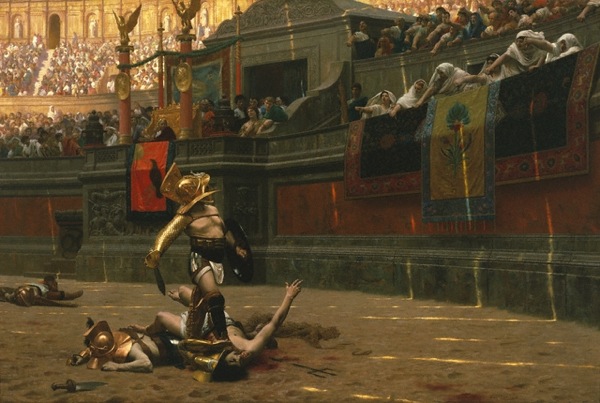 Pollice Verso (Thumbs Down), 1872, oil on canvas. Phoenix Art Museum, Phoenix, Arizona, Museum Purchase. Photograph by Craig Smith. Courtesy of the Getty Museum.
Well... having just caught the exhibit The Spectacular Art of Jean-Léon Gérôme, a revision of this fundamental assumption about the Getty seems to be at hand. As arts funding sources dry up, will the sugar tit of the Getty turn sour for arts organizations with an avant garde bent?
What could one show have that inspires a vision of apocalypse on the arts funding landscape? It was not the formal qualities of the Gérôme show. He was a hyper-realist with the drafting skills to rival Ingres or David or Caspar David Friederich or anyone. It was not the conceptual approach of Gérôme, who was Cecil B. DeMille sixty years before Technicolor and forty years before talkies. It was not the gift shop, the audio tour, the tourists in Disneyland tee shirts nor the never ending convoy of strollers all taking in a show of everything the Impressionists made sure to scorn. It was none of this.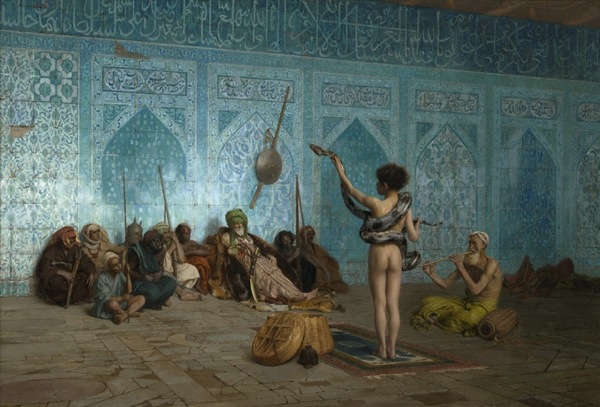 The Snake Charmer (detail), about 1870, oil o canvas. Courtesy of and copyright Sterling and Francine Clark Art Institute, Williamstown, Massachussetts, USA, (photo Michael Agee) Courtesy of the Getty Museum.
Most importantly, my sentiment that the Getty may ultimately have a conservative agenda was not the politics of Gérôme, decidedly backward by our standards, reveling in what was called "Orientalism", a reinvigorating of painting by not just painting a nude, but by painting a nude who has been kidnapped and forced to serve in the Harem of an Arab prince in some palace near Morocco. But we are getting warm.
Had the Getty just put up these impossibly precise, dramatic and emotional exercises in academic realism, they would have been doing their duty. But as Gérôme gets rich and famous in the 1880s, he travels to the "near east" and concocts scenes of a world that just did not exist. It was a world painted in believable realism where the barbarism and eroticism of the infidel Muslim are intertwined branches that just makes them so darn exotic. To be fair and balanced, the Getty then makes sure that every placard is dripping with a reassurance that this way of looking at certain peoples through Western eyes is completely backward.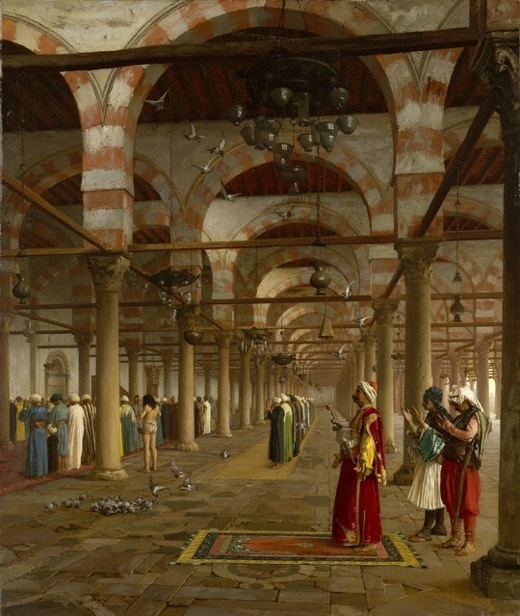 Public Prayer in a Mosque, 1871, oil on canvas. The Metropolitan Museum of Art, New York, Catharine Lorillard Wolfe Collection, Bequest of Catharine Lorillard Wolfe, 1887. Image copyright the Metropolitan Museum of Art/Art Resource, NY. Courtesy of the Getty Museum.
These mea culpas were suddenly everywhere, with every kidnapped white slave, with each leering Moslem. There were sincere disclaimers with every pigeon-infested mosque, in 32-point type next to the steps with severed heads and opium pipes. All of the lamentations of western cultural ignorance got poster-sized near the naked little boy performing with a snake to the pedophilic glances of what could have been a conquering jihad squad.
As I read each of these missives, a voice in my head spoke them. It sounded like Sarah Palin insisting that the Tea Party Rally was not a political event. It was Glenn Beck weeping his conservative demands to being accepted as an intellectual leader. When information about one small Gérôme portrait explained that it was deaccessioned by the Metropolitan Museum of Art in 1956, I could almost hear this anecdote being told by Rupert Murdoch while he added "Some of my best friends are liberals!" ... If the most powerful conservatives in America are always pretending that they aren't conservatives, we should expect our most conservative major collection of art to display this anosognosia of identity as well.
If the Getty believed that the politics of Gérôme were reprehensible, it would not have mounted this show, but the Getty wanted it both ways, it littered its own show with rationalizations to prove that it is fair and balanced... hmm just like Fox News.
Calling all HuffPost superfans!
Sign up for membership to become a founding member and help shape HuffPost's next chapter