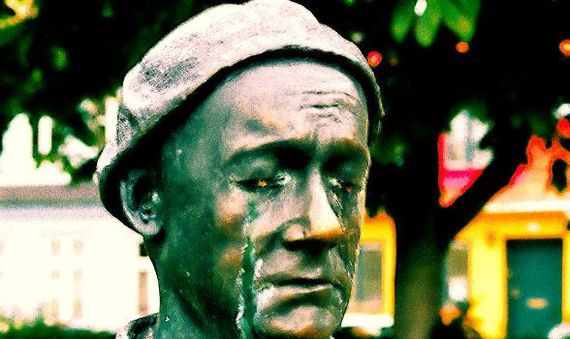 Though one in six men has had unwanted or abusive sexual experiences, men rarely talk about sexual abuse, instead keeping it a secret due to embarrassment, shame, and ideas about what their victimization means about manhood.
Andy Sampson knows firsthand the difficulties of confronting past abuse. He was sexually abused as a child and lived under a cloud of shame and secrecy for most of his life. Finally, he realized that he needed to confront his traumatic past in order to be the husband and father his family deserved.
Unfortunately, his ideas about masculinity and strength initially prevented him from addressing these painful parts of his past, a pattern that only exacerbated his sense of hurt and alienation. Sampson shared, "As a guy, we like to think, 'I can handle this on my own.' I was stubborn. I thought I could do it on my own. I didn't think I needed help."
Sampson's attempts at keeping his trauma bottled up and hidden came at a great price even though numbness and avoidance are some of the most common ways of dealing with past trauma. "A substantial proportion of people who have experienced trauma would say they were fine," said Dr. Jeffrey Lieberman, author of Shrinks? The Untold Story of Psychiatry and the chairman of psychiatry at the Columbia University College of Physicians and Surgeons.
However, appearing fine and being fine are two separate things. Lieberman continued, "People with unresolved past trauma may have relationships, but they are somehow limited in the degree of trust and empathy. They can be shallow and limited in emotional intensity and level of attachment. So much of their emotional energy is invested in keeping a wall around the trauma. It limits your ability to enjoy life."
Facing past trauma would involve asking for help, being vulnerable, taking off the "I'm OK" mask, all of which can be uncomfortable. So, before Sampson could confront his past, he had to redefine his idea of masculinity.
"If we want to be the strong ones and protect our families," he said, "we need to learn how to protect ourselves and help ourselves." That paradigm shift led Sampson to seek therapy and open up to close friends and family members about his childhood.
For Sampson, confronting the past was painful and scary, but facing the horrors of his childhood has enabled him to live a healthier life and be a better husband and father, roles he very much values as a man. "My wife is getting the husband she wanted to marry. I am able to calm down and self-regulate, so I am more predictable. I now realize there is nothing to be ashamed of," he shared. He also has more fulfilling relationships, explaining, "People who are your real friends and real family will support you."
Sampson encourages men to reach out for help. "You can't be the man you want to be for your family or the man your family deserves unless you get help for yourself," he said. "Enable yourself to live and thrive."
Photo: Flickr/