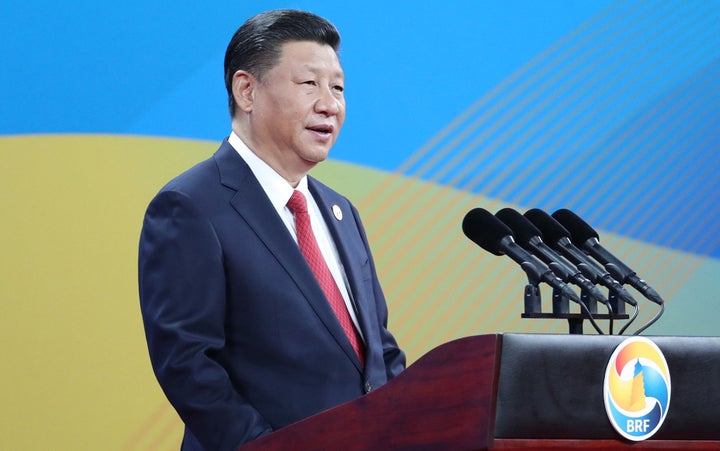 China's initiative to connect its manufacturing base to the markets of Asia, Africa, and Europe though mammoth infrastructure investments got the world's undivided attention at the "Belt and Road Forum" in Beijing last week. With leaders from all three continents, the UN, and the IMF in town, Xi Jinping was at pains to stress that China wouldn't neglect sustainability in the endeavor. As he said in his address to the conference: "We propose the establishment of an international coalition for green development on the Belt and Road, and we will provide support to related countries in adapting to climate change."
The quote may seem like boilerplate, but whether or not China honors that pledge is a question of immense importance. Launched in 2013, the One Belt One Road (OBOR) project envisions $5 trillion in road, rail, energy and port investments over the coming decades. There will certainly be economic benefits for the countries being linked to China's economic engine, but for the sake of both its partners and the planet, Beijing needs to pull this off in a way consistent with the environmental objectives expressed in Xi's opening speech. Part of the skepticism stems from the OBOR's raison d'etre: as much as anything else, OBOR is meant to provide a new outlet for the excess industrial capacity that helps perpetuate China's pollution crisis.
Unsurprisingly, critics of Chinese projects fear the rhetoric of building a green Silk Road could easily get lost in a cloud of greenhouse gas emissions. A report by China's own Ministry of Science and Technology highlights the fact that four of the six economic corridors planned under OBOR cut through regions affected by advancing desertification, and the infrastructural projects OBOR is promising will have immense environmental footprints in and of themselves.
Those fears haven't been eased by China's willingness to invest in old-fashioned thermal coal plants abroad. Between 2007 and 2015, China invested $25 billion in coal projects around the world, and that trend is still ongoing in OBOR partner countries like Pakistan.
Of course, what China has spent on coal in that span is just a drop in the bucket compared to the overall cost of its projects. Financed by the state-owned China Development Bank, the Export and Import Bank of China, and two Chinese-led multinational investment funds, the OBOR project seems to benefit from seemingly bottomless financial backing. At the forum, Xi announced the disbursement of a further $113 billion, some of which will go through a new state-owned entity created specifically for funding OBOR projects called the Silk Road Fund. Since 2013, China has invested $300-400 billion a year in projects like railways connecting Addis Ababa to Djibouti and Mombasa to Nairobi in Kenya. High speed railways linking China to Laos, Thailand and Singapore are also planned, as is the $46 billion China-Pakistan corridor.
As it becomes an active participant in these countries' climate crises, China is taking on a responsibility to help address them. Fortunately, the Chinese government is actively fleshing out how it plans on incorporating sustainability into the wider OBOR project. Beyond the Belt and Road Forum, one of the main venues it has chosen for this is the Astana Expo 2017 being held in Kazakhstan between June and September. The Expo's organizers have put forward the guiding theme of "Future Energy," and the Chinese pavilion at Astana is focused on highlighting the particulars of the "Green Silk Road."
Tellingly, the areas of focus for China's exhibition at the Expo speak directly to the questions surrounding its upcoming infrastructure projects. On China's official Expo participant website, it explains that "the theme of China's pavilion is Future Energy and Green Silk Road," adding that this is a "reflective interpretation of China's green development idea in accordance with its "Belt and Road." Many of the key advances made in China's own green energy revolution (and the entities behind them) are taking an active role in Astana. PetroChina, for example, will use the Expo to showcase its carbon capture and storage (CCS) technology, while China's Industrial Bank will highlight green finance (an issue of immense importance in the early stages of OBOR projects).
It isn't surprising that China would embrace the environmental focus of Astana Expo 2017, seeing that it builds in some ways on Shanghai's own 2010 World Expo. Where Shanghai had chosen the theme of "Better Cities, Better Life" and paid special attention to sustainably in urban development, Astana's Expo is putting sustainable development at the forefront and helping raise critical awareness in a region whose struggles with the impact of climate change often go underreported. It is also a highly encouraging sign that a country like Kazakhstan, a major oil exporter, is dedicating the event to clean and renewable energies.
For all the attention paid to China's domestic moves toward renewable solar and wind energy, events like the Belt and Road Forum and Astana Expo 2017 provide critical opportunities to prove to the world that the modern-day revival of the Silk Road has turned the same corner. The stakes are high: given the immense scale of OBOR, China will continue to draw the scrutiny of the world as it tries to prove its global infrastructure drive is living up to its promises. If Beijing wants to prove that its new trade routes are paved with the best of intentions, it needs to do so by moving away from fossil fuels and unsustainable development abroad and not just at home. Otherwise, the legacy of OBOR will be a damaging one and the fears of its critics will be confirmed.
Related
Popular in the Community