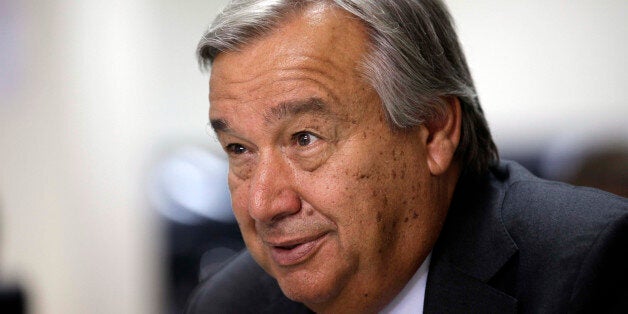 The latest and fifth straw poll for the selection of the next United Nations secretary-general again placed António Guterres of Portugal as the frontrunner in the informal secret balloting that began in July.
Although he was the only candidate to receive the required nine positive votes among the 15 Council members, he had two negative ones. Diplomats believe one of them came from Russia, which has veto power.
Next month, on October 5, the straw poll will distinguish between the five veto-bearing permanent members (the United States, Russia, Britain, France, China) and the other 10 elected nations of the 15-nation Council. But who cast a veto for whom will be kept secret.
At this stage the Council is deadlocked. It appears each of the nine candidates received a negative vote from one of the five permanent members, diplomats said. (see list at end)
Russia has argued that East Europe has never held the secretary-general post so it is time for the region to do so, even though most of its members belong to the European Union and NATO.
Guterres, a former Portuguese prime minister, is obviously not from East Europe. But his delivery in open forums organized by the General Assembly was applauded. And he spent a decade as head of the UN refugee agency, a major issue in a time of mass displacement from conflicts.
And the women? The world body has never had a women secretary-general in its 70 year history. And barring a new entry, it is not going to happen this year either. Even Secretary-General Ban Ki-moon, who leaves office at the end of the year, said it was high time for a woman to succeed him.
Irina Bokova of Bulgaria and head of UNESCO, the United Nations Educational, Scientific and Cultural Organization, slipped to sixth place. She was the only eastern European woman with a faint chance.
Susana Malcorra, the Argentine foreign minister and the former chief of staff to the current secretary general, moved up to fourth place, in a tie with Danilo Turk, the former Slovenian president.
But while she is believed to have American support, it is hard to imagine Britain's new nativist government supporting an Argentine because of the lingering Falklands-Malvinas island dispute.
Kristalina Georgiava? She is European Union commissioner for budget and resources and a Bulgarian. But her home country would have to nominate her and persuade Irina Bokova to drop out.
Reports circulated that at the Group of 20 meeting in China last month her name drew support from Germany as well as Croatia and Latvia, none of whom are on the Council. But others have denied the lobbying.
In second place on September 26 was Vuk Jeremic, Serbia's former foreign minister, followed by the foreign minister of Slovakia, Miroslav Lajčák. Malcorra and Turk then tied for fourth place.
Bokova was in sixth place. Tied for seventh place were Macedonian Foreign Minister Srgjan Kerim and former New Zealand Prime Minister Helen Clark, who heads the U.N. Development Program. Moldovan Foreign Minister Natalia Gherman was last.
Helen Clark made clear she was staying in the race. She tweeted thanks to Security Council members who supported her and said she was looking forward to the next phase.
The vote was supposed to be very secret, said Russia's ambassador, Vitaly Churkin. But diplomats in the meeting sent results to several journalists who tweeted them out instantly.
The results - encouraged, discouraged, no opinion: Antonio Guterres: 12-2-1 Vuk Jeremic: 8-6-1 Miroslav Lajčák: 8-7-0 Danilo Turk: 7-7-1 Susanna Malcorra: 7-7-1 Irina Bokova: 6-7-2 Helen Clark: 6-9-0 Srgjan Kerim: 6-9-0 Natalia Gherman: 3-11-1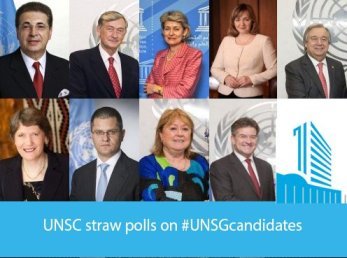 from left: Srgjan Kerim, Danilo Turk, Irina Bokova, Natalia Gherman, Antonio Guterres, (second row), Helen Clark, Vuk Jeremic, Susana Malcorra, Miroslav Lajčák
Calling all HuffPost superfans!
Sign up for membership to become a founding member and help shape HuffPost's next chapter