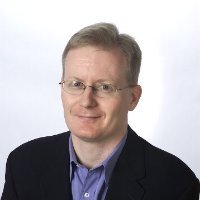 Don Willmott is a New York-based journalist who writes about technology, travel, and the environment for a wide variety of publications and websites.
If solar power is ever to truly hit the mainstream, we're going to need a lot more solar panels in a lot more places. Roofs alone won't do the trick. That's why the environmental blogs lit up a few months ago with the news that a bike path capable of generating solar energy opened in the Netherlands. Solar bike paths? Solar roads? Sounds great; let's do it! The only thing getting in the way is some very daunting math.
The world's first solar road--all 230 feet of it--is in Krommenie, a town outside Amsterdam. A joint project of private investors, the government, and the Netherlands Organization for Applied Scientific Research, the SolaRoad consists of concrete modules measuring 2.5 by 3.5 meters. Solar cells are embedded in the concrete below a one-centimeter layer of tempered glass on one side of the road. Its creators hope that one day, the solar power the road generates can be used for things like street lighting, traffic control, or even electric cars. Right now it only generates enough power to light up about three Dutch homes.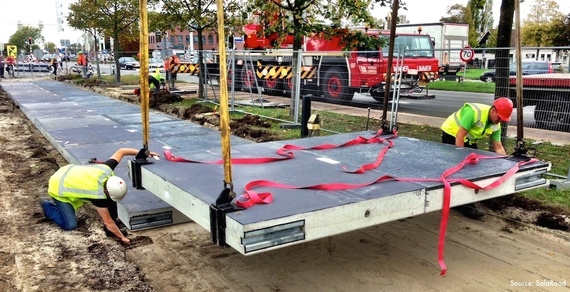 Construction of the world's first solar road in Krommenie, outside Amsterdam
Although it has a glass surface, the designers have given it some friction so its 2,000 daily riders don't slip. The bigger design issue is that the road can't face the sun head-on, so its energy-collection capabilities aren't optimized. The good news is that a solar road doesn't have to eat up additional land and can run right through the middle of densely populated areas.
How much did this small-scale experiment cost? Would you believe $3.7 million? That's a little more than $16,000 per foot for those of you keeping score at home. At that price, a solar bike path running the entire 13-mile length of Manhattan would cost about $1.1 billion, making it cost-prohibitive, to say the least.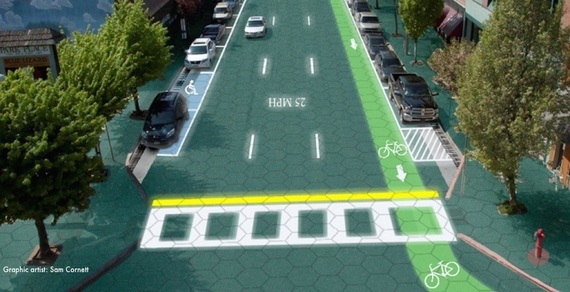 Artist's rendition of a solar road in Sandpoint, Idaho
Still, future costs are sure to trend downward as others innovators push the technology forward. One example is Idaho-based Solar Roadways, which launched a successful Indiegogo campaign last year to fund its vision of replacing asphalt and concrete surfaces with solar panels you can drive on--compete with LEDs to "paint" lines and heating elements to melt snow and ice in northern climates. The company has also received two rounds of funding from the Federal Highway Administration.
The folks at Solar Roadways contend that if every road in the United States were solar, we'd cut U.S. greenhouse gas emissions by 75 percent. This may be a road worth traveling.
Don Willmott is a New York-based journalist who writes about technology, travel, and the environment for a wide variety of publications and websites.
Interested in energy and the environment? Click here for more XPRIZE Grand Challenges and to vote on future prizes. You can also sign up for our exclusive newsletter.
REAL LIFE. REAL NEWS. REAL VOICES.
Help us tell more of the stories that matter from voices that too often remain unheard.