Turtles. Teenage Ones. Mutant ninjas at that. We can only imagine what was being smoked by the comic book artists who first conceived of the idea exactly 30 years ago, long before the legalization of such things was sweeping the country. Surely, when Kevin Eastman and Peter Laird hatched the concept, they could never have dreamed it would spawn a three-decade run of comic books, television shows, figurines, video games, movies, breakfast cereals, and even a concert tour.
On August 8, the reptilian franchise will debut its fifth feature film, potentially snagging an entirely new generation of young fans, while appealing to the nostalgic geek-dom of GenXers who flocked to theaters in 1990 for the first installment. Some older fans of TMNT aren't taking the bait but many certainly will, if under the guise of "oh I'm just taking my kids."
So, with the movie's opening weekend about a month away, we wanted to examine the likely audience that will be drawn to the theater for Teenage Mutant Ninja Turtles this go-around. What do they look like? And, while certainly all of the film's cross-promotion and licensing deals were inked long ago, what brands and advertisers line up best with the likely movie-goer? Here's what we found:



A survey of 7,431 U.S. consumers age 13 and older allowed us to find 458 people who said they are "Very likely" to see the film and another 914 who said they are "Somewhat likely."
Interestingly, we saw no difference between the sexes. Men and women were equally inclined to see the film.
The big proxy, as you might expect, was age. Check out the chart below:

As you can see, younger respondents were far more likely to express an interest in seeing the movie compared to their older counterparts. The incidence of "Very likely" responses peaked among 25-29 year-olds, with a precipitous decline visible among the older age groups. This 25-29 peak is surprising, in part, because people aged 13-24 are the most frequent movie-goers in general. Perhaps more surprising, however, is that we saw no noticeable spike among parents. Only 21 percent of parents, versus 22 percent of non-parents, are either very likely or somewhat likely to see the film. These numbers could be explained by the movie's rumored, but not yet confirmed, PG-13 rating.
Another big discovery is that the film is clearly appealing more to minorities in the US. A full 34 percent of Hispanics and 28 percent of African-Americans are very/somewhat likely to see the movie; this compares to just 16 percent of Whites/Caucasians. Marketers take note.
But what else did we find?
Clearly, the film is appealing to a technically-savvy group of consumers. Seventy percent of likely film-watchers say they closely follow technology trends, compared to just 46 percent of the non-watchers.
The movie is definitely set up well for a video game spin-off. Thirty-two percent of likely film-goers play video games at least weekly compared to just 18 percent of the non-goers.
Mobile word-of-mouth could make or break the movie. When asked what form of communications they use most with friends and family, the likely viewers are 18 times more likely to say they use mobile messaging apps -- that's right 18 times. They're almost 4 times more likely to use SnapChat than the non-viewers.
TMNT fans love EDM (that's Electronic Dance Music). No celebrity or artist over-indexed more in popularity among likely movie-goers than David Guetta, the French DJ. But it's worth noting that they're not likely to be seen wearing a pair of Beats by Dr. Dre headphones. Twenty-three percent of likely movie-goers dislike the Beats brand, versus just 12 percent who like it.
More on brands below, but one thing that jumped out was the propensity of TMNT likely watchers to eat at fast casual restaurants like Panera or Noodles & Company. The film-goers are 4 times more likely than non-goers to eat at a fast casual joint at least once a week or more. Hopefully, the movie's cross-promotional team figured that out long ago. On a related note, the movie audience is also 3.5 times more likely to buy organic. They're also fit. Fifty-one percent of the likely audience exercise at a gym, versus 30 percent of the non-audience.
One big opportunity (or risk) for the movie is the reverb it could see on social media after opening weekend. Sixty-one percent of likely attendees say they share entertainment news and content on social media, compared to just 38 percent of non-attendees. If the movie is awesome, or if it's terrible, word could spread extremely fast.
So, what does this all mean to advertisers? We looked at hundreds of different brands we track to see which ones were most and least popular with likely TMNT movie-goers, compared to the general population. Below are the top ten brands that over- and under-index in popularity: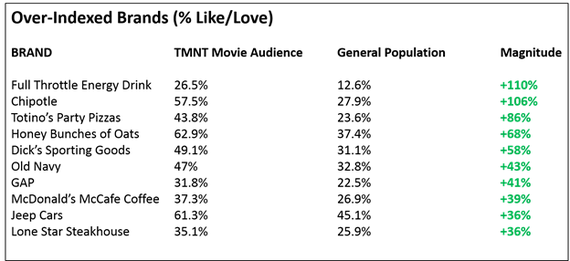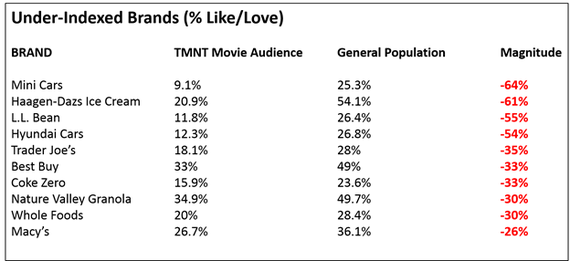 These two charts show a consistent theme in the brand affinities of TMNT's likely audience. Casual and fast-casual dining, mid-market apparel and sporting goods, packaged goods, and caffeine drinks are a huge hit with this crowd. Higher-end grocers, big box retail, and cars -- with the notable exception of Jeep -- not so much.
As the major marketing push for the Teenage Mutant Ninja Turtles movie hits full stride in the coming weeks, it will be interesting to see how the film's corporate partners match up with these lists. Already, word was made public of a partnership with Pizza Hut. That looks like a winning combination according to our data -- people who are the most likely to attend the movie in theaters are a full 321 percent more likely than average to say they "Love" Pizza Hut.
Paramount and Nickelodeon Movies could be missing a big opportunity if they launch the movie with a PG-13 rating. As it stands, it doesn't look like parents are planning to add this movie to their summer blockbuster must-see list, at least not with their kids. Let's see how it plays out.