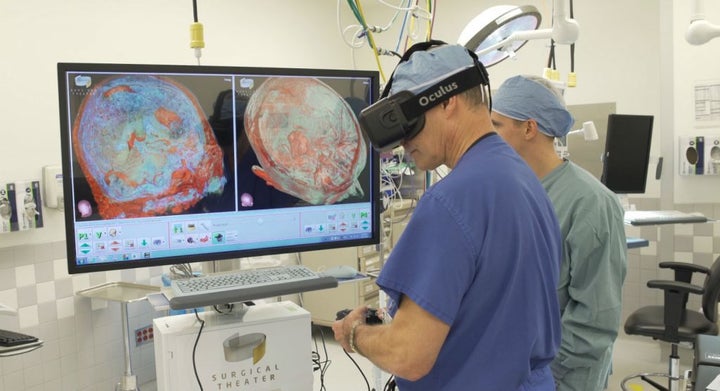 I wrote recently about the importance of timing for any new innovation, with many new technologies requiring the right environment to thrive. Nowhere is this more evident than with the current burst of innovation in AI, which has depended heavily on both the availability of huge quantities of data, and also on the computing power to process that data.
Tech giant Intel believe we might be in a similar situation with regards to virtual reality. Whilst the library of content is gradually growing, the hardware to provide smooth, realistic virtual reality is now here.
Indeed, so convinced are Intel of the potential of VR that they have teamed up with Surgical Theater to offer virtual reality services to surgeons via their Precision VR platform.
The technology will be supported by Intel's new 7th Gen Intel(r) Core(tm) processors and Intel hope that their existing healthcare infrastructure can help to disseminate the Surgical Theater platform as wide as possible.
It's undoubtedly part of a burgeoning movement to augment the operating theater using virtual reality. One of the first startups to enter the space was Medical Realities, who developed an augmented reality system to help train surgeons back in 2015.
Researchers from Purdue University and Indiana University School of Medicine followed this up with an augmented reality system, called the System for Telementoring with Augmented Reality (STAR), was documented in a recent study and harnesses a range of technologies to provide surgeons with a transparent display, and several sensors to improve the communication between mentor and mentee.
The same year saw virtual reality startup EchoPixel launch a system that used VR to create lifelike replicas of organs from 2D images to help surgeons prepare for operations. It's an approach that was taken to a new level by the company when they offered surgeons the opportunity to use 3D printing to create a physical incarnation of the organ.
It's a space that has also attracted its share of big guns. For instance, earlier this year Microsoft teamed up with VR company Stryker to apply VR in operating rooms via their HoloLens technology. The technology was designed to help staff reorganize the room so that it's suitable for the operation. Different tools, equipment, lighting and even patient orientation are required. It's very much aligned with the work HoloLens do in the construction industry.
The partnership between Intel and Surgical Theater is currently in a pilot phase with a number of hospitals, and they hope to publish data later this year on the impact the technology has had on the practices of the surgeons.
It's an interesting technology, as much because it finally seems to be moving away from the gimmick status it seemed to have for many years and towards useful applications that can make a real difference to our lives.
Related
Popular in the Community