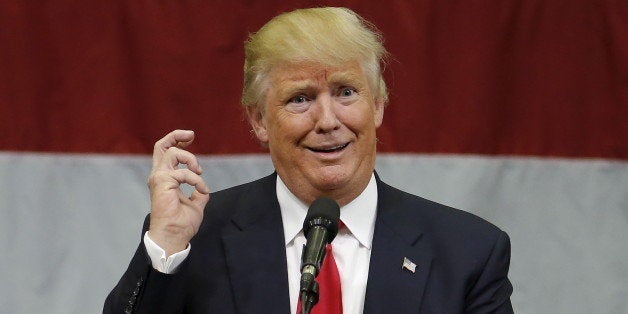 The nation's schoolchildren don't get to vote in November, but they're paying close attention to this year's presidential race. And large numbers of them are frightened by what they're hearing.
What's more, educators are seeing an increase in student bullying and intimidation. And they're struggling to teach about the election -- stymied by their need to remain nonpartisan but disturbed by the unfiltered words children are hearing and worried about the lessons they may be absorbing.
More than 500 respondents used the words "fear," "scared," "afraid," "anxious," or "terrified" in their comments to describe the negative impact on students who are Muslim or from immigrant families.
"My students are terrified of Donald Trump," wrote a teacher at a middle school with a large population of African-American Muslims. "They think that if he's elected, all black people will get sent back to Africa."
Similarly, a kindergarten teacher in Tennessee wrote that a Latino child -- told by classmates that "kids with brown skin" will be deported -- asks every day, "Is the wall here yet?"
Our email subscribers and those who visit our website are not a random sample of teachers nationally, and the respondents are likely to be those who are most concerned about the impact of the election.
But the data we collected is the richest source of information that we know of about the effect of the presidential campaign on education in our country. And there is nothing counterintuitive about the results. They show that the campaign is producing an alarming level of anxiety among children of color and inflaming racial and ethnic tensions in the classroom.
1.) More than two-thirds of the teachers reported that students -- mainly immigrants, children of immigrants and Muslims -- have expressed concerns or fears about what might happen to them or their families after the election.
2.) More than half have seen an increase in uncivil political discourse.
3.) More than one-third have observed an increase in anti-Muslim or anti-immigrant sentiment.
The survey questions did not mention any candidate by name or attempt to prompt any mentions. Nevertheless, Donald Trump was cited in more than 1,000 comments. In contrast, a total of fewer than 200 comments contained the names Ted Cruz, Bernie Sanders or Hillary Clinton.
Teachers in state after state expressed their concerns for vulnerable children.
"Some students are crying in the classroom and having meltdowns at home," said an elementary school teacher in Virginia. A K-3 teacher in Oregon wrote, "My black students are also concerned for their safety because of what they see on TV at Trump rallies. My white students are concerned for their friends." In North Carolina, a high school teacher said she has "Latino students who carry their birth certificates and Social Security cards to school because they are afraid they will be deported." A teacher in an urban middle school with a large Latino population wrote that a boy told her, "Donald Trump hates my people."
A number of teachers reported that students are using the word "Trump" as a taunt or chant as they gang up on others. Muslim children are being called "terrorist," or "ISIS," or "bomber."
Here are some other typical comments:
"A boy brought a knife to school to protect himself against 'the Muslims.'"
"My 5th graders got in a fist fight on the playground yesterday. It started when one of the boys quoted Donald Trump."
"We had a fifth grade student tell a Muslim that he was supporting Donald Trump because he was going to kill all of the Muslims if he became president!"
"We have Muslims who wear hijabs and I had to stop students from harassing them."
"The alarming and divisive rhetoric seems to give my high school students the perception that if the people can interrupt, insult, accuse, and generally disregard facts on TV, then why can't they in the school?"
More than 40 percent of the educators told us they are hesitant to teach about the election, so we've issued recommendations to help them deal with the situation. But they can only do so much when children are bombarded with the words and images of the campaign every day. We hope that the politicians will tone it down. But to be honest, we're not holding our breath.
Calling all HuffPost superfans!
Sign up for membership to become a founding member and help shape HuffPost's next chapter