Western condemnation of recent developments in Egypt raises serious questions about whether the leaders of the free world are aware of, or understand, the reality on the ground. The way Americans and Europeans (not to mention the Turks) are blatantly taking sides is certainly not helping ease the situation. Are they even aware of who, or what, they are supporting?
We all wish there was a way to avoid the Egyptian army's intervention and the recent 'high-risk' dispersal of Muslim Brotherhood demonstrators, but the pro-Morsi protests were not exactly peaceful, were they?
People condemn the 'brutality' of the security forces, and any unnecessary brutality should always be condemned, as every life lost is a life too many. However, what shocks me is that most people forget that there were injuries and deaths among the security forces too. The deaths of protesters did not happen without reason. They happened because Brotherhood demonstrators were armed and violent.
Dragging Egypt into a sectarian war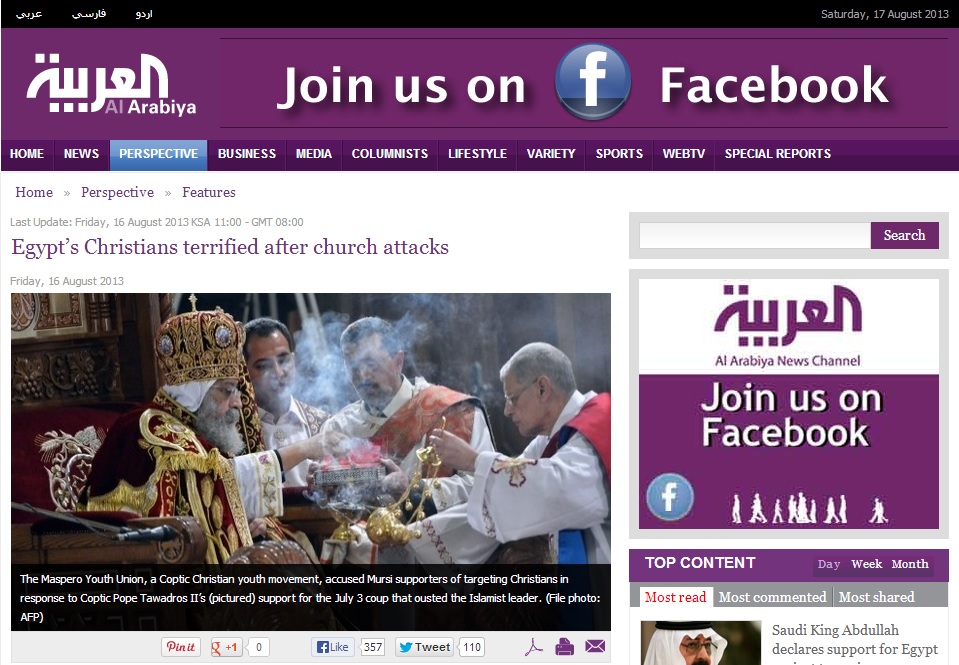 An article on Egypt's Christians has been published on Al Arabiya English. (Screengrab: Al Arabiya English)
Democracy should be protected and cherished, but has the West forgotten how far away the Brotherhood was from protecting and cherishing democracy when they were in power? Do Western leaders not realize that the people they are siding with are striving to drag Egypt into a sectarian war by attacking Christian homes, businesses and churches?
If a church had been attacked by extremist Muslims in New York, London or Berlin, wouldn't the Western media (which is now mostly condemning the Egyptian army) be the first to label such a despicable hate-crime as an act of terrorism?
Caroline Emile, a 37-year-old Egyptian Coptic Christian who works in Cairo as a marketer, says Western positions do not take the big picture into consideration. "Western media is only focusing on footage of tanks in the streets, but people watching international channels don't understand that this is for our protection against terrorists," she tells me.
Emile says that to flare up its followers, the Brotherhood leadership has been lying by claiming that President Mohammad Morsi was ousted due to a conspiracy by Christians, and that now is the time to obtain Muslim revenge.
"People are condemning the violence, but how else do you deal with terrorists? These weren't peaceful protests. These demonstrators were armed, and they were harassing the people living in the neighboring areas," she elaborates.
Nonetheless, Emile is hopeful regarding recent developments. "It's bringing the best out of Egyptians," she says, adding that there was nothing more humbling than seeing Muslim and Christian Egyptians hand in hand, creating a human shield around churches. "Let them (the Brotherhood) attack our churches. As long as Egypt is united, we -- Muslims and Christians -- can rebuild them at any time."
That sounds like the Egypt I hope to see being built, but the leaders of the free world might have another opinion.
Given the disastrous handling of almost every related situation since the eruption of the Arab Spring in 2011, it would be highly-recommended that the West stops interfering in internal Egyptian affairs.
REAL LIFE. REAL NEWS. REAL VOICES.
Help us tell more of the stories that matter from voices that too often remain unheard.