Which sport is America's national pastime?
For decades the answer was simply baseball. Now, the answer is football. But does football's grip on our nation's collective heart wane a bit as another type of fútbol grips the nation through the World Cup?
For many U.S. Hispanics, the answer is yes. Fútbol has been a game of many Hispanic nations and cultures for decades, so it's a natural extension to expect a certain degree of that fandom to transcend into these culture's American lives. And while the National Football League's Hispanic-focused promotions have paid off in the form of 25 million Hispanic fans, it hasn't necessarily come at the expense of one of their more native games. Consider the lucrative investments made in all athletics by Hispanic consumers: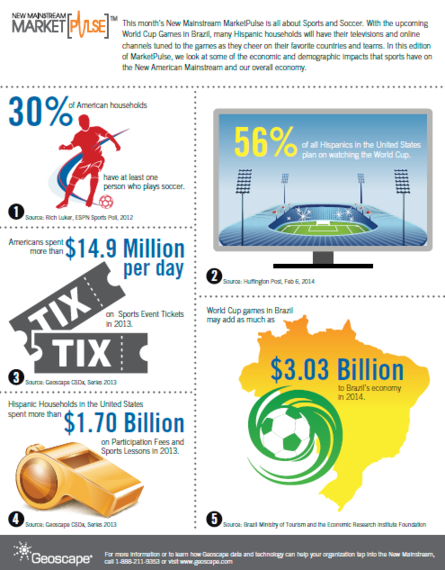 Our nation's Hispanic population consists of a large number of passionate sports fans - 94 percent of Hispanic men call themselves sport fans, with 56 percent falling into the avid category. So while football might be the king this fall, look for the World Cup to be a key player on the U.S. sporting scene this summer -- and a growing reminder of the Hispanic influence on U.S. sporting culture.