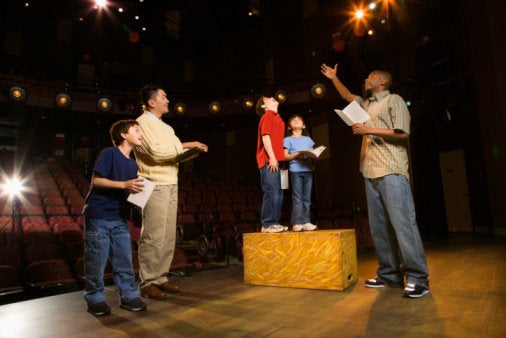 Have you been following the extraordinary outpouring of media about James Cameron's Avatar? Much of what I've read is not about the newness of the director's approach, as we might expect, and more about the story. The ideas. Check out New York Times film critic A.O. Scott's take as a good example.
This widespread response made me wonder whether there's a growing desire to move beyond passive consumption of media and entertainment. We the people want to learn and we want to share our thoughts, ideas, and feelings with others - with HuffPost being a prime example. (I just searched HuffPost for bloggers' thoughts on Avatar and came up with dozens of posts.)
So when I discovered a theatre company that wants plays to be more than mere sedatives or diversions for a docile audience, I whooped with joy. Studio 180 understands that people like us want to engage with ideas - and each other. Artistic Director Joel Greenberg and I had a chance to sit down together earlier this week. (Yes, Joel is a New Radical - that is, someone who's putting skills acquired in his career to work on the world's greatest challenges. For more on the New Radicals, please see archived articles.)
Julia Moulden: How do you describe Studio 180?
Joel Greenberg: We want to provide powerful experiences about big ideas and invite audiences to explore these ideas with us.
JM: What do you mean by "explore these ideas with us"?
JG: The live experience is so incredibly potent. You have a group of people in a room together, actors and audience, listening to what's being said. What we discovered is that people really want to talk about the ideas raised by the plays we produce. So we do talkbacks, or conversations for the audience and cast after the play, several nights a week. And I host a pre-show conversation on other evenings.
Our first play was The Laramie Project, about the murder of openly gay college student Matthew Shepard. Our second, The Arab-Israeli Cookbook, which combined onstage food preparation with intimate interviews to create a portrait of the lives of ordinary people in Israel, the West Bank, and Gaza. And then we did Stuff Happens, David Hare's play [about the George W. Bush administration], based on real-life sources and behind-closed-doors proceedings that shaped recent history.
To take one example, The Arab-Israeli Cookbook audiences were often deeply upset by the play - it wasn't uncommon for people in post-show conversations to say things like, 'This play is clearly pro-Israeli!' and then for someone else to pop up and say, 'I don't see it that way at all - it's so pro-Palestinian!' Same play, same cast, same night. There we were in this space together, thrashing out these ideas.
JM: It sounds thrilling, Joel, but also heavy-going.
JG: And it is! But we're not some grim, humourless group of people looking for dark issues, nor do we aim to be some kind of moral barometer. We're looking for issues that are challenging, absolutely. But the plays we produce are, first and foremost, good plays. And they have elements of humour that audiences don't always expect.
JM: And is your innovative approach to theatre leading to interesting connections for the company?
JG: Yes. One of our sponsors, BMO Financial Group, is hosting a fundraising gala in shared support of Studio 180 and Dignitas International. Dignitas is a humanitarian organization committed to providing health care for developing communities, specifically focused on the distribution of medication to those infected with HIV and AIDS. Dignitas played a key role in helping the survivors of the Rwandan genocide - and our next play, The Overwhelming, is about people who lived it. (The fundraiser is sold out.)
JM: And I understand that you're doing something with schools, too?
JG: Three of Studio 180's six-person artistic team - Jessica Greenberg, Mark McGrinder, and Kimwun Perehinec - are working together to create a program for schools, made possible by a generous donation from the George Cedric Metcalf Charitable Foundation. Over the next three years, with help from teachers, administrators, and arts educators, we're going to introduce a program for schools, launched with a four-workshop pilot for high school drama and social science students. As far as we know, no-one is doing anything quite like this, using theatre as a medium to help young people develop their critical thinking abilities.
JM: What's up next for Studio 180?
JG: The Overwhelming opens on March 8th. And we have two new plays in the works. One of them will allow us to work in a new style, and we expect to hear if we can get rights to that one later this month. And we're doing the North American premiere of a contemporary Polish play, Our Class. It's playwright Tadeusz Slobodzianek's take on the shocking revelation in 2001 that a World War II massacre of Jews in a Polish town was not, in fact, carried out by the Nazis, but by local residents. We meet 10 characters - five Catholics and five Jews - as young children, and again as adults. It's about the choices and decisions we make and how they define us.
JM: How can HuffPost readers keep tabs on Studio 180?
Theatre has been part of human society for a very long time. Is it as relevant as ever - or perhaps more so? Do you go to the theatre? Have you seen plays that stir you to find out more about an issue - or yourself? Are you looking for a place to have a conversation about the issues of our times? Please share your thoughts and experiences by commenting below. As always, I invite you to email me directly at Julia (that familiar symbol) wearethenewradicals (punctuation) (traditional suffix).