By Madelaine D'Angelo and Kenneth Schlenker

The global art and antique market has boomed to over €51.22bn in value for the first time in history, making it an exciting time to get involved in the art market action if you aren't already. Moreover, the value the art market reached in 2014 finally surpassed the pre-recession value of €48.07bn in 2007 and will continue to thrive as art investments and sales become more easily accessible due to online platforms and marketplaces such as
and
.
WHAT'S CAUSING THE MARKET TO GROW?
High net worth individuals (HNWI) are increasingly funneling money into fine art investments. Art alone accounts for 17 percent of HNWI alternative investments, and combined with luxury collectibles, jewelry, gems and watches, makes up 67 percent of HNWI alternative investments. This share has grown from 58 percent in 2007 as as art investments are becoming easier to access and participate in via technology, art startups and publications. While in a traditional market, buyers would travel to exclusive art fairs and auction houses to get the first dibs on pieces, much of art is now publicized and traded sight unseen, making it easier and faster to acquire art than ever before. It doesn't stop here. In the next few years, it will become increasingly easier to buy, sell and invest in art.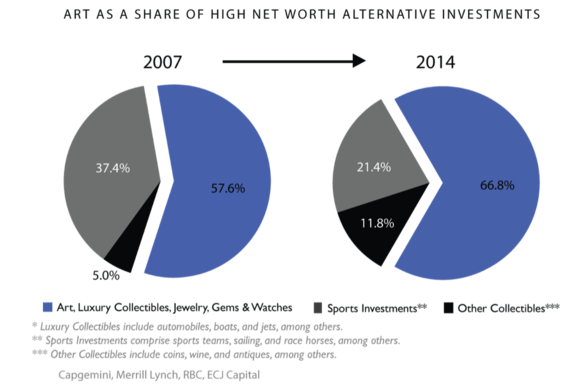 Platforms such as Arthena allow HNW individuals to invest in art with expert guidance, and services like ArtList make it easy and fast to buy or sell art on the secondary market at the $1,000 - $50,000 range. The growing ease of participating and means of liquidating will continue to bring more participants to the market, including those who were previously turned off by the complexity of buying a work of art from a gallery or selling through an auction house.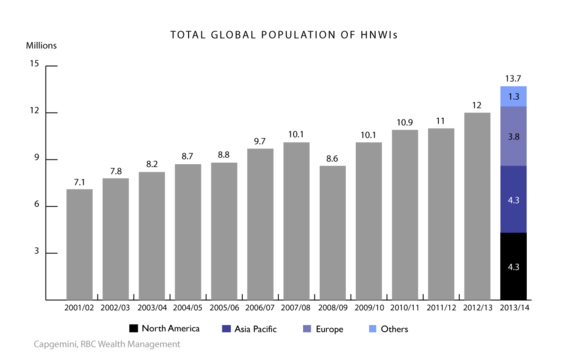 The overall size of the HNWI population is growing which leads to an increase in demand in alternative investments such as art. At a record high of 13.7 million HNWI around the globe, investors are exhibiting higher demand for art investment as a means of diversifying existing HNWI portfolios comprised of traditional and other alternative investments. Aside from overall growth, another trend worth examining is the shift in geographic concentration of art investments. China has emerged as a notable player in the market, as it's share of the global art auction market has grown from a mere .2 in 2000 to representing almost a third of the market in 2014. Historically, the art market has been concentrated in a few countries, with the U.S. representing over 50 percent followed by the UK and France, so this shift in concentration is huge and the growth of demand from China is significantly fueling the market.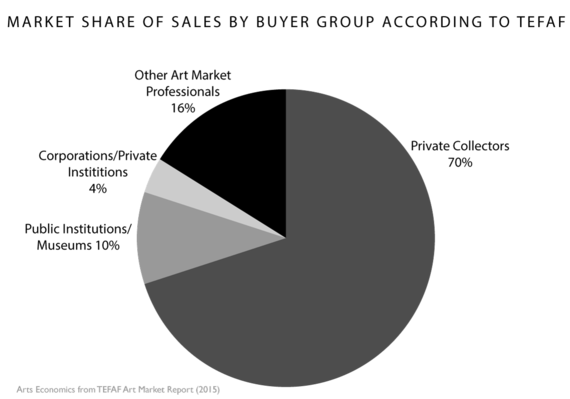 IS THERE A BUBBLE IN THE ART MARKET?

Increase in HNWI demand and global art market growth sparks the question, "Is there a bubble in the art market?" Auction prices of late have surpassed the $100m mark, leading many to suspect a bubble in the art market that will ultimately have to burst. However, headlines covering auction sales such as the recent sale of Modigliani's "Nu Couche" which sold for a whopping $170.4m at auction, make it easy to overlook the distinction between transactions at the ultra high-end level versus the rest of the art market.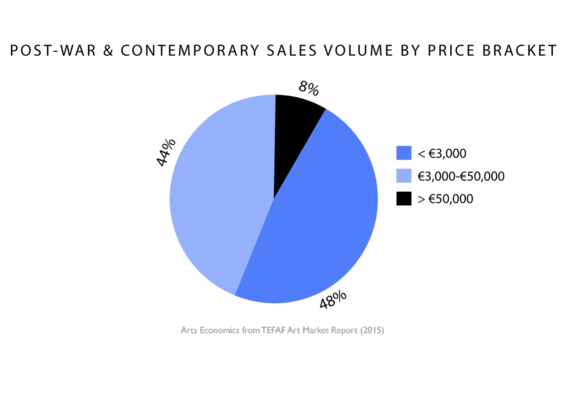 Despite the media's emphasis on nine-figure hammer prices and the pieces that break records, the fact that this segment (artwork sales over €50k) represents only 8 percent of total art market transactions often goes unstated. The share of high end art sales has always been disproportionate, but a recent Citi Global Art Market Report states that this distribution is becoming increasingly skewed with a growing share of the total sales being accounted for by the pieces sold for over €50k. According to the Citi report, "the 80th and 90th percentiles of the global art price distribution grew by 6-7 percent per year, compared to 3 percent for the median price." The dazzling prices paid at auction have given way to doubts about the long-term sustainability of upward trending prices at the ultra high-end. It remains to be seen if art sales will continue to realize such high sale prices, but it is likely that ultra-high end prices will begin to cool off as growth in Chinese demand stabilizes and technology increases the ease and volume of transactions overall, flattening the distribution of sales across the segments. In the meantime, we are urging investors to focus on the continued growth and opportunity this brings to the remaining 92 percent of the art market including the middle market of pieces sold at or below €50k.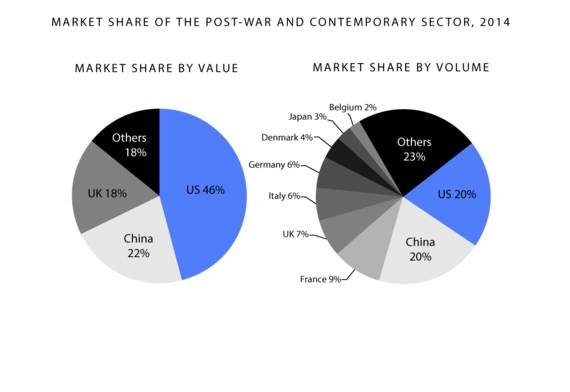 Other experts agree, Benjamin R. Mandel of JP Morgan stated, "A cooling of top auction prices would provide a healthy rebalance from the upper deciles to the middle of the market, which would be a significant positive for the broader industry." A growing consumer base and new digital avenues for buying art have contributed both depth and accessibility to the overall market. The market for moderately-priced works is especially benefiting from the resulting influx of capital and interested collectors, signaling added liquidity for art buyers and sellers. This is just the beginning. We believe the art market has potential to expand significantly over the next few years - as technology and shifting consumer behaviors offer increased access to art education, art investment and easier ways to buy and sell art. Our outlook for the art market in 2030: A very large, more liquid market with many more participants. Citi's Global Art Market analysts predict that the market will see growth to around 9 percent over the next 15 years. This is lower than the 13 percent annual growth rate over the last 15 years, but it shows there is still much room for growth ahead. In fact, this would mean in 2030 the art market will be triple what it is today. Despite the looming fears of an art market bubble, the data shows that the market has realized continuous and stable growth for solid reasons such as a growing HNWI population and increased demand from China that will eventually cool off. Rather than a bubble, a growing art market leads us to have an optimistic outlook on the market, creating exciting opportunities for new entrants and sustainable growth in returns from investing in the middle and lower segments.
Sources: Artnet, Capgemini 2015 World Wealth Report, Citi GPS: The Global Art Market, TEFAF
ArtList is the world's premier marketplace for private art sales. We work with thousands of collectors across the world buying and selling some of the world's most sought after contemporary and modern art ($1k-$1m) securely and confidentially. Our mission is to make the global art market fast, secure and fair.
Arthena is the world's premier art investment platform that gives individuals access to collect with seasoned, international art world experts. Enjoy unique experiences while collecting your ultimate portfolio.
Related
Popular in the Community