"What's the Point of a Professor?" writes Emory University English Professor Mark Bauerlein in a New York Times column that LaGrange College Provost, David Garrison emailed to generate some discussion before our Teaching and Learning Conferences. In a number of academic institutions, it's not a bad question to ask.
"For a majority of undergraduates, beyond the two and a half hours per week in class, contact ranges from negligible to nonexistent. In their first year, 33 percent of students report that they never talk with professors outside of class, while 42 percent do so only sometimes. Seniors lower that disengagement rate only a bit, with 25 percent never talking to professors, and 40 percent sometimes.... Sadly, professors pressed for research time don't want them, either."
Students are often drawn to such large colleges, where the research pressures are great and classes are huge. There's not much time for professors to interact with students when you have hundreds (or more) in a classroom, though some valiantly do their best to inspire their students, as this professor who wrote for Huffington Post does.
This world of potential disconnect has become the norm. Two years ago, I contacted an Atlanta government agency for a story. I got to chat with a brand-new graduate of one of these large universities. I told her I knew several professors at her school; did she ever take any of them? She gave an awkward pause, and then informed me, "I can't name a single professor that I took."
I relayed this story to my LaGrange College students in my summer class. They met the tale with a great deal of outrage. After all, they could name every professor they took. They told me all about their favorite professors, from Nursing, Biology, Education, History, etc., and how much each made a difference in their lives at our small liberal arts college with professional programs, and a connection to the United Methodist Church.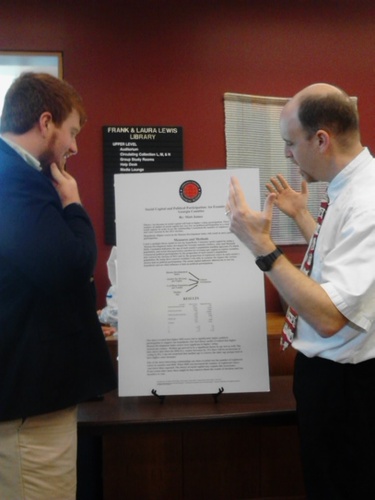 Our faculty reacted pretty negatively to the story, not because it has bad ideas, but because our professors feel it's not at all like them. And they'd be right. We have plenty of faculty who put in the long hours to try and help students with their papers, study for tests and debate the bigger issues of life. An English Professor forwarded this column about others at small schools like ours that shoulder quite a load. Not all students take advantage of this opportunity, but some do.
At his inauguration at LaGrange College a few years back, President Dan McAlexander told a story about meeting an LC alum from long ago. She couldn't remember the president of the college when she was there, but knew all of her professors' names years later, and could talk about the big influence they had on her.
It may not be a teacher appreciation gift like the ones the kids get their instructors, but having students able to recall the important lessons, and have some fond memories of their academic experiences, can be just as good.
John A. Tures is a professor of political science at LaGrange College in LaGrange, Ga. He can be reached at jtures@lagrange.edu.
REAL LIFE. REAL NEWS. REAL VOICES.
Help us tell more of the stories that matter from voices that too often remain unheard.