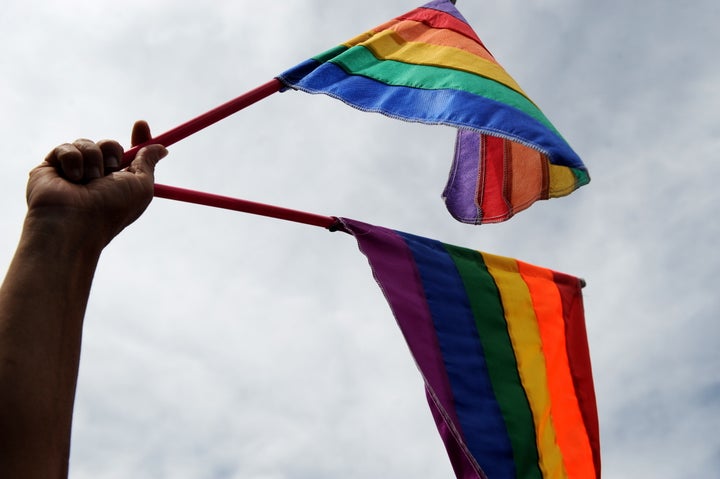 Over 500,000 students attend more than 150 conservative Christian colleges which discriminate on the basis of sexual orientation. For many queer students on these campuses, going back to college in the coming weeks means going back into the closet. It also means returning to an environment where every official message concerning homosexuality, whether in the student handbook or from the speaker at a mandatory chapel session, is that homosexual activity is ungodly and that a homosexual identity must be abandoned.
These messages leave students feeling hopeless. I know, because when I was a student at one of these colleges in the mid-2000s, I constantly heard these messages and experienced the worst depression of my life. I was also harassed, sent to conversion therapy and hospitalized for panic attacks stemming from my sexual identity crisis.
Take a look at some of these harsh messages:
"Sexual immorality of any kind including homosexual behavior, whether intercourse is or is not involved, will be subject to discipline." Lipscomb University (Nashville, Tenn.), a Churches of Christ affiliated institution, page 20 of the student handbook.
"The opposite of homosexuality is holiness." Christopher Yuan, March 14, 2012 chapel speaker, George Fox University (Newberg, Ore.), an Evangelical Friends (Quaker) affiliated institution.
Not only are queer students on these campuses frequently subjected to these damaging and spiritually violent messages, but they are at risk of bullying, expulsion and loss of student housing when they reveal their identities and refuse to repent. What makes the situation grimmer, is that the institutionalized discrimination queer students experience is not only sanctioned by their churches and families, but by the law. Thanks to Supreme Court decisions like Boy Scouts of America v. Dale, 530 U.S. 640 (2000), Christian colleges have rights grounded in the First Amendment that permit them to discriminate against students on the basis of sexual orientation and gender identity. Not even the ACLU or Lambda Legal can help these students.
In addition to lack of support from family, church and state, there is, unsurprisingly, an absence of support for queer students from inside these campuses. There are no LGBTQ resource centers, queer-straight alliances or safe-zone programs.
So, where is the hope? The hope lies in the recent phenomenon of queer and allied students and alumni from conservative Christian colleges coming out and forming unofficial alumni and student groups to support one another and to change the conversation concerning sexuality and gender identity on their campuses. This year has seen the largest and most public increase in the presence of these groups. Here are a few of the groups that have come out in the last six months: The Biola Queer Underground (Biola University), OneGeorgeFox (George Fox University), BJUnity (Bob Jones University).
In sharp contrast to the negative messages their colleges are promoting, these groups promote messages of hope and affirmation:
"Your sexual identity is not a tragic sign of the sinful nature of the world. You are not tragic. Your desire for companionship, intimacy and love is not shameful. It is to be affirmed and celebrated just as you are to be affirmed and celebrated." OneWheaton, the LGBTQ and allied alumni of Wheaton College, from an Open Letter to students signed by 754 alumni.
"You are not alone... And there are people, including people of devout faith, who care about you, who want you to live a free, honest life, and who will walk with you on the sometimes-scary journey toward authenticity and wholeness." OneGeorgeFox, the LGBTQ and allied alumni of George Fox University, from an Open Letter to the university community signed by 414 alumni.
So, yes, there is hope for queer students at conservative Christian colleges. And for the 500,000+ students returning to these campuses over the next few weeks, messages of hope will be more prevalent than ever, as several more LGBTQ alumni and student groups are set to come out this fall.
Some people question this entire movement, wondering why queer students would attend these schools in the first place and suggesting that the best option for queer students is to leave. One response to this position is that many queer students on these campuses are devout, evangelical Christians who want to go to a Christian college. Additionally, many queer students come to these institutions from extremely conservative families and high schools. They are confused about their sexual or gender identities and do not go through the coming out process until they are already on campus. Once on campus, economic and social factors make it very difficult to leave.
If you are a student or alum from a conservative Christian college, check out Voiceless - The Movement for a list of some LGBTQ and allied student and alumni groups. If your college doesn't have a group on this list, it might be time for you to start one.
REAL LIFE. REAL NEWS. REAL VOICES.
Help us tell more of the stories that matter from voices that too often remain unheard.