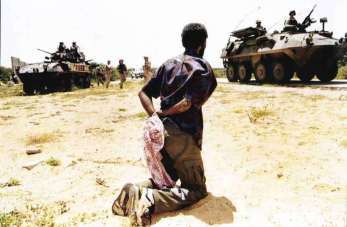 Journalists are an endangered species. Harassed, arrested, tortured -- even killed. Multi-award-winning UK Channel Four reporter Jamal Osman, is constantly on alert. Not only in Somalia, where he was born and often travels, but also in the UK, where his Somali heritage means the British citizen is viewed with suspicion by many. Even getting into his adopted country can be challenging, as immigration officials often pull Osman aside for questioning before he's allowed to enter.
I interviewed Osman in the Channel Four newsroom in London last November, curious to know why he would choose to risk his life every time he returns to Somalia, the country he left as a boy, a journey he shares in"My Refugee Journey." Often described as the "world's most dangerous country," Somalia has claimed the lives of 52 journalists since 1992. My son, Reuters correspondent Dan Eldon, and his three colleagues, Hos Maina, Anthony Macharia and Hansi Krauss were among them, killed by a Somali mob while covering the after-effects of a UN bombing in 1993. Dan had covered the country for a year, photographing its descent into lawlessness, which resulted in the withdrawal of western troops after the notorious "Blackhawk Down" incident in October, 1993. The resulting vacuum in the country enabled Al Qaeda to set up training camps for terrorists responsible for a number of attacks in Somalia, Kenya and beyond. Al Shabaab, a violent offshoot of Al Qaeda, claimed responsibility for the brutal Westgate Shopping Mall attack in Nairobi in September 2013 which left 175 people dead and nearly 200 wounded. On June 16, Al Shabaab targeted a hotel on the Kenyan coast, killing 46.
Despite the dangers, Somali journalists, continue to risk their lives to cover the news. On the 21st of June, 2014, award-winning humanitarian Somali journalist, Yusuf Ahmed Abukar became the latest statistic, killed when a bomb believed to be attached to his car exploded in Mogadishu.
Why does Jamal Osman return to Somalia when he knows he could be the next victim? His answers may startle you.
Calling all HuffPost superfans!
Sign up for membership to become a founding member and help shape HuffPost's next chapter