Dear Virginia,
It has been so many years -- 118 to be precise -- since you wrote a letter to a newspaper asking if there really is a Santa Claus. The reply from editor Francis Church was not prominently featured but has endured for generations as the most widely published editorial in English language journalism.
A war correspondent in the Civil War in which an astonishing 600,000 Americans died, Francis Church had witnessed great suffering and yet he was able to find the optimism to answer you, 9-year-old Virgina O'Hanlon, by saying,
"Yes, Virginia, there is a Santa Claus. He exists as certainly as love and generosity and devotion exist, and you know that they abound and give to your life its highest beauty and joy."
Virginia, most of us do not now that you would later receive a bachelors, a masters and a doctorate degree, and spend much of your life as a teacher. We only know you still as a little girl with a question. And so 118 years later, if you were still with us on this Christmas Eve, I wonder if you'd look at the contentious times across America and across the world and write a letter asking a different innocent question, "Is there really peace on earth?"
On Christmas Eve -- a couple of thousand years since the child called the Prince of Peace was born in a manger -- and with aspiring politicians rattling their un-tested sabers -- your question has me thinking of the long and unfinished road to peace.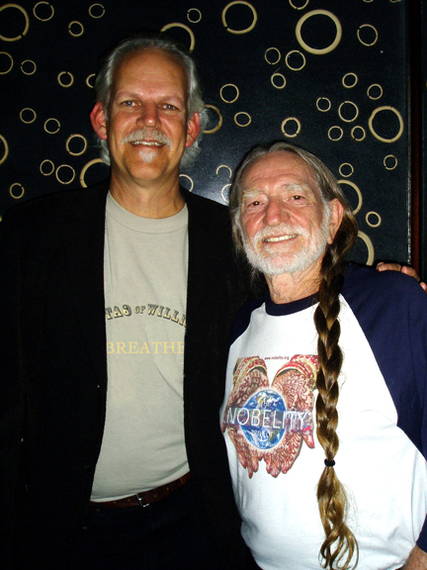 I would like to share a few words of wisdom about the possibilities of peace from one of my favorite wise men, Willie Nelson. In his song "Whatever Happened to Peace on Earth?" Willie sings:
How much is one picker's word worth
And whatever happened to peace on earth
But don't confuse caring for weakness
You can't put that label on me
The truth is my weapon of mass protection
And I believe truth sets you free
Willie and I are the authors of the book The Tao of Willie, in which Willie says, "I'm as proud to be an American as any man alive, and believe we are the greatest nation in history. But I also believe what makes us great is not our strength of force, but the power of our ideas."
And finally, in my film, One Peace at a Time, Willie told me, "Peace has to be something that's taught. There IS a peaceful solution. You have to feed the peace."
I believe deeply, Virginia, in Willie's words of truth, of America's founding ideas, and of the deep need of working for peace, but sometimes my hopes grow smaller than my fears.
So as we roll into an American election year, Virginia, I am thinking back to an earlier American poet, one more of your day, and one who understood the lunacy of Americans battling against Americans. In 1864, Henry Wadsworth Longfellow penned what I think of as the answer to your question in his poem, "Christmas Bells."
I HEARD the bells on Christmas Day
Their old, familiar carols play,
And wild and sweet
The words repeat
Of peace on earth, good-will to men!
And thought how, as the day had come,
The belfries of all Christendom
Had rolled along
The unbroken song
Of peace on earth, good-will to men!
Till ringing, singing on its way,
The world revolved from night to day,
A voice, a chime,
A chant sublime
Of peace on earth, good-will to men!
Then from each black, accursed mouth
The cannon thundered in the South,
And with the sound
The carols drowned
Of peace on earth, good-will to men!
It was as if an earthquake rent
The hearth-stones of a continent,
And made forlorn
The households born
Of peace on earth, good-will to men!
And in despair I bowed my head;
"There is no peace on earth," I said;
"For hate is strong,
And mocks the song
Of peace on earth, good-will to men!"
Then pealed the bells more loud and deep:
"God is not dead, nor doth He sleep;
The Wrong shall fail,
The Right prevail,
With peace on earth, good-will to men."
The wrong shall fail Virginia, and peace will prevail. But I am sorry to report that it's taking a little longer than we'd hoped.
Peace on Earth!
Turk Pipkin
Calling all HuffPost superfans!
Sign up for membership to become a founding member and help shape HuffPost's next chapter